Whether you plan to start a small or large business, the process can be challenging. That's because you need to conduct detailed market research for your product or service to create a competitive marketing strategy.
It can quickly pile up your workload, leaving you with less time to focus on your business goals. That's when you can hire dedicated web developers on contract and take the workload off your shoulders.
As your startup has limited resources, you should look over the advantages of hiring developers on contract rather than opting for full-time developers. With developers on contract, you can create a fair playing field.
In this post, we will explain nine essential reasons why startups should outsource developers and how to hire them.
9 Reasons Startups Should Outsource Developers
Hiring developers on a contract is a helpful approach for startups because then you don't have to worry about day-to-day tasks. It gives you the freedom to invest your time, resources, and effort into the growth of your business.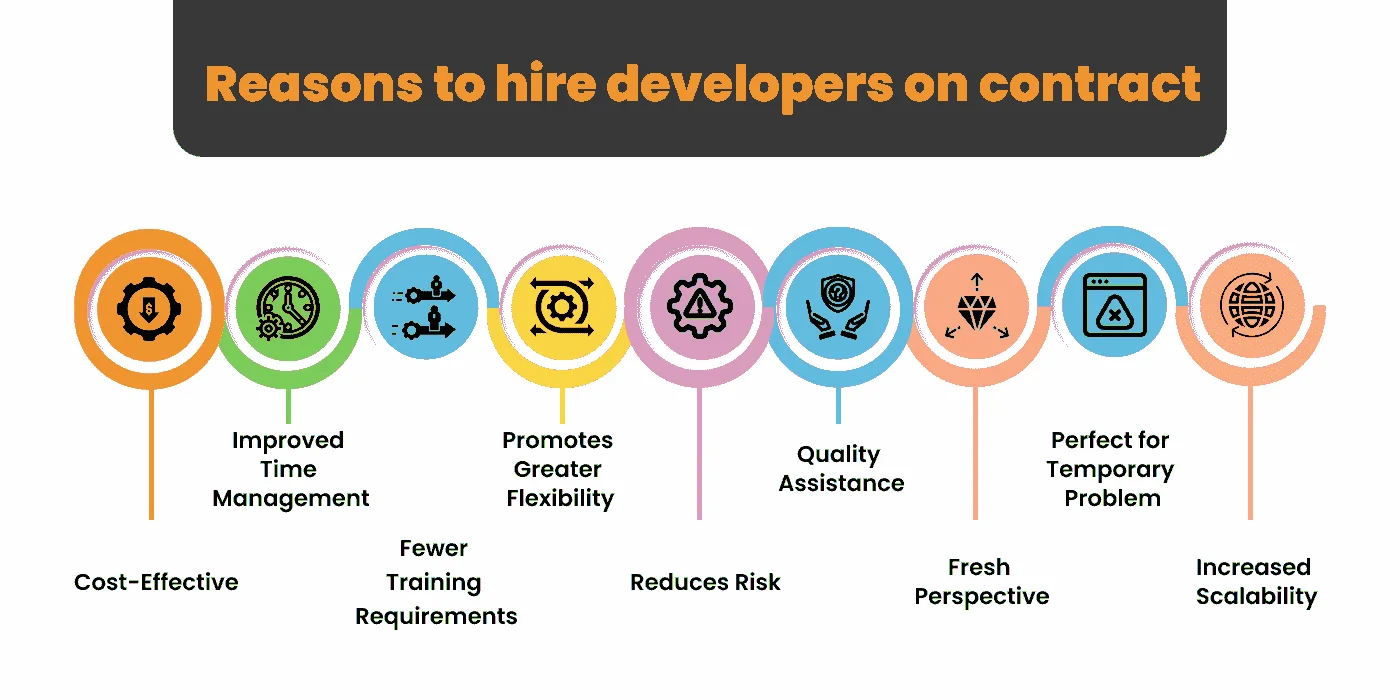 Here are some more reasons why outsourcing developers is a better business decision:
1. Cost-Effective
By working with developers on contract, you will incur fewer costs. That's because contracting firms take care of independent developers, from their insurance to their payroll taxes.
In addition, contracting firms use their software servers, equipment, and quality assurance to fulfill independent developer's needs. It means your expenses will decrease, leaving you with the opportunity to use your free funds in other areas of your business.
In contrast, an in-house team of developers can put a strain on company resources since you need to handle their salary and payroll taxes.
Likewise, an independent developer is also easy to maintain as you can increase or decrease their workload as per your requirement. For instance, if your business does not have too many coding requirements, you can reduce the hours of the contract and pay them accordingly. But your in-house team of developers must get their salaries whether your business is booming or not.
2. Improved Time Management
In the early stages of a startup, you need to complete many things in a single day. But without any additional help, it's impossible to do.
By outsourcing developers, you can improve time management and free up your schedule to handle other important things.
3. Fewer Training Requirements
Onboarding a full-time developer can be costly because it requires training them. Also, new employees might not be familiar with the industry.
In contrast, an independent developer is already aware of the job requirements. They are acquainted with every nuke and cranny in the coding world. You only need to teach them your particular coding style.
Also, contract developers have extensive working experience with several organizations. You will not lose resources and time due to any drop in productivity. So, they are ideal to hit the ground running.
4. Promotes Greater Flexibility
Hiring a team of developers on contract lets you address market needs and demands as they come. You do not have to stress about training or hiring - you simply need to manage.
Remote developers can quickly adapt to the changing market conditions. You can work together with them to define your long-term business goals without making any upfront commitments.
5. Reduces Risk
Both outsourced and in-house teams have certain risks but with outsourcing, the risk significantly decreases.
If the hired developers have satisfactory performance, you can collaborate with them further knowing your project is in safe hands. But if you are not impressed with the work, you can end the contract.
To further decrease the risk, you can check the developer's skill sets and experience before hiring them. Sign an NDA with them before assigning any tasks.
6. Quality Assistance
On-demand developers follow QA practices to improve your project's efficiency and data analysis for effective software development. Also, their previous experience of developing similar projects comes in handy. Therefore, you can be confident about the success of your project.
7. Fresh Perspective
When full-time employees focus on a single idea for a long time, they can encounter a depletion of fresh ideas. But with on-demand developers, you can get a fresh perspective on every project. That's because they have worked with a diverse range of clients related to different industries.
On-demand developers are known to bring fresh perspectives to a company's mindset that have not been considered by the company's internal team. With new ideas and perspectives, you can resolve any issues.
8. Perfect for Temporary Problem
The world of coding is dynamic and uncertain in terms of economy. If you are not sure about your goals, you should hire dedicated app developers on contract as they can comfortably work under limited-term contracts. Once the contract ends, you can terminate their services without any hassle.
For instance, after hiring a developer on contract, if you feel their service is essential, you can upgrade the temporary arrangement into a permanent one. The transition will be cheaper because contract developers were already working on different terms with you. Thus, they don't require a deep level of onboarding and training.
9. Increased Scalability
When your startup grows, your workload increases. That's why you should outsource a dedicated team of developers to streamline the operations and scale your business. You get to work with a team of skilled professionals while focusing on the production and sales of your product.
A well-trained team of developers can contribute to the growth of your business and take it to new heights of success.
5 Steps to Hiring Developers for a Startup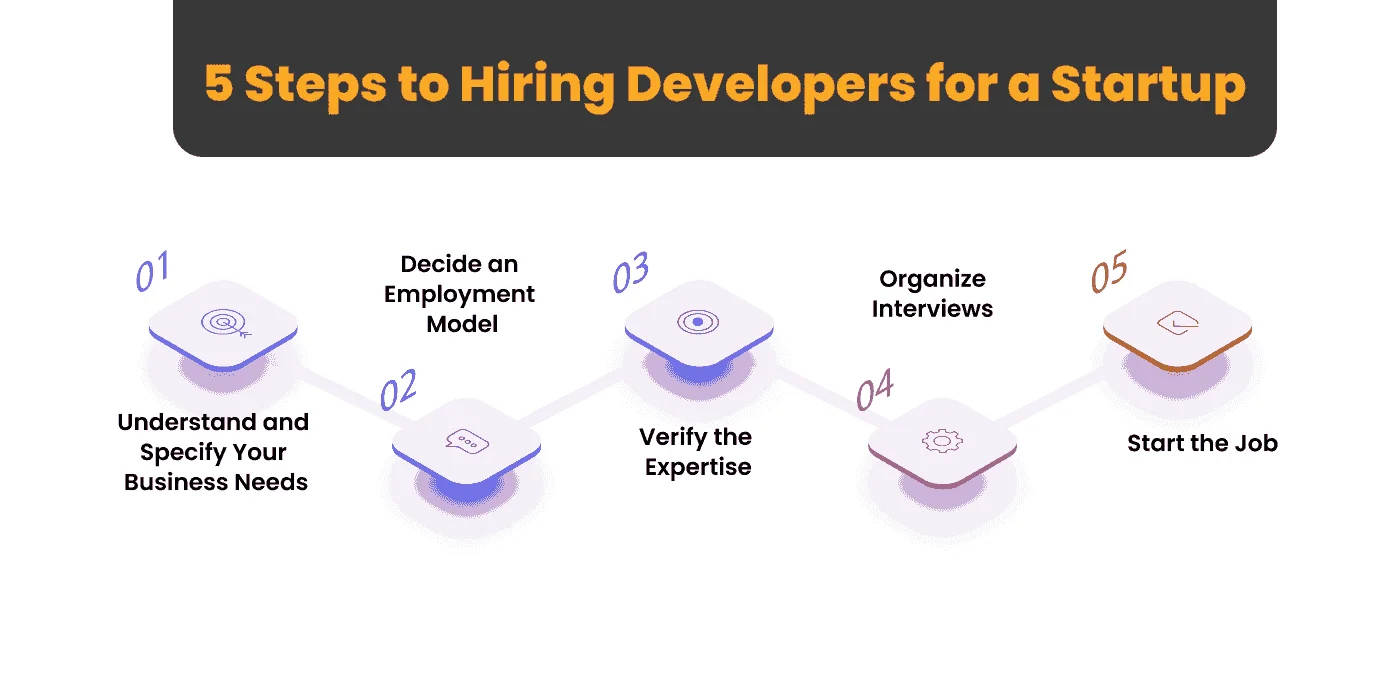 If you are wondering how to hire dedicated developers follow this step-by-step guide:
Step 1: Understand and Specify Your Business Needs
Before outsourcing developers, you must understand why you need to get an IT developer. Do you want iOS developers or do you want developers to quickly create an MVP? Maybe you already have a full-time team of developers and need additional assistance.
Once you have understood your business needs, you can quickly find the right developer. This way, you will have a better understanding of what work you need them to do and how much to pay them for their services.
Step 2: Decide an Employment Model
You need to decide on an employment type because there is more than one option.
Project-based model best suits small projects with pre-defined requirements. Developers are paid a fixed price. However, this model lacks flexibility because it does not support projects with evolving requirements.
A dedicated team model is suitable when you don't have any concrete idea of your requirements. You will get a team of developers for a specific period who will work exclusively on your project. This model offers better flexibility and allows you to directly communicate your ideas to the team. Also, you can make multiple changes during development.
If you have an in-house team, you can go for an extended team model, which allows you to fill skill set gaps. Your outsourced IT specialists will take on specific tasks while your in-house team can take charge of coordination.
Step 3: Verify the Expertise
No matter if you want to work with an IT development agency or freelancers, you must check their background to ensure they have the required expertise to handle your project.
If you are using online platforms to hire remote developers India, remember to check the reviews left by the clients for freelancers. Additionally, ask for them to share their projects so you can quickly filter out candidates who don't have the needed skills.
Use this same approach while outsourcing IT firms as well. Thoroughly read the client testimonials or you can talk directly with those clients. Furthermore, check the company's profile to understand its reputation.
Besides relevant experience and skills, the developers of IT firms must have soft skills so you can have hassle-free communication and teamwork. Make sure the language is not an issue and you must establish a common platform to discuss ideas.
The developers need to be self-organized and capable of delivering fast results. They must deal with the issues independently and should be proactive in reporting issues without fail.
Step 4: Organize Interviews
Organize interviews with developers to discuss their experience working on previous projects. This will give you a better perspective of their working style and passion.
Before conducting interviews, make a list of questions that you must ask from each candidate. Compare their answers to understand who you can work with.
Step 5: Start the Job
After shortlisting candidates from the best IT staff augmentation companies in India, assign them the jobs. It's important for both parties to mutually agree to the terms and conditions of the contract. Clearly discuss your requirements to get the best results.
Frequently Asked Questions
When hiring developers, check their technical and communication skills, time management, approach toward handling a project, and ability to learn new technologies.
The price range of hiring dedicated developers from India is between $15500 to $30000 per month. But depending on your project requirements and other factors, the price may vary.
Working with outsourced developers offers better transparency, fast turnaround, and cost-effective solutions. You also get a chance to work with top industry professionals.
Startups should ideally work with 4 to 9 developers to meet their requirements. Avoid having too many developers as it can make the development process slow.
Developers on contract have the same work as regular developers, which includes testing, designing, and developing web applications.
Conclusion
To sum up, hiring developers on contract decreases the overhead cost, increases scalability, brings fresh perspectives, decreases training requirements, improves time management, and is perfect for temporary problems.
As startups need to focus on their business goals, they must hire professional remote developers. No matter what service your startup provides, remote developers can help you succeed.
Protonshub Technologies can help you with professional development services. We work with a team of skilled professionals who have a deep understanding of development and technologies like Reactjs, Node JS, Ruby On Rails, React Native, Python, and more. You can rely on our consulting at each level of your project.
Schedule a free consultation with our experts to learn more about us.