There was a time when e-learning was an imaginary concept but it turned into reality a long ago, and COVID-19 restrictions have fueled this industry. All this became possible with the learning management system or simply LMS.
LMS is a collection of educational materials, lectures, video lessons, books, presentations, and courses. The best part is that you can have access to it using any device and from any corner of the world.
The hard part is that there are N number of LMS providers in the market, and choosing the best one out of them is a daunting task. However, you don't need to stress that since we have jotted down the steps that will ease out the process of selecting the best LMS for corporate training
Before we begin with the steps, let us know a little bit about the types and use cases of learning management systems.
Types of LMS
There are basically 2 types of learning management systems. Let us go through each of them.
1. Proprietary LMS
This is precisely what the name suggests. Proprietary LMS means your system will be owned by a developer or someone else. You won't have the flexibility to customize or personalize any options. Moreover, you won't be able to integrate any third-party source into your LMS.
Limitations aren't the only thing in Proprietary LMS, as an advantage you will be getting excellent customer support, constant updates, 24/7 support, quick bug fixes, and so on. This type of LMS is suitable for beginner users, who require constant back support and no changes in their plan in the future.
2. Open-Source LMS
Unlike the previous type, open-source LMS provides a lot of flexibility. Users can add third-party integrations, custom features, and customize the platform as per their needs.
However, open-source LMS lacks only in providing customer support. Users have to rely very much on the data available in FAQs, as well as other sources on the internet. Users can also hire a separate team to resolve their queries. Open-source LMS is recommended for advanced organizations for their corporate training platforms, that require changes on a regular basis.
Choosing the Right LMS Platform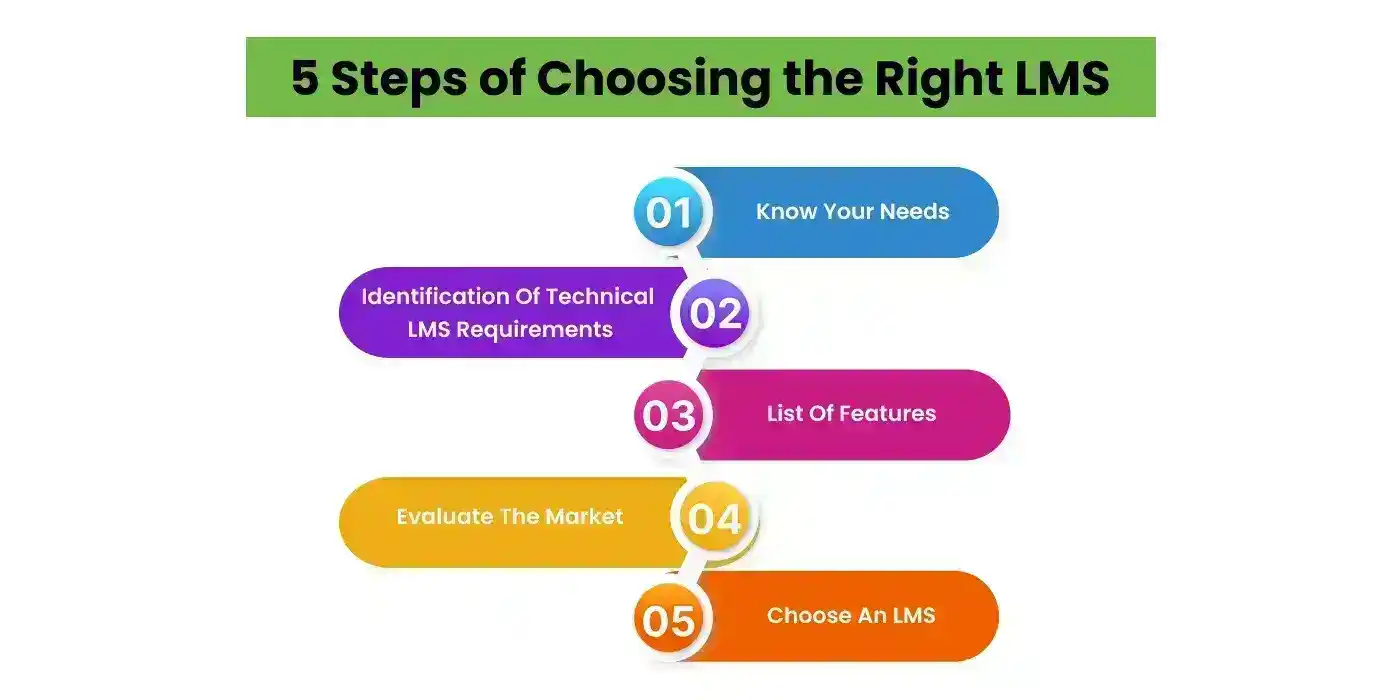 1. Know Your Needs
Before starting with the technical part, first, clear the basic needs of your 5 Ways a Learning Management System This includes the identification of your target audience and determining your business goals & objectives.
Identifying the target audience may include the age of employees, their skills, educational background, technical knowledge, as well as scaling capabilities of the organization.
Determining the business goals & objectives cover points such as achievable targets, practical goals, and future plans. It is advisable for organizations to break down their targets into shorter tasks to bring more practicality.
2. Identification Of Technical LMS Requirements
Once you are done with identifying the basic needs and business objectives, the next step is to know the technical requirements of the LMS platform. This is an important step as it will be the base of your process.
Your inclusions may contain supported content types, different enrollment options, grading systems, learning delivery, and so on. While choosing the perfect LMS for your company you should have the visual blueprint in your head.
You need to decide which type of content you want to keep in your LMS, how will you deliver it to the users, which includes verbal interactions and audio-visual interactions, etc, a dedicated grading system where you analyze the performance metric of students, and enrollment options depending on the size of your audience.
3. List Of Features
After your technical requirements are finalized, it is time to decide the features you want in your learning management system by making out a list. Here you can add different features, such as learning via mobile, social learning, course selling, and rewards.
Learning via mobile is basically for the soaring number of smartphone users. Before moving ahead in the game, one must make sure that the LMS platform is mobile-friendly, this will result in more users, thus, making a successful platform.
Social learning is learning in a group. You can add different groups or have one-on-one calls with experts to improvise your learning. Learning in groups helps you gain new perspectives and the ability to overcome challenges.
Course selling feature is optional but one can think of integrating it in their LMS platform. Similarly, rewards & appreciation are necessary as they will motivate students to do better. Also, these letters of appreciation and certificates may benefit students in their portfolios as well.
4. Evaluate The Market
Now when you have the target audience, platform requirements, and list of features, you are pretty much sorted from your end, but now you have to choose the best from the crowd. There are 100s of The Future of Learning Management providers sitting in the market and it is your duty to evaluate them. Below are a few points that can help you in making a better decision.
The vendor must provide all your necessary features, otherwise, it is out of the list.
How long the vendor has served the market, is it an established player with a reputation or a newbie?
Read testimonials and reviews of the vendors you are considering.
Check their website and see how well-maintained it is in terms of content.
Know about its tech support process.
Ask for localized features if the company is foreign.
Ask for any other factor you have a doubt about.
5. Choose An LMS
You have reached the last stage which means you have crossed all the above-mentioned levels. Well, the process must be intimidating but the outcomes will surely be of great use. In this last process, all you need to do is to test your shortlisted corporate learning management system providers. For this, you can either ask them for a demo or test the platform yourself.
You can talk to your peers and colleagues to take the review for the same, it is good when more brains are used to analyze the functionalities of a technology.
Once you are satisfied with their services, only then should you move ahead with them.
Frequently Asked Questions
LMS stands for learning management system which is a concept that emerged from e-learning. It is a software application used for the documentation, administration, reporting, tracking, and delivery of training programs, educational courses, and L&D programs.
LMS can be used by a large pool of individuals and organizations. To be more specific, it can be used by students, employees, educational institutions, and organizations.
LMS is a lot different from traditional learning platforms because it allows teachers to experiment with different styles of teaching, and customize methods as per the capabilities of the students. Unlike traditional learning, LMS platforms can be accessed from anywhere in the world.
LMS has numerous use cases, but the top five are as follows: academics, employee training, onboarding, customer training, and compliance training.
Like every other technology, LMS also has its challenges which are as follows: unreliable internet connection, incompatible content, online security, more screen time, and lack of motivation.
Conclusion
We understand that choosing the best LMS platform for your organization can be an intimidating task, which is why we have provided you with all the necessary information you'll need throughout the process. Hope all your doubts are clear and you will not struggle in finding the best LMS platform for your firm. However, if you like to outsource, Protonshub Technologies is a well-known firm to provide you with the best LMS for corporate training Companies like ours will help you overcome any potential challenges and make the process smoother than ever. So if you are looking for it, you know how to reach us.