Are you considering developing a dating app but concerned about the price?
Are you interested in learning how to build a dating app seamlessly?
We'll look at some ideas and methods for making a dating app in this blog post. We'll tell you why you need a dating app in 2023 and how you can develop a profitable dating app without going over budget, from selecting the best development team to utilizing current technologies.
So continue reading if you're ready to begin your dating app journey!
Why is there a need for dating apps?
When it comes to being selective in choices, dating apps are the right platform to get the same.
To interact with people who have similar interests and values, dating apps give users a platform, which makes it simpler to find potential romantic partners.
There are two main reasons why dating apps are becoming so popular:
1. Ease of Use
2. Wide Availability
Many people have found lasting relationships thanks to dating apps, which have become an essential element of contemporary dating culture.
It's not just about providing a good experience, but with dating apps come many other benefits like:
1. Convenience
2. Safety
3. Privacy
4. Selectivity
5. Cost-effectiveness
6. Time-Saving
7. Diverse Dating Pool
If want to increase my benefits, then customization is the option.
If are you looking to create a dating app as per your design, features, and interface, then contact us and we will explain to you the complete process of developing your dream dating application.
What are the must-have features for developing a dating app?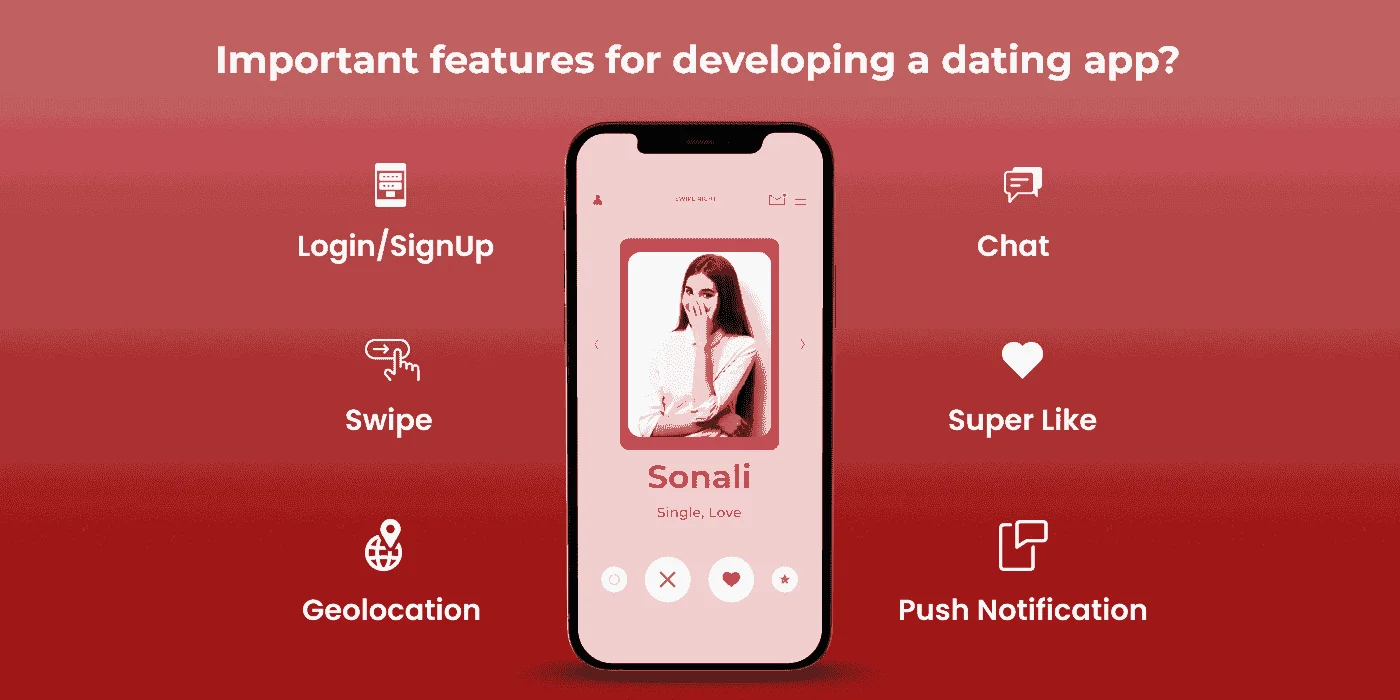 1. Login/SignUp
Any dating app should have a login or signup feature. Making it simple and intuitive, including social networking, using email verification, including a password reset feature, and maintaining privacy and security were important factors in building this feature.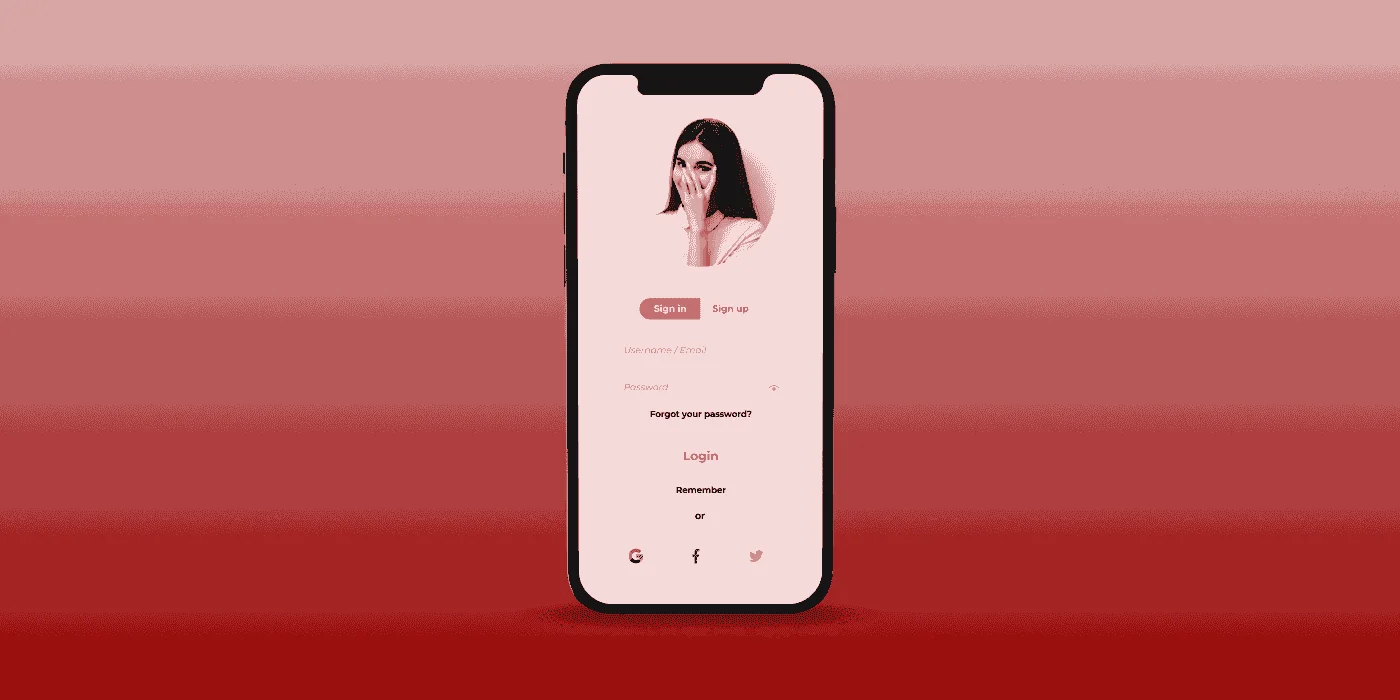 2. Swipe
This feature allows users to swipe right to show interest in a profile and left to pass. A match is produced via mutual swipes, allowing users to initiate communication.
3. Geolocation
The ability for users to find their match based on their current location is currently the most crucial feature.
Users can discover dates nearby thanks to this function, which enables location-based matching and shows potential matches nearby.
4. Push Notification
Who doesn't want to get notified?
With this feature, users get notifications about new matches, messages, or relevant updates to keep them engaged and active on the app.
5. Chat
Real-time chatting, push alerts, message history, photo and video sharing, emojis and stickers, block and report options, encryption, and security precautions are all included in the chat features of dating apps.
This feature can assist in offering users a top-notch and captivating experience that promotes connection and conversation.
6. Super Like
The Super Like feature is a well-liked element of numerous dating applications. Users can utilize this feature to swipe up or push a Super Like button to show heightened interest in a possible match.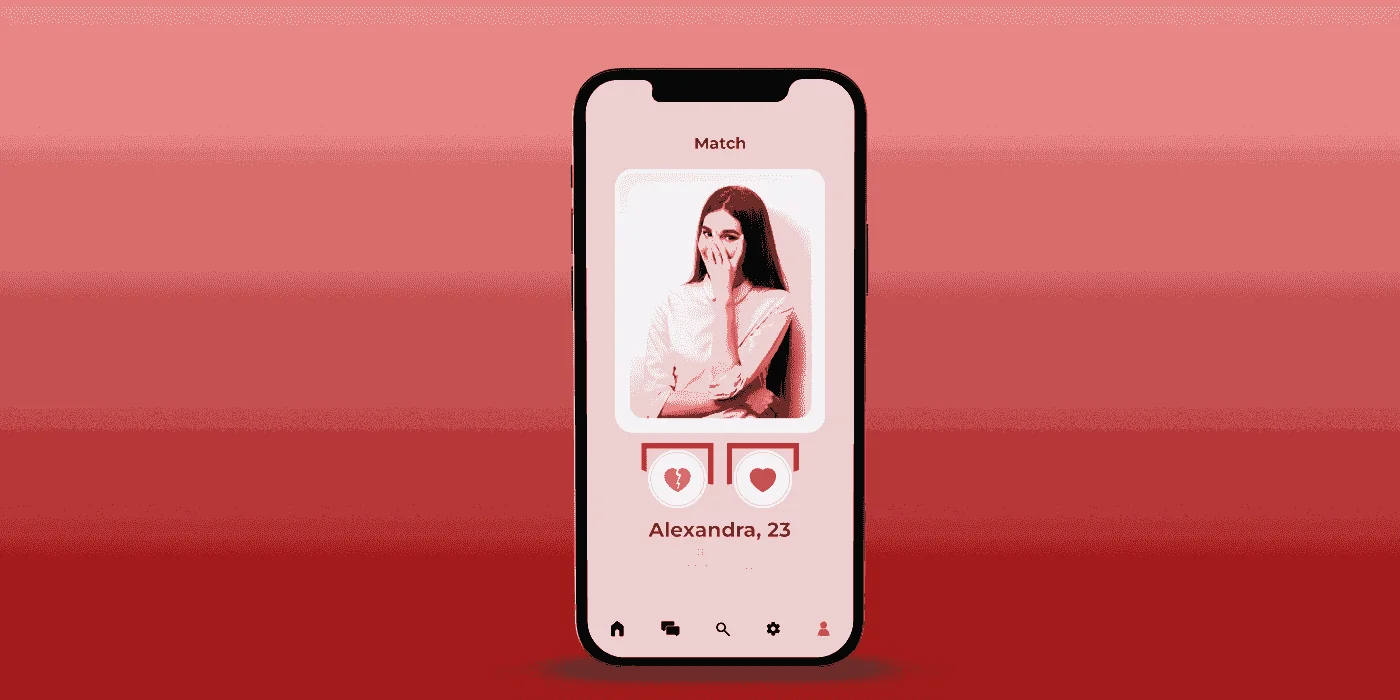 Premium features to make your dating app competitive
1. Messaging before Matching
Users can initiate conversations with possible mates and learn more about them before deciding whether to match with them by permitting communications before matching.
Offering a more engaging and tailored experience can aid in increasing user engagement and retention.
2. No Ads
Making your dating app more competitive by including a "no ads" function as part of a premium subscription can be a wonderful idea.
Offering this functionality will allow customers to use your software without being interrupted by ads, which will enhance their overall experience.
3. Unlimited Likes
Who doesn't want to get unlimited likes access when it comes to dating apps?
Users can swipe through possible matches using this function without being limited in the number of likes they can send.
4. Unlimited Rewinds
Many dating apps don't provide users the chance to go back and modify their minds after swiping left or right on a profile.
You can give consumers more control over their swipes and assist them in avoiding missing out on prospective matches by including unlimited rewinds as part of a premium membership.
5. Passport
The passport feature might be particularly helpful for customers who are on the go or relocating.
Users can connect with possible mates in their new area before they arrive if you give them the option to modify their location.
Top best dating apps of 2023
1. Tinder
One of the most popular and favored dating applications that enable users to interact with others who have also swiped right on their profile when browsing possible matches.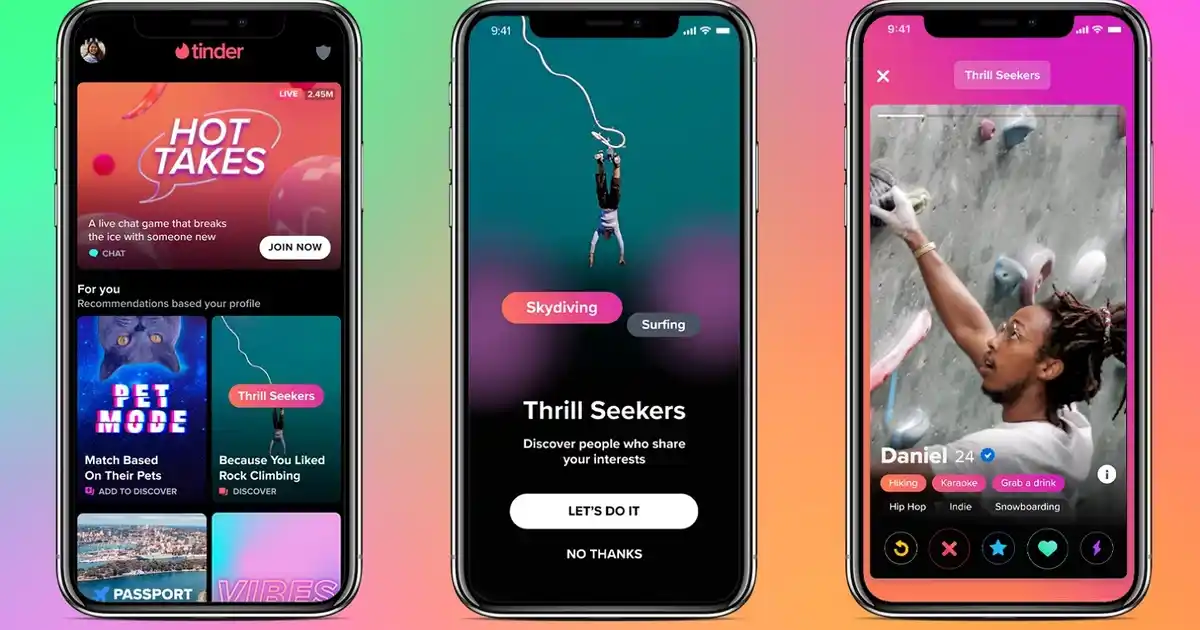 2. Bumble
The popular dating app Bumble was introduced in 2014. It has a distinctive feature that requires women to strike up a discussion with potential mates first.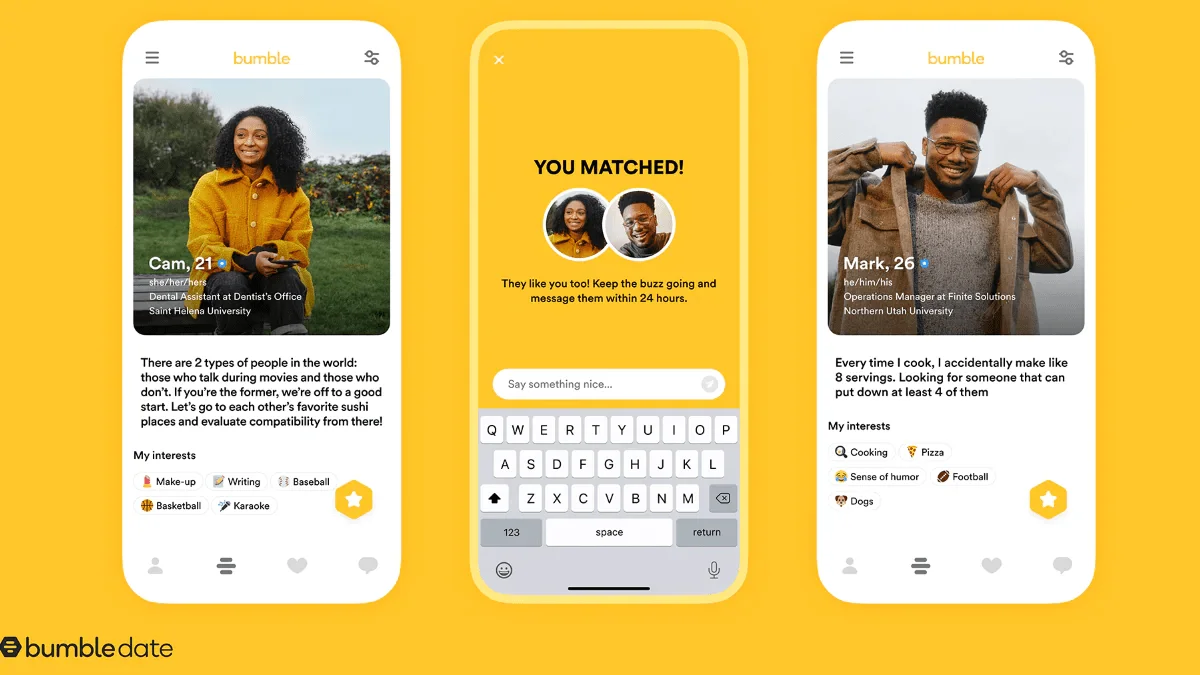 3. OkCupid
A well-known dating app called OkCupid was introduced in 2004. It matches people based on their interests, values, and preferences via a thorough questionnaire.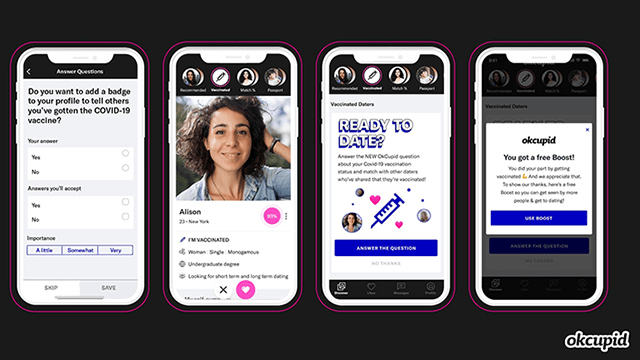 4. eharmony
The popular dating app eharmony was introduced in 2000. It matches people based on their compatibility and shared values using a special matchmaking algorithm.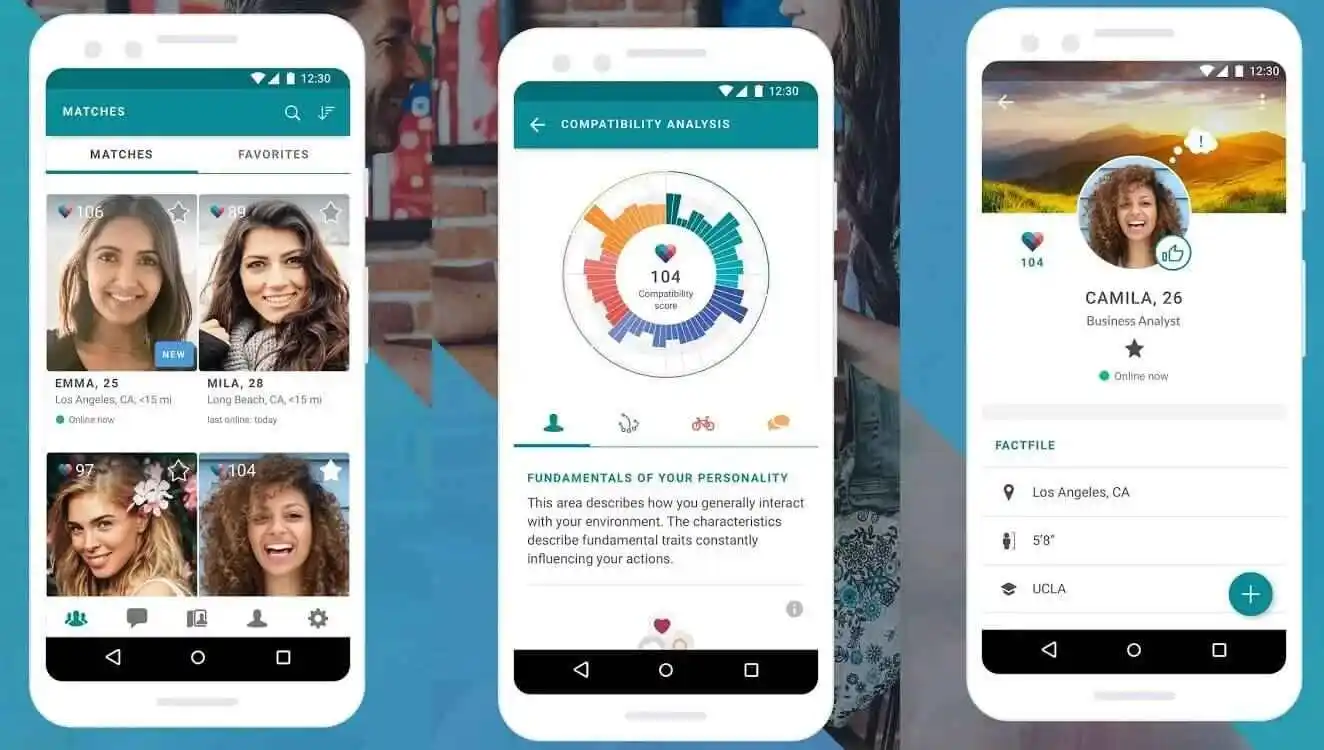 5. Hinge
A well-known dating app called Hinge was introduced in 2012. It focuses on forging deep connections between users by employing a series of questions and prompts to assist users in developing more in-depth profiles and connecting with mates based on similar interests.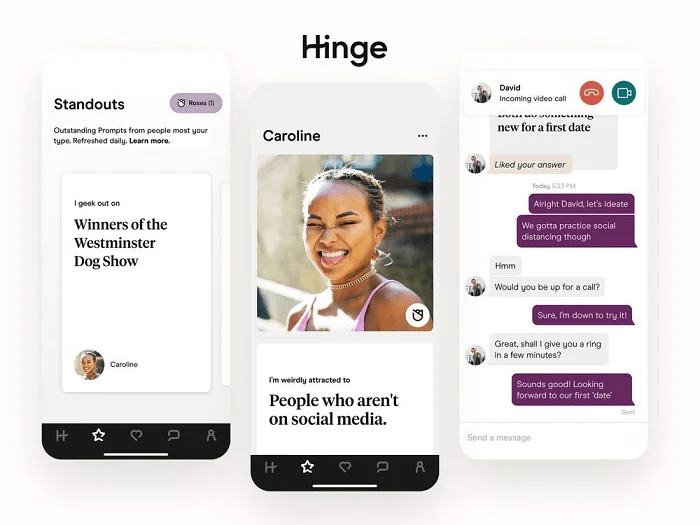 6. Happn
2014 saw the release of the well-known dating app Happn. To connect users with people they have really crossed paths with in real life, it has a distinctive location-based matching mechanism.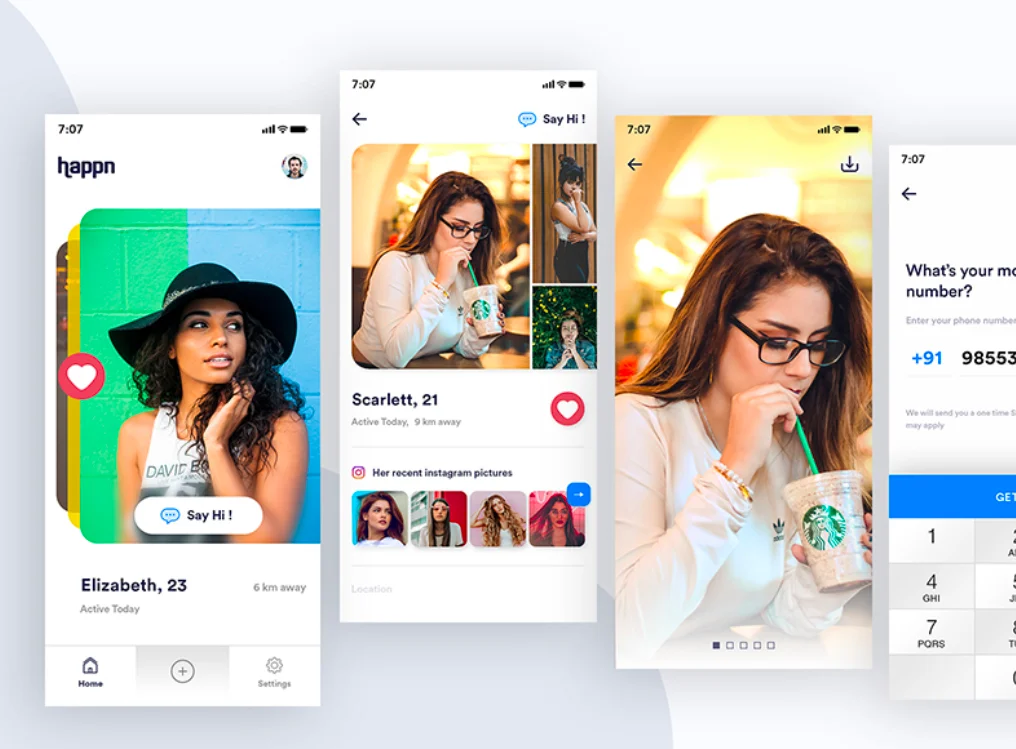 Steps to create a dating app at a low cost
It's not easy to develop an app from scratch, but with experience comes expertise, and that results in making an app that is competitive and budget-friendly.
1. Know the audience
Understanding your target market will help you develop apps that cater to their unique requirements and interests, which will boost user retention and engagement.
Imagine you are developing a dating app for students. Knowing who your target market is will help you assume that they are technologically adept and eager to interact with people of their own age. Additionally, you are aware that they can be on a tight budget and searching for free or inexpensive dating services.
Based on this knowledge, you may design an easy-to-use dating app with functions that appeal to younger users, such as swiping and texting.
2. Competition is the key
Imagine you are developing a dating app with the goal of bringing together individuals with a passion for outdoor sports. You should look into other dating apps that target those interested in adventure sports or hiking.
You may find out what features your competitors offer and how they sell their apps by researching them. For instance, you could discover that certain applications provide features like companion matching based on shared hobbies or group events.
It will help you stay ahead of the competition and also help you develop a unique and feature-rich app.
3. Choose a simple & user-friendly design
Wondering why design is important when it comes to creating a budget-friendly dating app?
Imagine you are developing a dating app with the goal of bringing people together based on shared musical tastes. The dating app UI design should be clear and simple that enables customers to quickly browse and connect with possible matches in order to maintain the design straightforward and user-friendly.
To enable users to swiftly explore prospective matches, you might want to think about implementing a swiping interface that is comparable to a well-known dating app like Tinder.
4. Make a feature list
Your client can have their own set of features that they want in their app, and the developing party will also have their features in mind.
It's crucial to make a list of features and re-check it once so that both the client and the dating app development company can move forward when it comes to the final development stage.
Consider that your client wants to add a feature that allows users to find matches based on their hobbies or preferences. You are developing a dating app that connects individuals based on their location.
If you had a list of features in advance, you might have created a feature as per your client's requirement without any issues, saving time and money.
5. Develop an MVP
An essential step in producing a profitable dating app at a reasonable cost is designing a Minimum Viable Product (MVP). An MVP is a stripped-down version of your software that just has the most important functions, allowing you to test the market and get user feedback before spending money on more complicated features.
By creating an MVP, you can cut development expenses and lower the chance that you'll spend money on features that your target market doesn't want.
6. Outsource development
By outsourcing development, you may get the technical facts of making your app, including coding and design, taken care of by a reliable development firm or freelancer.
You can cut costs related to recruiting an internal development team, such as pay, benefits, and office space, by outsourcing development.
7. Test & Iterate
A crucial stage in developing a profitable app at a minimal cost is testing and iterating your dating app.
The process of testing and iterating entails getting user input and modifying your software in response to their suggestions and preferences.
Future of dating apps in 2023 and beyond
Tinder's recent report reveals that Gen Z, specifically those aged 18-25, are changing the traditional dating landscape. This generation is breaking away from conventional methods of finding a partner and exploring new ways to meet potential matches.
The search for a perfect partner will never end. But what exactly will change is the ways and means to achieve the perfect soulmate.
Back in 90's who knew that one day people will find their match online?
As technology continues to evolve, the dating industry will likely continue to adapt and innovate to provide users with more personalized and satisfying experiences.
Today, dating apps have become a common way for people to meet potential partners, and with emerging technologies such as augmented reality and artificial intelligence, the possibilities for finding a soulmate are endless.
Data reveals that about 270 million people across the world use dating apps. With such a big number, the future of dating apps is quite growing and successful.
Are you ready to build your own dating app like Tinder?
Protonshub with 5+ years of experience has the best in class developers to build your own dating app at the most affordable pricing. Contact us and we will let you know everything about our process and cost.
Frequently Asked Questions
A mobile application called a dating app enables users to communicate with one another and look for new romantic partners. Users are often matched by the app's matching algorithm according to their preferences, interests, and geography. Individuals have the option of creating a profile, perusing other profiles, and contacting other individuals via a chat platform. Additionally, some dating apps charge a subscription for premium features like limitless swipes or the capacity to view who liked your profile.
Creating a dating app includes many features to be considered and with the growing trends in the market, it's important to match the competition. Features like signup, match, super like, swipe, messaging and so on are required. Further, it depends on the client what type of features they want to add to their app.
Dating app development cost depends upon various factors like the complexity of the app, features, UI/UX design, and a lot more. The cost can range between $25000 - $60000 depending upon requirements.
There are some core features that provide best-in-class security like 2-factor authentication, user login, reporting, and blocking.
Summing Up
Creating a dating app at a low cost requires careful planning and consideration of the core features that are essential for the app's success. The most general question is how to create an app like Tinder, while it may seem daunting at first, with the right steps and knowledge, it becomes easy to build a dating app that is highly competitive and feature-rich. This blog provides valuable insights into how to build a dating app at the most affordable cost and in less time. It emphasizes that a user-friendly interface is just as important as the app's productivity. By following the steps outlined in this blog, you can create a dating app that offers essential features and a good user experience while keeping development costs low.