Fun and interactive dating apps like Hinge have changed the way people meet and date.
By expanding singles' social networks, the apps help them cross paths with people whom they might have never met otherwise. Dating apps let people explore romantic relationships in a safer and better way. They erase the user's geographical and educational background.
If you are planning to enter the online dating niche and are wondering how much it costs to make a dating app like Hinge, you are at the right place. We will help you understand dating app requirements, its demanding features, monetization strategies, tricks to make your app interesting, the cost of developing a dating app, and more.
Basic Requirements to Create a Dating App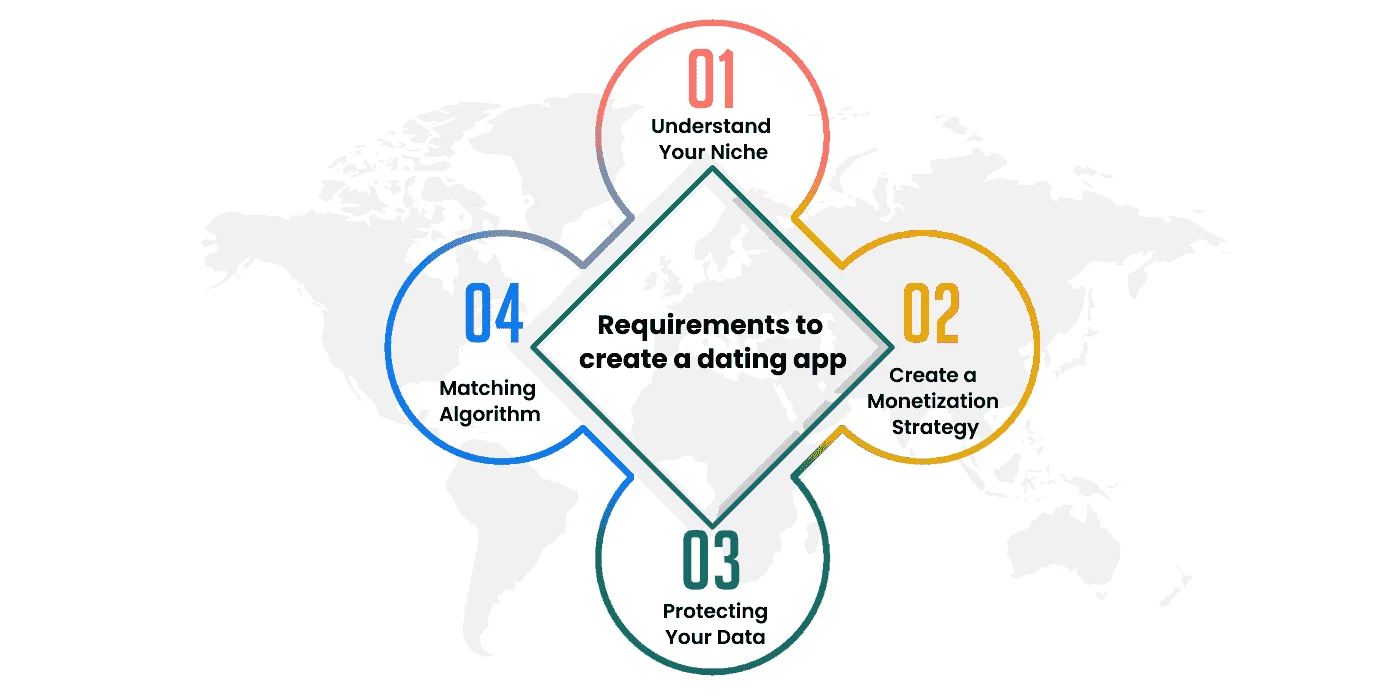 The following requirements can help you create an interactive and fun dating app:
1. Understand Your Niche
Almost all dating apps have a significant amount of competition. One way you can stand out is by identifying your niche. Once you have identified the group of people who are in need of an impressive dating app, you can create a similar platform that caters to their needs.
2. Matching Algorithm
Location-based Approach: This approach is based on proximity because users check the profiles and pictures of other users. Then they take action and start a chat. The feature puts the responsibility on users to choose a trustworthy partner.
Questionnaire-based Method: It is one of the most popular matching systems because it involves interactive questions, games, and situations. The app uses this information to match users with someone who has similar preferences.
Behavior-based Approach: This approach allows dating apps to create users' profiles based on their social media information and historical data. It makes dating profiles more reliable and less susceptible to catfishing.
3. Create a Monetization Strategy
With a detailed monetization strategy, you can earn a steady income through your dating app. Although there is no clear figure, you can increase the amount of revenue through different factors like advertising and in-app purchases.
4. Protecting Your Data
When creating a dating app, you need to pay attention to the security. That's because strangers will connect through the app and you need to maintain everyone's safety. Common safety options on dating apps include account verification and a panic button.
8 Ways to Make Dating Apps More Interesting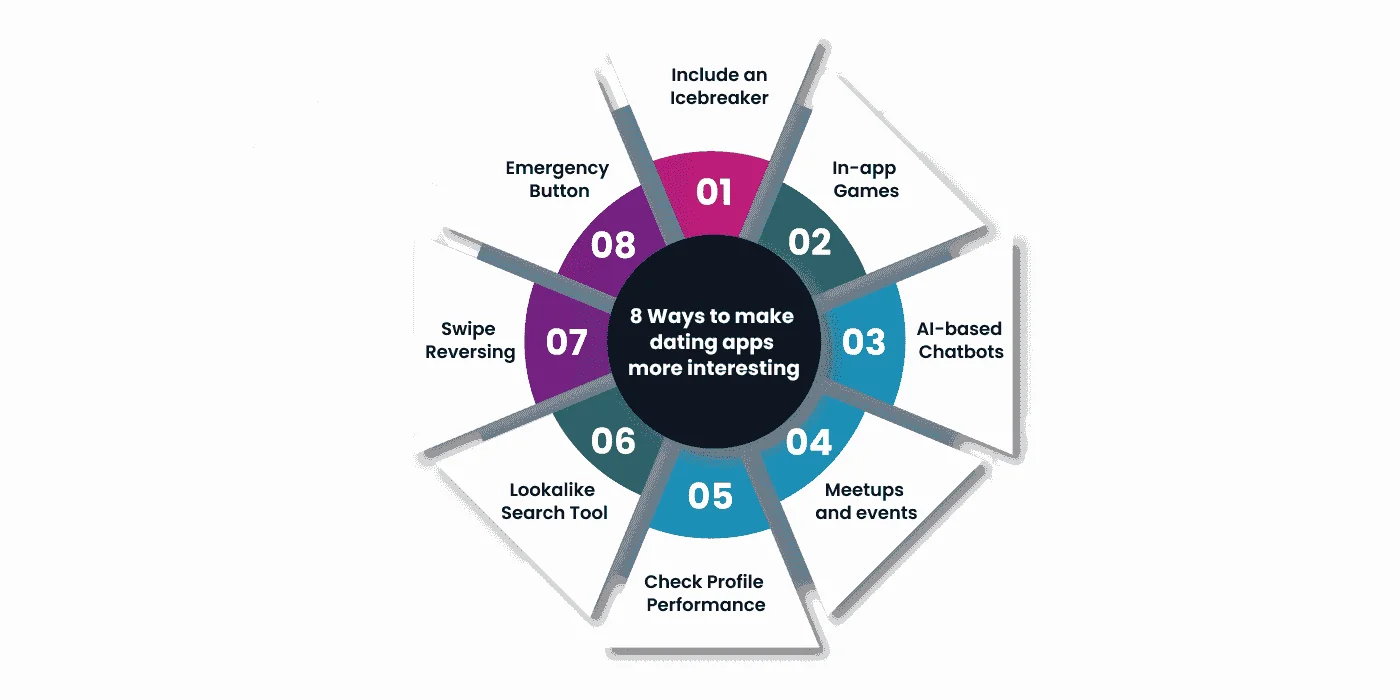 With the below-mentioned features, you can boost user engagement in your dating app:
1. Include an Icebreaker: There is a chance that users might not initiate the first conversation even after a match is made. That's where a good icebreaker can help. Your users need to use quick conversations and trivia questions to engage with each other.
2. In-app Games: You can add interesting in-app games because these are not mentioned under the list of features. Try and test different ideas, and roll the best ones to your entire user base.
3. AI-based Chatbots: By offering AI-based chatbots, you can provide on-time assistance to your users. Furthermore, you can motivate them to build relationships by suggesting the right ways to begin a conversation. AI-based chatbots can also help users understand how to respond to certain messages.
4. Meetups and events: Users can discover nearby events through the meetups and events feature. It is an excellent way to bring people with similar interests together.
5. Check Profile Performance: By adding an online profile performance checker in your app, you can allow users to check their performance before connecting with others. This feature can assist them in building an appropriate profile to find the right partner.
6. Lookalike Search Tool: What if your users can find someone who resembles their ideal partner? Enters lookalike search tool. By using AI's facial recognition technology, users can find their dream partner. They simply need to upload a picture of a celebrity or anyone whom they like.
7. Swipe Reversing: Save your users from accidentally swiping a profile by introducing a swipe reversing feature on your app. With easy swipe undo, users can change their swipes.
8. Emergency Button: Add an extra layer of safety with an emergency option where users can hit the panic button when they feel unsafe. After receiving the alert, authorities will look into the matter and take immediate action.
Steps to Create a Dating App
Step 1: Hire a Software Development Firm
Look for the best mobile app development company in USA to plan out every aspect of your dating app's future. Work with them to create detailed documentation and development plans. Build prototypes, record requirements, and research the market to create a better dating app.
Step 2: Getting Started
With a prepared development plan, set requirements, and tech stack, you can get started on the development of your app. Get regular updates from the development team to avoid any errors.
Step 3: Assured Quality
With early testing in the development process, you can quickly find bugs and fix them on time. By fixing bugs in the production phase, you can save your money and resources. Additionally, beta-test your dating app with a group of users. Ask them to share their feedback and apply the suggestions in future updates.
Best Monetization Strategy for Dating Applications
Are you looking for the best ways to monetize your dating applications? Follow the methods mentioned below:
Advertising: Earn extra revenue by running ads on your dating application. Dating platforms with larger user populations can benefit the most from this approach.
Subscription: Dating apps with paid features can enhance user experience. So by including a subscription model on a monthly or annual basis, you can keep your users entertained with your continuous service.
In-app Purchases: Include cost-effective in-app features like options to hide profiles and private chat rooms. You can also include premium memberships and gift coupons.
B2B Services: You can offer advertising services to different companies, allowing them to place their data and apps on the platform.
With intelligent marketing and correct monetization strategies, you can earn better revenue and impressive results in no time.
How Much Does it Cost to Build an App like Hinge?
Hinge is one-of-a-kind dating app that matches users based on their location. Its main focus is on creating longer relationships rather than just hookups.
If you wish to create a dating app like Hinge, the development cost can be between $25,000 to $150,000. Factors like the app's complexity, feature list, developer's hourly rates, and location can determine how much you actually need to pay to create a dating app similar to Hinge.
Simple dating app creation can cost you between $25,000 to $80,000. Likewise, medium-difficult app creation can go up to $100,000, and high-complexity dating app creation can cost you more than $120,000.
Creating dating apps can be costly but by knowing what affects the price, you can save money. Always hire the best dating app developers to fulfill your unique business needs.
Factors Affecting the Cost of Creating a Dating App
Your budget for developing a dating app can vary greatly depending on how well you have prepared for the process. Besides team size and the developer's hourly rate, the below-mentioned factors can influence your dating app's development cost.
Features: The more features your dating app will have, the more expensive its development will be. The best way to save money is to focus on the core functionality rather than adding too many features in the initial development phase. Avoid adding features that do not form initial product value.
Technology Stack: The technology stack requirements and charges for creating cross-platform, hybrid, and native app development are different.
Deadline: You will need to hire a bigger team of developers to create your dating app faster. Also, developers charge more when working under tight schedules. Thus, you must plan the app development accordingly.
Hiring Model: By working with a team of freelance developers instead of an in-house team, you can save a significant amount of money.
Team Qualifications: A team of highly experienced software developers will charge more than a team of junior developers. But the quality and efficiency of work can be compromised when working with junior developers.
Marketing Campaign: Once your dating app is created, you need to spend on its promotion as well. As the market is highly competitive, it is possible that your marketing campaign cost can surpass the development cost.
Post-release Support: Your app needs post-release support like technical maintenance, analytics, and marketing support to function properly in the long run. However, getting post-release support can increase your dating app development budget.
What Technology Stack You Can Use for Developing a Dating App like Hinge?
By examining your technology necessity for building a dating app, you can create the app on a budget. Here are some common options you can choose from:
Native App Development for Dating Apps
You need different technology stacks to develop Android and iOS native apps.
For creating an Android dating app, you can use Kotlin. This type-inferable language is syntax and Java-compatible. Likewise, for iOS app development, Swift is the ideal programming language. It's an open-source, fast, and error-free technology. Besides this, Objective-C is also a well-tested and stable programming language for developing iOS apps.
Cross-platform Development for Dating Apps
You can accelerate the app development process by using a cross-platform development process. It launches two apps from a single codebase.
Frequently Asked Questions
One important challenge that occurs is securing the sensitive and personal information of users. Similarly, issues related to user authentication, connectivity with the payment system, cross-platform adaptability, and user experience can also delay the dating app development process.
Tinder has become one of the most popular dating apps worldwide in terms of market share. But it has a reputation for being an app widely used for hookups. Next on the list of popular apps are Hinge, Bumble, Coffee Meets Bagel, Her, and Grindr.
Before creating a dating app, you must do thorough market research to understand your target audiences. Your app must have popular features like geolocation, push notifications, social media integration, user profiles, and in-app chat.
Creating a dating app is a time-consuming process because it demands professional coding skills. On average, the dating app development process can take anywhere from 2 to 3 months. It then needs an additional few months for testing and implementing new suggestions. Other factors like platform-based services, features, and modifications in GUI also impact the development time.
Every dating app must have a basic feature of profile matching to bring together two people with common interests. Other basic features a dating app should have are a chat option, image upload, geolocation matching, image & video sharing, and age group matching.
Conclusion
The online dating industry is highly competitive and is predicted to grow even more in the near future. So if you are planning to enter the dating industry, you must create unique solutions for online daters.
One way you can do this is by reaching out to Protonshub Technologies. We are a leading dating app development company, working with a team of dedicated and skilled developers. Our development team will timely communicate the requirements and issues with you, which is essential for a successful project.
Get in touch with our expert developers to learn more about our app development services.