In today's soaring dependency on digital platforms, organizations are countering many challenges to deliver exceptional customer experiences. This is where digital transformation opens new doors of opportunities.
Digital transformation is not just the adoption of technology, it is much more than that. It includes changes in the working patterns of employees, management of customer interactions, and gathering of information, ultimately improving customer satisfaction and revenue generation rate.
To be precise, digital transformation is revolutionizing customer experience by creating an omnichannel experience. Businesses can update their operations by getting in touch with a digital transformation company that understands customer preferences and has expertise in this domain.
What is Digital Transformation?
Digital transformation is the digitization of different business aspects to reduce costs, optimize operations, and serve customers in a better way. Digitizing an organization often requires changing overall operations that are happening within the organization. This process can be perceived as automating the time-consuming processes and getting it done in much less time.
Companies can see more satisfied and engaged customers after digital transformation, leading to increased sales and improved brand loyalty. Digitalization transforms the behavioral patterns of traditional firms by keeping customer experiences at the forefront of their strategy.
Companies can further increase customer acquisition and retention, owing to this paradigm shift. Apart from better flexibility and market agility, digitalization also prepares business owners for sudden market downfalls and other potential threats.
What are the Significant Benefits of Adopting a Digital Model?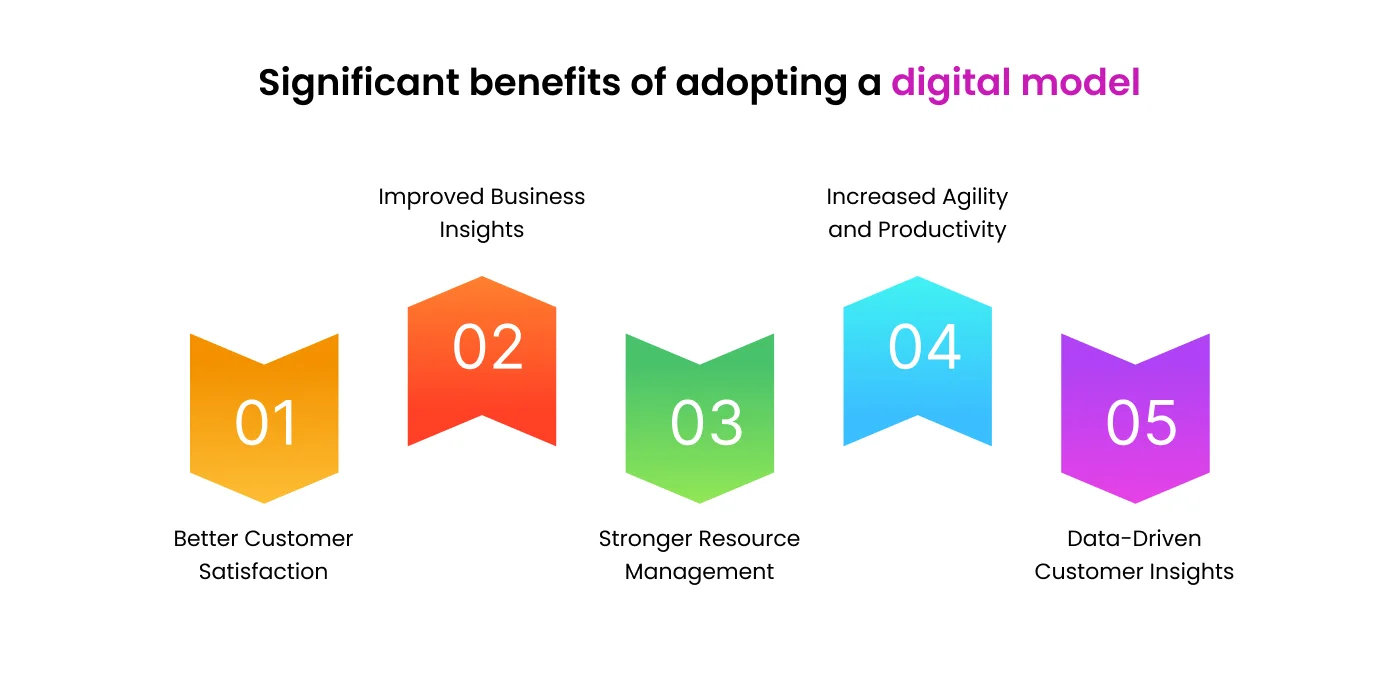 Better Customer Satisfaction
According to a survey, almost 90% of customers can leave your brand due to poor customer service, and no business would want this. Digital technology offers personalized support and better user interaction.
No company wants their work to be delayed, which increases their customer's expectations. This is the reason why companies are adopting digital transformation, so they can provide better customer satisfaction to their customers.
Improved Business Insights
Digital transformation can provide tons of valuable data about your customers' requirements and preferences, resulting in improved business insights that will help you better serve your customers. By using these insights, businesses can find gaps in the market and make improvements accordingly.
Furthermore, businesses that are getting started can also evaluate market opportunities and threats, enabling them to make an informed choice. The best part about these insights is that businesses get actual measurable figures and can work accordingly.
Stronger Resource Management
Digitalization strengthens the use of information and resources for businesses using a suite of tools rather than databases and software. It can integrate databases, applications, and software into a central storage for business intelligence.
For those unaware, digital transformation is not a department. It facilitates efficiency across various departments using innovative strategies that drive conversion and better customer experience. It is vital to secure and optimize the flow of data while also understanding the best way to leverage it for the benefit of your business.
Increased Agility and Productivity
Digital transformation increases the effectiveness of an organization, making it agile. Businesses can leverage the power of digitalization to improve the quality of their products and services, which results in better customer satisfaction. This approach offers faster adaptation and multiple ways for improvement.
Furthermore, with the right tech tools, businesses can also improve their productivity and streamline workflow. It empowers the efficiency of the team members by automating manual processes and integrating data throughout the company.
Data-Driven Customer Insights
Data is one of the significant factors for a business to unlock great customer insights. By getting a better understanding of the needs and preferences of users, businesses can come up with a more customer-centric strategy.
Data related to personal customer information and social media metrics can help drive organizational growth. The strategy made using this data provides more personalized, relevant, and agile content.
5 Ways to Start a Digital Transformation Journey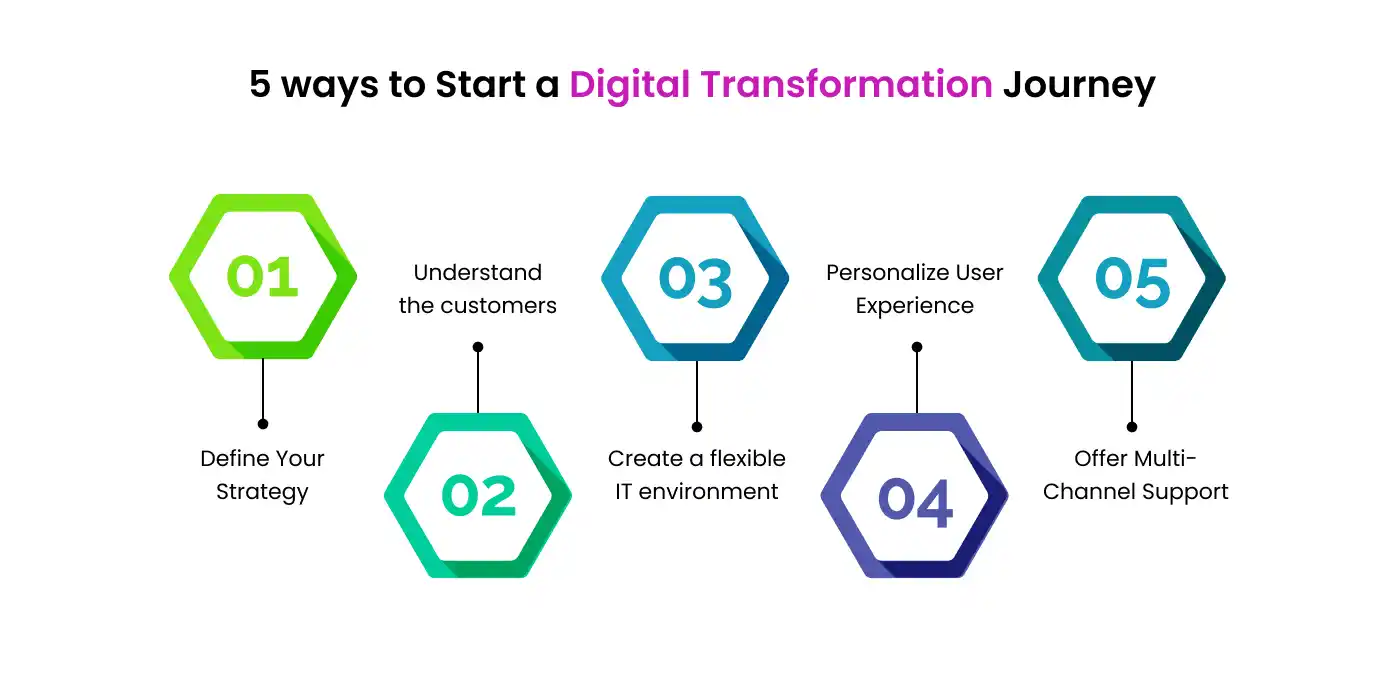 1. Define Your Strategy
With the recent technological advancements and ongoing innovations in the marketplace, the business world is moving rapidly, bringing the need for digital transformation. This is the reason why companies should have a clear and long-term strategy to stay ahead of their competitors.
2. Understand the Customers
Customers nowadays are gaining control over the delivery experiences of brands, which is bringing the necessity for organizations to have a solid understanding of individual experiences at every segment of the customer journey. The endgame is to provide customer satisfaction, which ultimately improves the retention rate, which can be only achieved by understanding every pain point of the customer and resolving them strategically.
3. Create a Flexible IT Environment
Once you understand the requirements of your customers, your digital transformation journey will begin. By creating a flexible IT environment, you can achieve the desired results. For this, you can invest in the right technologies, such as data analytics, cloud computing, IoT, and artificial intelligence. Additionally, businesses may need to take help from organizations to create a digital transformation strategy to efficiently achieve the results.
4. Personalize User Experience
Believe it or not, personalized segmentation is set to win all the races in the future. It all comes down to one road, that is how well an organization knows its customers. In fact, customers are happy with companies using their purchase history details to recommend products with similar taste and quality.
5. Offer Multi-Channel Support
Thanks to technology, consumers may now have what they want, when they want, and in the way they want. Now, they are not limited to one platform. Customers use mobile apps to share their opinions, browse in-store, shop online, and post inquiries for your support staff on social media platforms. Businesses can generate a single digital profile for each consumer engagement with your organization by connecting all of these encounters.
Frequently Asked Questions
Digitizing different elements of a business to cut expenses, streamline processes, and provide better customer service is known as digital transformation. Modifications to the organization's general operations are frequently necessary when digitizing a business.
Digital transformation can enhance customer experience by offering the following benefits: better customer satisfaction, improved business insights, stronger resource management, increased productivity, and data-driven customer insights.
Some of the latest digital transformation trends that are shaping the customer experience, include customized digital experiences, multi-channel user engagement, AI, chatbots, IoT, connected devices, data privacy, and security.
5 ways you can start your digital transformation journey include defining your strategy, understanding the customers, creating a flexible IT environment, personalizing user experience, and offering multi-channel support.
Protonshub Technologies provides a data protection layer that directly integrates with the applications you use daily, such as Salesforce, Google Workspace, and others. This allows users to continue working in a familiar environment with added security from Protonshub Technologies.
Conclusion
Digital transformation is important for businesses that want to evolve, flourish, and stand ahead of the competition. Customer experience and digital transformation go hand in hand, making one useless without the other. With customer expectations skyrocketing, no business can survive without fulfilling them. That's why it's mandatory to dive into the depths of digital transformation.
So, if you want your business to flourish exponentially, Protonshub Technologies, a leading mobile app development company in the USA can help. We assist your businesses in finding new ways to remain competitive and creative in the marketplace, resulting in better performance and enhanced customer experience.
Reach out to us to learn more about our digitalization services.