Are you still sending your family members to bring a taxi (Old traditions are good to have but don't you think change is the new normal)? If yes, then you should stop! Local taxi owners charge a hefty amount of money for going to places that can be reached at half of that price.
That's where the concept of on-demand taxi booking applications comes in. "Statista claims that the ride-hailing and taxi segment is likely to reach USD 379 billion by the year 2027".
The growing need for taxi services, owing to many of its benefits, is boosting the industry's expansion. Online taxi booking is similar to making online payments, thanks to the rising technological advancements that made it simpler than ever.
Commuting has become a necessity. From going out once a week to leaving daily for work, traveling has only fueled this industry. This is the reason why the App Store and the Play Store are bombarded with on-demand taxi booking apps.
So if you are someone who is in the taxi business, now is the time to take your revenues to the next level. You can easily achieve this if you hire a taxi booking app development company .
Overview Of An On-Demand Taxi-Booking Mobile Application
Talking of online taxi booking apps, you must be familiar with the leading names in the industry, which are Uber, Lyft, Ola, Grab, and more. These platforms offer various taxi services as per the requirements and budget of the customer.
It is very easy to operate these apps since they are very simple to use with very basic and understandable features. You just have to download the app on your smartphone, install it, and register by providing basic information, like name and contact number, or simply login from your mail ID.
Once you are done with the onboarding process, you just need to enter your pick-up and drop location so the app can find you the nearest taxi, and within no time you have a taxi waiting for you at your pickup point. Easy peasy, right!?
Let us dig a little deeper and find out more about taxi booking app development its features, benefits, and cost.
Benefits Of Taxi Booking Mobile Application
Ease of Booking
Safe Traveling
Help Center
SOS Assistance
Fair Prices
Features Of Taxi Booking Mobile Application
Passenger Panel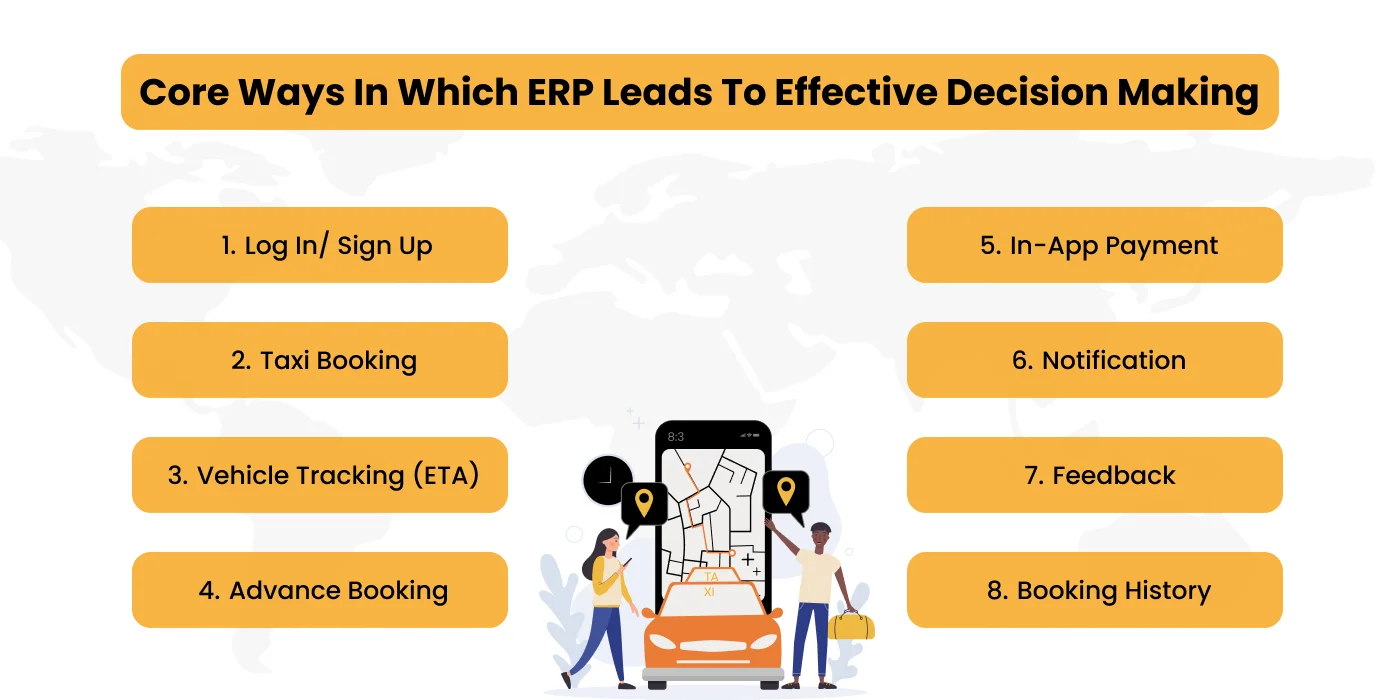 1. Log In/ Sign Up
This option allows the passenger to log in or sign up for the app to start using it. It requires very basic contact details of the passengers, or they can also sign in using their email addresses.
2. Taxi Booking
The reason you are on this app is because of this feature. It allows users to book a taxi, auto, or even a bike (depending on the country you are traveling in).
In order to book a taxi all you need to do is put your pickup location in the pickup bar, if you are lucky then it will detect it automatically, then put your drop location, and voila! You have successfully booked a taxi and you are all set for a smooth traveling experience.
3. Vehicle Tracking (ETA)
Once you book a taxi, the app will show you its estimated time of arrival, if it is longer than you expected you can cancel it as well. No charges will apply to you if you mention a relevant reason for cancellation.
4. Advance Booking
Here's one bonus feature for you all. If you are bad at booking a taxi at the moment, you can now book it in advance as well. You just need to enter the time you need the taxi, enter the pick-up and drop location, and it is done. You will have the taxi in front of your pickup location at the scheduled time. Isn't it nice to avoid the last-minute hassle?
5. In-App Payment
Like other applications, a taxi booking app is also not far behind in providing an integrated payment option. The app provides you with different payment options, along with its own wallet to save the change-finding time.
6. Notification
The feature we didn't know we needed. Notifications are for users to get notified about the taxi, its details, and other information. This feature is also useful for users to let them know about the offers and discounts available in their balance.
7. Feedback
There's no service in the world that can survive without feedback. It allows users to rate and review their driver, app's services, and other things. Users can also let the management know about their good or bad experiences while using the app or while traveling via the app.
8. Booking History
This feature is for users to keep track of their rides. It consists of basic information like the date and time of booking, driver appointed along with vehicle details, destination, and the paid amount.
Driver Panel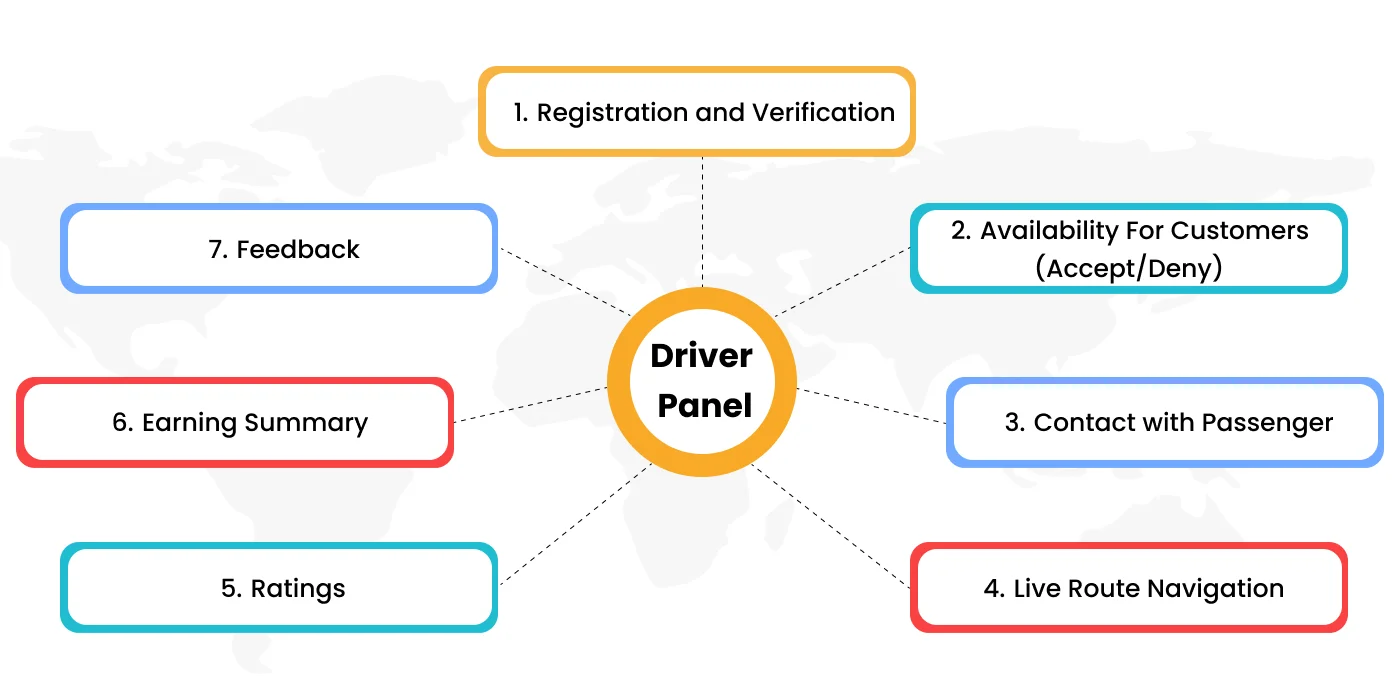 1. Registration and Verification
This section is for the driver who is willing to work for this particular taxi booking application. This feature asks the drivers to enter their details for registration.
Once it is done, the app will verify the details to ensure the safety of its passengers. Upon the completion of verification, the driver is all set to have passengers in the back seat.
2. Availability For Customers (Accept/Deny)
Drivers have the option to show their availability, if they are logged out of the app, they won't receive any jobs. Also, drivers can accept or deny the ride, and can even cancel one after giving a relevant reason for the same.
3. Contact with Passenger
Drivers are given an option where they can message or call the passenger. This feature is basically for the driver to easily reach the passenger's location in case the map doesn't work, and also to let them know that they have arrived at their pickup location in case the passenger is out of sight.
4. Live Route Navigation
Once the passenger is onboarded on the back seat of the driver, the app will show the drop location of the passenger on a map. The driver can follow the route to easily reach the destination.
5. Ratings
This section will tell the driver about his/her rating which is given by the passenger. The rating system is basically from 1 to 5 stars, 1 being the lowest and 5 being the highest rating. Drivers can improve their ratings by working on the feedback given by the passengers.
However, it is advised to drivers to not get into any arguments or other issues as it may affect their rating on the app. Better the rating, the higher the chances of getting an extra tip.
6. Earning Summary
This dashboard allows the driver to look at their earnings. All taxi apps have different payout structures for their drivers. Some apps pay weekly, some in two weeks, and others.
For those unaware, taxi driving is a big source of income, either part-time or full-time.
7. Passenger Ratings
This section has recently been added to the taxi booking apps, where now a driver can also rate his passenger. This section will help other drivers to know their passengers a little better.
Sometimes passengers can be unreasonable and this feature will help the drivers to get better assistance from the app admin.
Admin Panel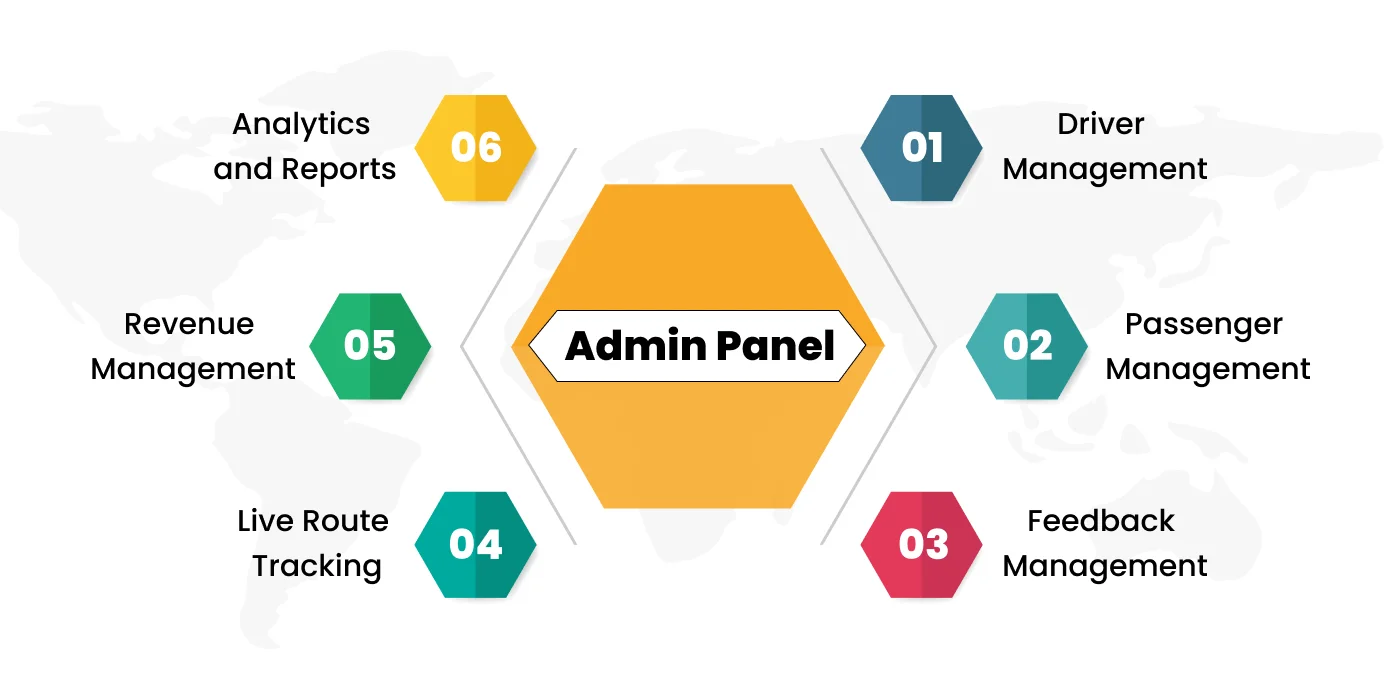 1. Driver Management
This section includes the admin work. Driver management consists of options like account verification of the driver, approval, blocking, and deactivation of the account.
2. Passenger Management
This feature allows the admin to provide an improved user experience to the passengers.
3. Feedback Management
Feedback management is for both users as well as drivers. Here, the admin is responsible to receive and solve the query raised by the passengers and the drivers.
Admin is liable to provide a fair resolution for all the concerns. Only if you provide fair resolution, will users continue using your app again.
4. Live Route Tracking
Live route tracking is also available with the management to ensure the safety of their passengers. Via this feature, the admin can know the real-time location of the driver and the vehicle with the help of GPS coordinates.
This feature is very helpful for passengers, especially for female travelers who travel during the night. The driver gets an immediate call from the management in case any suspicious activity gets noticed.
5. Revenue Management
This feature is only for admin purposes. Here, the management keeps track of the revenue generated by the app. All records of transactions and other money-related concerns are addressed here.
6. Analytics and Reports
This section includes all the analytics as well as reports. Further, this consists of information about real-time revenue and driver activities.
Cost of Development
Since you have got an idea about what a taxi booking app deals with and what features it possesses, now is the time to talk about how much a taxi booking app development costs!
In order to determine the cost of a taxing booking application, there are a few factors that one should keep in mind, such as platform, complexity, region of development, and features.
Another very important factor is the budget of your application. Setting the right budget will garner you profit, otherwise, you may end up with a huge loss.
The best way to create such an app is to hire an app development company that can provide you with a brilliant team of designers and developers. To give you a brief idea, the development of a taxi booking app would cost you anywhere around $7000-$10000. However, this is just an estimated price, and it may vary depending on the complexity of the application as well as the requirements of the client.
Frequently Asked Questions
A taxi booking application consists of the following benefits: Safe travel, ease of booking, availability of a help center, fair prices, and emergency assistance.
The development of a taxi booking app would cost you anywhere around $7000-$10000. However, this is just an estimated price, and it may vary depending on various factors like app complexity, feature list, UI/UX, and so on.
According to Statista, the ride-hailing and taxi segment is likely to become USD 379 billion market by the year 2027.
There are a lot of factors to consider while building a taxi booking app, some of them are types of platform, complexity, region of development, error testing, development time and features are some of the factors to consider when building a taxi booking app.
Basically, a taxi booking app has 3 separate panels for passengers, drivers, and admin. All three panels consist of different features, including login details, a notification panel, live route tracking, feedback, a help center, and others.
Conclusion
The idea of entering the ride-hailing and taxi market is surely a good investment for the future. Although, one must go through all the above-mentioned factors before diving into the market. Also, it is suggested that one must be aware of the global market scenario if they are entering into a new market. Additionally, there are many top mobile app development companies in the USA that are offering their premium services to help small, medium, and large organizations with their expertise and years of experience. If you are not aware of those, Protonshub Technologies is one such company to help you with all your development needs.