Businesses of any size willing to develop a successful product can use the technique of prototype or MVP. While using one of these techniques, companies should get feedback from their targeted customers to improve their position in the market and reduce costs.
The prototype and MVP development process are different. The first one is seen as the draft of the product. It has low engineering and low functionality. It is basically a way to quickly test the ideas and assumptions for creating a product.
On the other hand, MVP is created as a usable version of a product. It consists of the main features for testing, generating feedback, and data. These products can be created with minimal money and time.
You can keep reading this post to understand what's best for you: prototype or MVP. We have mentioned both their benefits, similarities, and differences to help you make an informed decision.
What is Prototyping?
Prototyping refers to the process of creating a draft of a product in the preliminary stage so it can be thoroughly tested. It helps in finding user flow and rectifying design mistakes before they are finalized.
Product prototypes can be created in different forms, i.e., paper prototypes, fully functional ones, or sketches. Not to mention, the details and level of usability for a prototype can vary greatly.
While prototyping is great, the problem arises in creating one while capturing the product's functionality. Also, designers end up spending more time making the product beautiful during the prototype phase, which is not required.
Different levels of fidelity are used to create prototypes with different features. For instance, high-fidelity prototypes are clickable and offer a better experience. In contrast, low-fidelity prototypes are simple paper frameworks or hand-drawn sketches. Likewise, the creation of hi-fi prototypes requires the use of code during early stages.
Key Prototyping Benefits
Here are some of the common reasons why you should get prototype development services: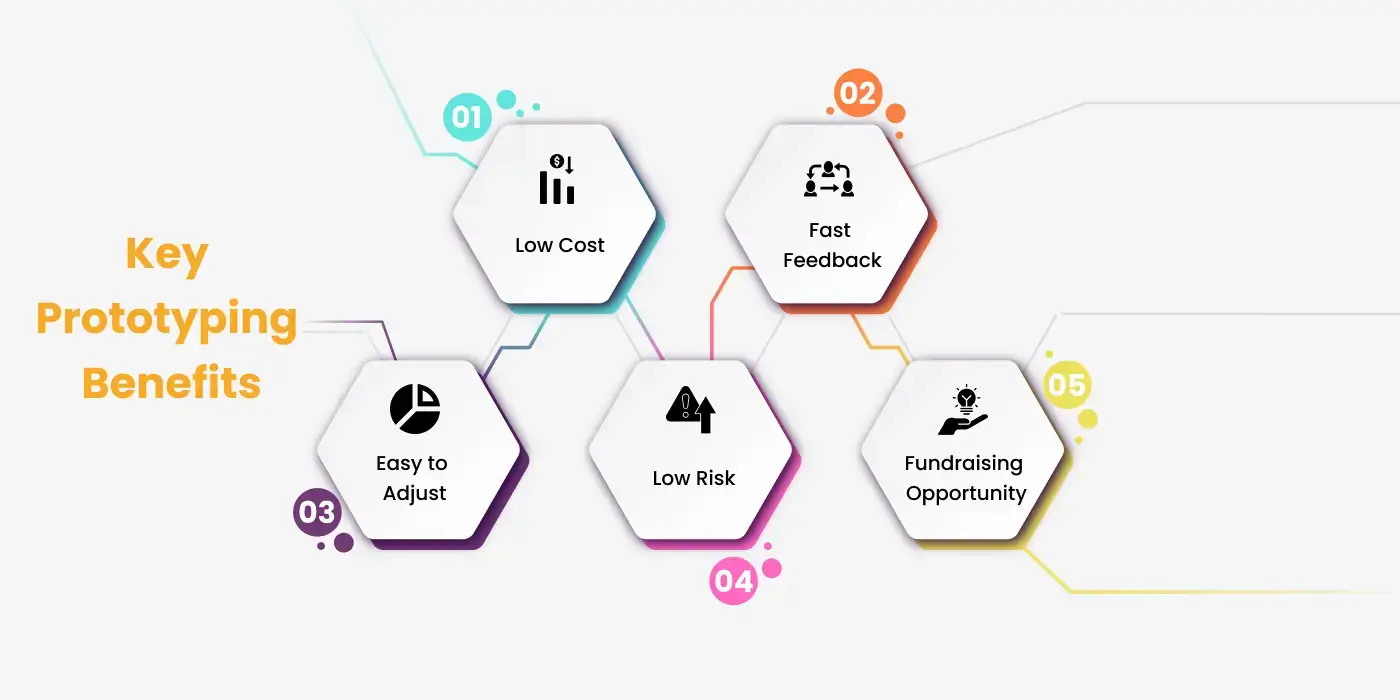 Low Cost: Unlike other methods, creating a product prototype is typically cheaper because it does not require much development. It can be created quickly, with a few features and low fidelity.
Fast Feedback: Not only prototypes can be created quickly but they can also be tested quickly, which increases the chances of getting quick feedback. Designers and developers can work on the feedback to fix product flaws in the early stages.
Easy to Adjust: The flexible and simple nature of prototypes makes them easy to adjust as per the changing market conditions or user feedback. It also opens the room to test out new features and ideas to make the product even better.
Low Risk: Both in terms of development time and money spent, prototypes are low risk. That's why small businesses and startups prefer product prototyping over other options.
Fundraising Opportunity: If you want to attract partners or investors at the initial stage of product development, a prototype is a great choice as it provides a tangible representation of an idea.
What is MVP?
An MVP (minimum viable product) is the process of building a basic product with a few features to meet the customer's needs. The entire idea of creating an MVP is to deliver a "unique selling proposition" that differentiates it from other products.
Compared to prototypes, MVP takes more effort, time, and budget. If the product is impressive enough at the MVP stage itself, one can start making money right away. It is also possible to add more extra features than necessary to make the MVP the "best viable product."
Key MVP Benefits
Here are some of the common reasons why you should get MVP development for startups :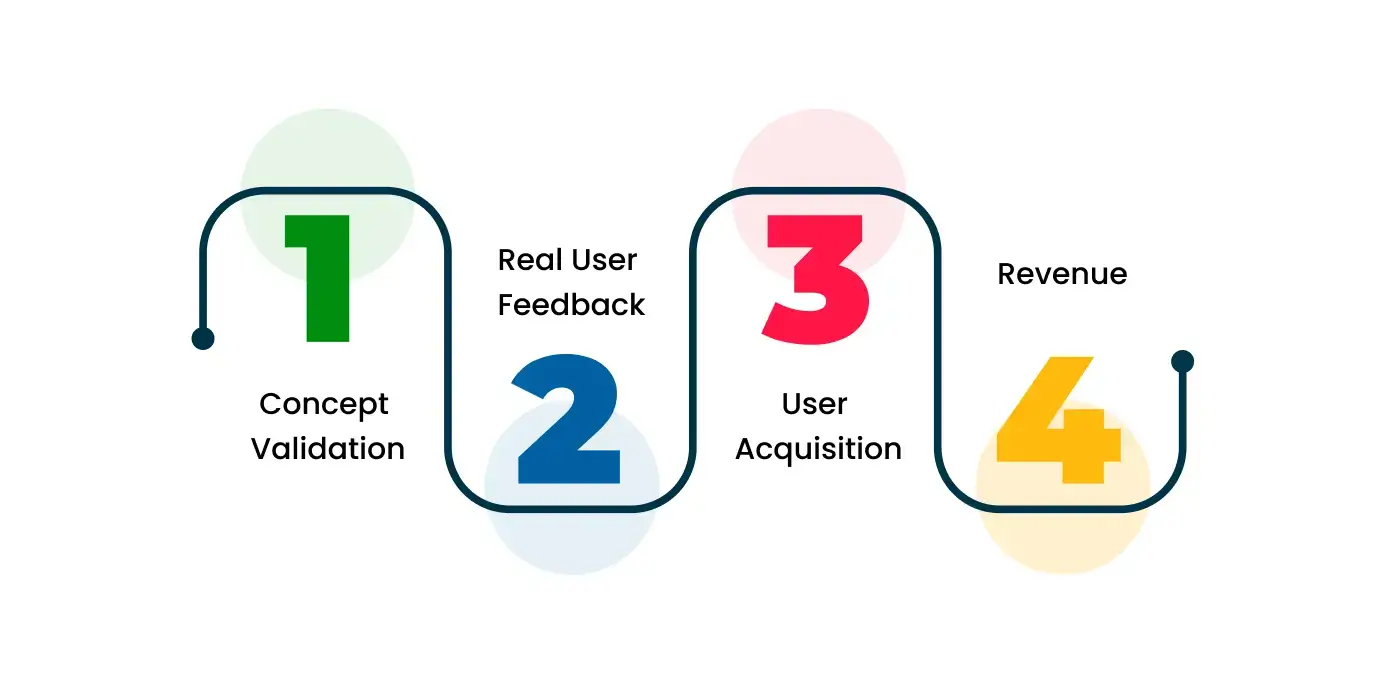 Concept Validation: With MVP, you get a realistic representation of what your final product will look like. It provides developers an opportunity to validate their ideas and gain a practical understanding.
Real User Feedback: Compared to a prototype, an MVP helps you get real user feedback. It lets you test your product with thousands of unbiased users who will use it in real-world scenarios. MVP makes it easy for you to gather essential feedback and identify the biggest user pain points. You can work on this feedback to make necessary adjustments to the products before launching.
User Acquisition: If you plan on attracting targeted audiences at an early stage to create buzz about your product, an MVP would be right for you. It can help you easily build user loyalty and generate interest in your product before it is fully launched.
Revenue: With an MVP, you can start getting earlier payback. It also decreases project risks and offers a new income stream to complete the development.
Prototype vs. MVP: Are They Similar
Prototype and MVP are used to validate any product's viability to answer three important questions: Is the product scalable? Is it profitable? Can it be implemented? Once you have addressed these issues, your software can succeed without any hassle.
Both processes make it easy to test the products in the early development stages without entirely creating the product. It saves time, reduces risk, and helps with cost saving.
Prototype vs. MVP: Which One Wins
Factors like how well you know your users, where you are in the software development cycle, and how many resources you have influence your choice between a prototype and an MVP.
If you are testing the early concepts of your product, a prototype is the right choice for you. It will help you attract investors and get stakeholder feedback. Once you have gained a budget and are confident in your idea, you can proceed with MVP.
Here's a quick head-to-head comparison between prototype and MVP testing methodologies:
Cost (winner) - Prototyping: When it comes to cost, the prototype process wins by a huge margin because it does not require much development. You can easily create it with a few features and low fidelity.
Time to Market (winner) - MVP: While prototyping has a quick turnaround time for collecting valuable customer feedback, it is not very helpful in building a product. On the other hand, MVP lets you create a product with the core features.
Collecting Feedback (winner) - Tie: Both prototype and MVP collect user feedback in the best way possible. With MVP, you can create a product with realistic implementations of ideas. Whereas, with prototypes, you can create a closer to the fully featured product. In simple terms, MVP can be used to gather feedback from customers while prototype lets you collect feedback from colleagues.
Alternatives to Prototypes and MVPs
Prototypes and MVPs are not the only product development services for validating ideas. Here are two more techniques worth paying attention to:
No-code: By using the no-code approach, platforms like Bubble became a full-time real product without ever seeing a line of code. This technique is suitable for non-technical people who want to create a full app.
Full Product Development: If you are confident about your product, skip the testing phase and go straight for product development. While this approach is time-consuming and costly, it lets you create a comprehensive product.
Frequently Asked Questions
No, the prototype does not come after MVP. Instead, it is an early product sample to show a small part of an idea before developing it fully. In contrast, an MVP is the first version of a product. It consists of core features and is released to a limited audience.
The 5 stages of prototyping include defining, focusing on features, production, testing, and presenting.
MVP is sometimes considered better than a prototype because it is a fully functional version of a product. It is created using the core features and is enough to collect initial feedback from users.
If you want your MVP to be as effective as possible, make sure it includes 3 elements of MVP, i.e., useful functionality, narrow set of audience, and testing prior to launch.
Conclusion
Prototype and MVP are two necessary techniques used by businesses for product testing before creating the actual product. But you need a reliable prototype or MVP development company in USA by your side to get the best service.
Protonshub Technologies is one such award-winning company that you can hire. We have helped multiple clients, related to different industries with our cost-effective MVP service. You can contact us for MVP web development, mobile application, and product development.
You can reach out to our experts to get a free project estimate.