One of the biggest challenges for e-commerce businesses is how to convert visitors into customers. By providing relevant products and services, you can make more people visit your website. But there's more to the story.
Multiple factors can make or break the e-commerce platform, including UI/UX design. That's because customers want quality and interesting elements while interacting with an e-commerce app.
If you want your e-commerce app to succeed, you need to include the best UI/UX practices in your design. But with so many UI/UX strategies available, it gets difficult to focus on the most effective ones.
That's why we have curated this list of useful UI/UX strategies for the success of e-commerce apps. Don't forget to hire one of the best UI/UX design companies to get the work started and to deliver the most amazing experience to your customer.
How UI/UX Design Impacts the Success of E-commerce Apps
Here's how UI/UX design impacts the success of e-commerce apps:
The role of UX designers is to check how the app works and to make sure it is easy to use for the customers. They conduct thorough research to understand what people want and need, create plans accordingly, and conduct testing.
Likewise, UI designers work on how things should look and feel, which includes changing colors, shapes, and buttons. They work with UX designers to make sure the app has a pleasing look and is easy to use by adhering to the design rules.
E-commerce apps with better UI/UX design look nice, work well, and are easier to use. It attracts more customers, which can eventually lead to an increase in sales. Not to mention, you can build stronger relationships with users through a responsive app as they will keep coming back to your app.
In simple terms, UI/UX design can offer you a competitive advantage and help you stand out from the crowd.
Useful UI/UX Strategies to Make Your E-commerce App Successful
Do you wish to enhance the way your app looks and works? You can try these e-commerce app UI/UX strategies created by experts to make your app visually appealing, functional, and easy to use.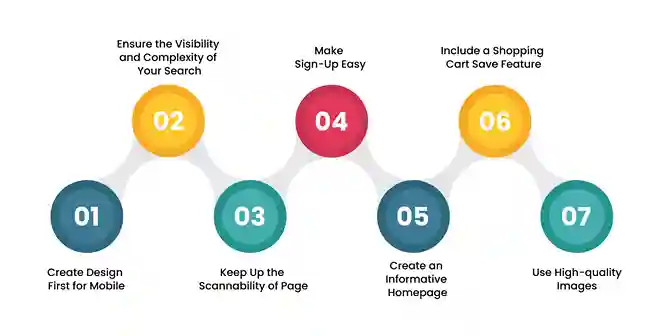 1. Create Design First for Mobile
Having a responsive app design that functions well on desktops and mobile devices is more than just a best practice. It is a necessity as it can make or break user experience. Web designers use tab-based navigation to keep the site organized and to route users in the right direction.
A study has revealed that more than half of the traffic comes from mobile devices. It means the e-commerce app design should be first created for mobile phones and then its compatibility should be tested for other devices.
2. Ensure the Visibility and Complexity of Your Search
The increase in the number of products available in the app increases the need for a search component. Make sure your search option has multiple filters so customers can quickly narrow down their search and pick the exact product that they need.
Not to mention, your well-designed search tool should be easily visible on the screen. A common approach is to keep the search bar on the top for quick access and visibility. Likewise, you can also provide an adaptive search depending on the previous search history of the trending products from different categories.
3. Keep Up the Scannability of Page
Users don't generally read or observe all the content available on an app. Instead, they scan the page to understand if it contains anything useful. That's why designers are advised to put the important information in the areas with higher chances of visibility.
In addition, the call to action button (CTA) should also be quickly visible in the first few seconds of staying on the screen. Why? It's because the CTA button is an essential part of effective interaction and the product plays a crucial role in navigation and usability.
When customers see a clear path for navigation and usability, they take quick action. Thus, increasing the profitability. In contrast, when a CTA element is not placed or designed well, it leads to confusion and decreases the overall user experience.
4. Make Sign-Up Easy
Having a complicated and long sign-up process is not helpful. It can also make the first impression of your app as unpleasant or deter users from using your app at all.
A better approach is to keep the sign-up process as simple and smooth as possible. Do not clutter the app with too many fields and options.
You can give visual tips or clues to guide the users through the process. In case, your app includes any unfamiliar features, provide a visual guide to users on how those features function.
5. Create an Informative Homepage
An informative homepage can satisfy multiple functions. For instance, it can act as an effective starting point for the journey of customers around the app. It can become a card of invitation, a strategic asset for marketing goals, or a place to store essential data or links.
Since the homepage plays an important role, it must have the right touch of designs to appear smart, helpful, and gentle. The beauty, style, and information available on the homepage decide whether the user will take any further action or not.
Make sure your homepage includes the nature of the app, internal search, links to core interaction zones, company identity elements, testimonials, social networks, contact data, and similar data. With a clear, accessible, and noticeable design, you can expect a positive user experience.
6. Include a Shopping Cart Save Feature
Even after finding the products, users have a habit of postponing the checkout. It happens due to multiple factors but regardless of it, users need a shopping cart save feature so they don't have to go all over the search process again to find the product.
You can provide this feature in two ways. First, add a wishlist where users can easily save products that they want. Or offer a persistent shopping cart that allows users to continue shopping from where they have left.
7. Use High-quality Images
Images play a big role in usability as a large number of users are visually driven via images. High-quality images act as a hook point for delivering basic information about apps. That's because both are emotionally appealing and informative. The level of detail further increases the beauty of the image.
With these UI/UX best practices for e-commerce apps, you can enhance user experience.
Frequently Asked Questions
UI/UX design is essential for e-commerce apps because it influences the user experience and increases their chances of making a purchase. With a well-designed app, you can boost customer loyalty and conversion rates.
The key elements for creating successful UI/UX design for e-commerce apps include simplicity, speed, personalization, accessibility, consistency, and security.
The presence of simplicity in UI/UX design for e-commerce apps makes it easy for users to navigate through the app and find what they are looking for. Likewise, it increases user experience and decreases cognitive load times.
UX design always focuses on creating a positive user experience by influencing how they interact with the app. On the other hand, UI design is more inclined toward the visual elements of the app like the color, layout, and typography.
User feedback plays an essential role in UI/UX design because it offers insight to designers on how customers interact with the app. It helps them understand the changes that can further enhance user experience. In simple terms, user feedback provides an opportunity to make the app engaging and satisfying. .
User personas can be used to create a better app that meets the requirements of target users. It increases the likeliness of users making a purchase by enhancing their experience.
Conclusion
Engaging and user-friendly UI/UX design is required to make an e-commerce app successful. That's why UI and UX designers work closely to create an app that stands out from the competition.
If you are looking for top e-commerce development companies in USA, trust none other than Protonshub. We have a team of qualified experts who know the ins and outs of UI/UX design. Our designers work closely with the clients to deliver the kind of service they deserve.
You can visit our website to learn more about our UI/UX services.