Who doesn't like sports?
There can be some, but the majority of people today not only watch sports but also earn money by taking part in online tournaments.
But is it safe?
You might have heard about the app Dream11. It's the biggest and safest fantasy sports application in India. With over more than 100 million users, this particular application is not only popular but is entertaining and provides the best user experience.
But how to develop an app like Dream11?
We are here to make your dream come true!
Get your fantasy sports app developed in less time and cost. Get the best fantasy app developers and the finest agile approach and make your fantasy sports app development a big success. Get all the needed features, UI/UX design, seamless functionalities, and a lot more with Protonshub.
If you are new but want to build an app like Dream11, then this blog will act as a complete guide to provide you with all the information starting from scratch that can make you learn and understand fantasy sports apps.
Fantasy Sports Apps - What are they?
Fantasy sports apps are mobile applications that allow users to create virtual teams of real-life professional players and compete against other users' teams based on their statistical performance in actual games.
A person who plays the game, known as a "fantasy gamer," constructs a virtual team of actual sports players in the enjoyable, affordable, and low-stress online prediction game app known as the Fantasy Sports app. They gain points based on how well the players perform in actual sporting events, which are then turned into fantasy points.
Nowadays, there are multiple sports available in fantasy sports applications.
Cricket
Rugby
Hockey
Football
Baseball
Kabbadi
Tennis etc…
You get all the top-level sports in a single application. So make your own team and win heavy prizes hassle-free.
Select your game, enjoy the tournaments, win prizes, and get a memorable experience with a fantasy sports application.
What is Dream 11?
Dream11 is a fantasy sports platform where users can create their own virtual teams consisting of real-life players and earn points based on the performance of those players in actual matches.
It's a platform developed to create your own teams, join tournaments, compete with other fans, and win prizes. In April 2019, India's online gaming firm, Dream11, became the first fantasy sports company to become a unicorn.
But is it beneficial to develop an app like Dream11 in 2023?
2023 is the year when the demand for fantasy apps is on high rise and many businesses and individuals are demanding the same.
Why it's advantageous?
Completely Legal
Multiple Sports Functionality
Rising Segment
High Demand
Revenue Generation
How Does Dream11 Application Work?
Sometimes it becomes tedious to understand the working of a fantasy sports application, but here is a complete step-by-step process to follow to successfully play sports from a fantasy application.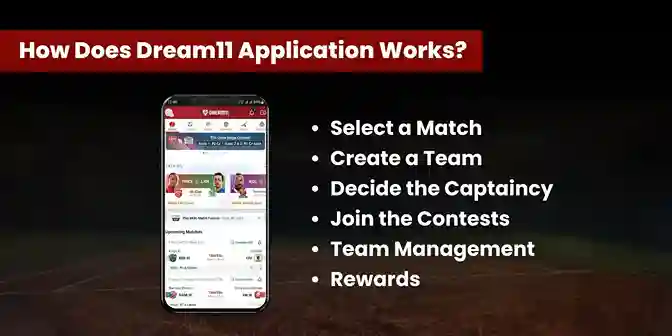 1. Select a Match
Once you log in, the first step is to select a match. As you get a list of upcoming matches, so you can make your choice.
2. Create a Team
Now in the second step, the user needs to create a team of 11 players. The player has a total of 100 credits to form a team. The player can view the whole stats of the player that is selected seamlessly with a click.
3. Decide the Captaincy
Now once the team is made, it's time that the player selects the captain and the vice-captain for their team. It is crucial to select captains very wisely as it will impact the ultimate score of the match.
4. Join the Contests
Now it's time for you to join contests. You have the option to go for free contests or paid ones. Further, you can also create your own private contests and play your way.
5. Team Management
Every game has a given deadline, so the player can change the team and can add or modify the team as per needed.
6. Rewards
Once the game ends, if you win then your bank account will get the mentioned amount of the match. Now it's your choice to withdraw the amount or use it to join more contests.
Important features of a fantasy app like Dream11?
Are you looking to develop a fantasy sports app? But before getting into the same, it's important to understand what features it will provide to you.
Features are different for users and admins, but with Protonshub, a fantasy sports app development company in USA you always get extra.
Let's look at the different features of a good fantasy sports application and then make a decision on whether you want an application like that or not.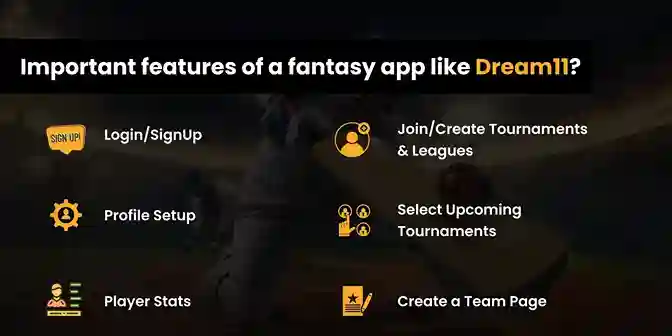 1. For Users
Login/SignUp
Profile Setup
Player Stats
Join/Create Tournaments & Leagues
Select Upcoming Tournaments
Create a Team Page
2. For Admin
Admin Login
Monitor Results & Points
Transaction Management
Fantasy Points Control
Notification management
Manage Players & Leagues
Anytime View Transaction History
3. Add-On Features
CRM Integration
Live Group Chat
Social Media Sharing
Push Notifications
The list is long, and the features you get from a single fantasy sports app are many. So, are you ready to increase your business revenue with us?
You might have your own features you want in the fantasy sports application. So you don't have to wait for long, so you can easily customize the application and can get a robust fantasy sports app as per your requirements.
Let's build a full-fledged white-label fantasy sports app for you. Get the best team of dedicated fantasy app developers and make your app one of the best in the market.
What is the cost of developing a Fantasy Sports App like Dream11?
You might be wondering how much it cost to make an app like Dream11 .
Developing a fantasy app like Dream11 can cost you between $4000 - $10000 depending on the features you add to your app and the design it contains. Not just this, but the complexity of the fantasy app also defines its total cost.
If you are looking for an app development company, then you can directly contact us, as we are one of the top fantasy app development companies.
With Protonshub, you get two major benefits!
Affordable cost
Thinking how?
Well, we provide a complete fantasy sports app for under $5000.
Isn't it amazing?
There is one more amazing benefit that we provide to our customers.
White Label
Yes, we provide a white-label fantasy sports app for you. Now you can add features, customize the app, and can connect the app with your brand without investing anything extra.
Want to know more about the same?
We are here to assist you - contact us
Why Protonshub for Fantasy Cricket App Development?
There are many fantasy sports app development companies but, when it comes to selecting one for your need, it becomes a bit tedious.
You might have a budget in your mind, and we consider delivering quality results at less cost.
Our consistent support
Know about the benefits you will get before you make a decision to trust for your fantasy sports app development project.
With Protonshub you will get many benefits like:
1. Reliability
We are a CMMI Level 5, ISO, and Great Place to Work Certified IT company. With our consistent efforts and continuity in generating quality end results, we are able to get this far. With us, you get reliability and the finest digital solutions.
2. 24*7 Support
Whether it is any small query, the Protonshub support team will be there for you to answer each and every question of yours. Not just this, but we will ensure that you are satisfied with our services before you invest in the same.
3. User-Friendly UI/UX Design
Most of the time, your app is good, but due to its design complexity, you are unable to retain your customers for long. It's not always about the features that matter, it's also important to look into how you have presented your app to your target audience. We provide you with a well-researched and trendy UI/UX design so that you don't lose any of your customers.
4. High-end Security
We understand that security is one of the major concerns of the customers. If you invest in us, you won't have to face any security concerns when it comes to data, app login, and so on.
5. Experienced Team
What makes us different from others is the team we have. Your project success is defined by the work of our developers. With us, you get top-notch dedicated developers with the best experience, talent, and skills.
There are many more benefits you can get from a CMMI Level 5 company. So let's take your project to a new height.
Frequently Asked Questions
Developing a complete fantasy app can take around 6-9 months. The final time duration depends upon various factors like the app feature list, design complexity, and a lot more.
Protonshub Technologies is a leading
Fantasy App Development company
. The main aim is to achieve the highest level of innovation by adding some core and essential features. We believe in understanding your requirements first and then putting our ideas to make your goal achievable by giving you the best results.
In order to create a fantasy application, various technologies are required such as programming languages like Java, Python, and Swift, database technologies like MySQL and MongoDB, cloud computing platforms like AWS and Google Cloud, and front-end development tools like HTML, CSS, and JavaScript.
In 2023, creating a fantasy app could prove to be a valuable business venture, given how quickly the fantasy sports market is predicted to expand. Fantasy sports applications have improved in both usability and engagement as a result of the growing popularity of sports and the accessibility of cutting-edge technologies, drawing in a sizable user base.
Fantasy apps will bring heavy profits in the coming years. Users enjoy playing games with their favorite players and in the end, they are excited about the reward points. With such a big craze to make a team, join tournaments, and win prizes, this concept of fantasy apps will keep growing and will further provide huge profits.
Conclusion
The craze of cricket and other fantasy sports is rising rapidly and will grow in the coming years. Fantasy apps are in trend, so make use of this advantage and develop a fantasy app like Dream11 with Protonshub. Get all the needed features, design, navigation, and a lot more in an affordable and easy. way. Developing an app like Dream11 is a tedious task, but with the right assistance, you can achieve an engaging and user-friendly fantasy app hassle-free. Get a complete insight into the fantasy app, its features, its working process and its cost all in a single blog. If you want to develop your own fantasy app, then you can contact us as we have the right expertise to provide you with the same. Finally, we wish you success in creating your fantasy sports app and hope that you will benefit the most from our insightful advice. You can work with us to develop mobile apps and make use of our excellent services, which are detailed in the services section.