AI has taken the world by storm in the last few years, and it is only going to continue at an even better pace. Since so many industries are revolutionizing with artificial intelligence, logistics is also not left behind.
The Russia-Ukraine crisis as well as the former COVID-19 has disrupted the logistics & supply chain in many ways. Therefore, in order to regain the pace, it is important to keep up with technological advancements.
In this blog, we will be going through the transformation of the logistics industry by AI, along with its benefits and use cases. Don't lose focus, if you wish to gain some beneficial insights, because, by the end of this, you will surely be looking for a logistics software development company.
Top 5 Benefits of Implementing AI in Logistics
For the unversed, AI has been a game changer in the logistics industry. Let's have a look at the 5 major benefits of implementing artificial intelligence in logistics.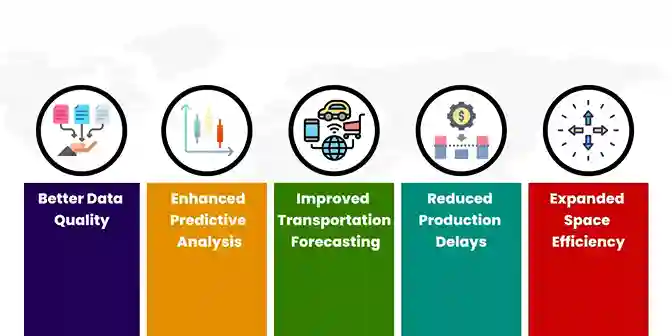 1. Better Data Quality
Enriched data quality is the primary advantage of AI implementation in logistics. AI capacities like machine learning and natural language processing are two aspects that filter out relevant data each day.
Machine learning and natural language processing combined provide data, based on which the companies can take necessary actions, such as the number of people to hire, when to hire, for how long to hire, and others.
With such refined information, organizations can cut unnecessary costs as well as save time.
2. Enhanced Predictive Analysis
Logistics is an old industry, yet its development is slow and steady. Even with so many years of experience, there is no surety of an error-free analysis.
No matter how precisely humans are working, they still lack something or another. Although, AI is the solution.
Integration of AI in logistics can not only refine relevant data but can also be used to make an improved analysis. By incorporating necessary information into the database, a better analysis of the estimation as well as upcoming demand can be made.
3. Improved Transportation Forecasting
Transportation forecasting can be achieved by using machine learning and AI algorithms. Companies can easily keep track of their needs in terms of price fluctuation, shipping capacity needs, and others.
Companies can also reserve capacities in advance at better and more reasonable prices. This way organizations can save themselves from getting into last-minute hassle and rocket high carrier prices.
4. Reduced Production Delays
Let us assume that you have incorporated the above measures into your logistics firm. Now, as a company, you will be able to predict the upcoming potential barriers and can take the necessary steps beforehand.
Also, you can ensure that there is enough capacity to take another order by managing the production capacity, thereby resulting in reduced delays and increased accuracy.
5. Expanded Space Efficiency
There are infinite ways to load a shipping container, however, it is not an easy process. It is going to take a hell lot of time if you manually decide every possible combination of shipment loading and still would miss something.
Here comes AI, it can be very useful in making 3D models that can virtually guide you through loading as many items in a limited space. This way, the company can reduce the number of containers as well as shipments. Thus, reducing costs and increasing profits.
These are some of the benefits of AI in logistics industry, now let us go through some use cases for the same.
Use Cases of AI in Logistics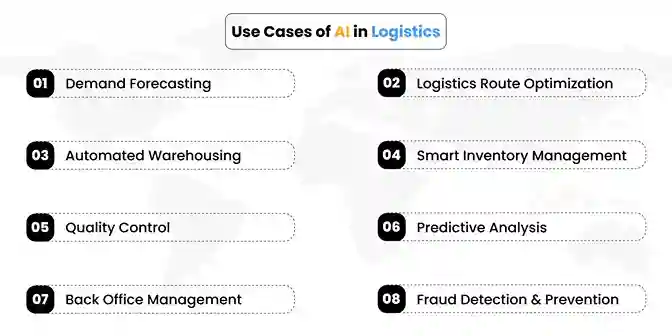 1. Demand Forecasting
Since we are well aware of the power of AI in logistics, demand forecasting is surely one of the best use cases for it.
Using AI-enabled technologies, companies can predict the upcoming demand on the basis of the current scenario. This will pre-notify the organization about its capacities and the regions of improvement for better handling.
Moreover, companies can restock the products and there will be fewer instances for customers to face any stock-out situation. Thereby, building a brand reputation in the market.
2. Logistics Route Optimization
No one likes to work for longer hours when they have a shorter option. This is what route optimization works on. It will analyze new as well as existing routes, and provide a better alternative for the same.
This way the shipment can reach its destination in a faster and more efficient manner. AI can also help here in lowering the shipment cost and reducing the carbon footprint, owing to the shorter span of traveling.
3. Automated Warehousing
There's a reason when people say that AI can replace their jobs and it is true in some way or another. Let's say warehouse automation, this AI-enabled option is very good at taking up a human's place.
Automated warehousing includes warehouse robots, that can do human chores, such as transporting, sorting, picking, and stowing packages. This is not only reducing the time but also making the process efficient and error-free.
The time is not far when all the warehouse-related activities are done without manual supervision.
4. Smart Inventory Management
Smart inventory management is known to be one of the most used AI features in logistics. It includes a rundown of inventory, and analyzing the demand for less/unavailable items.
This way, the organization can ensure that the scarcity of items never happens and the process runs smoothly. As a result, it also helps in reducing manual labor costs, thus garnering profits. Almost every organization is utilizing smart inventory management systems to run its operations seamlessly.
5. Quality Control
Till now it is clear that AI possesses power which are beyond human skills. Although, the irony is that it is created by humans only.
Apart from the use cases mentioned above, quality control is another in the list that is made seamless with the integration of AI. AI with its smart algorithms can analyze, monitor, and inspect different products. Moreover, any faults or defects can also be identified using the same.
6. Predictive Analysis
This section basically covers the anticipatory ability of AI. It can be useful to predict any potential threat, demand, or other laggings within the industry.
AI-enabled models are well known to identify trends among customers along with the threats that may disrupt the supply chain process.
7. Back Office Management
Like any other industry, logistics also has a back office to manage. It's funny that logistics itself is a back office, but jokes aside, it is a big deal to manage them. Again, enters AI, the future shining armor.
AI-based models have the potential to manage back-office operations smoothly. These include bills/invoices, different documents, report generation, scheduling & tracking, e-mail processing, and others. This way companies can save a lot of time and money, and make sure the documentation process is error-free.
8. Fraud Detection & Prevention
Yes, apart from all the above-mentioned tasks, AI can also be used to detect & prevent fraud. This can be achieved by analyzing data and observing any suspicious or abnormal activity. This can help organizations from getting scammed and losing profits, thus, maintaining their reputation.
These are a few of the many use cases of AI in logistics. To summarize them all together at one place, go through the following: demand forecasting, logistic route optimization, automated warehousing, smart inventory management, quality control, predictive analysis, back office management, and fraud detection & prevention.
Frequently Asked Questions
It is the implementation of artificial intelligence in the logistics process to improve the accuracy and efficiency of the services & products within a supply chain. AI can be used to ease up processes like data collection, customer service, process mining, and others.
There are numerous benefits of implementing AI-based solutions in the logistics industry, some of them are better data quality, improved transportation forecasting, enhanced predictive analysis, reduced production delays, and expanded space efficiency.
Like every other technology, AI-enabled solutions also have some challenges ahead of them, like operational costs, technological constraints, lack of faith in technology, and data restrictions.
In terms of use cases, the list can be very long. Here are some top 5 use cases of AI in logistics: demand forecasting, warehouse automation, back-office operations, smart space management, and route optimization.
Here are some major future AI trends that are going to take place in the logistics industry: drone delivery, green logistics, cloud computing, data mining, robotics & automation, last-mile delivery, and others.
Conclusion
The future of AI in logistics surely looks promising and with the use cases discussed above one can only imagine how it is going to be developed further in the coming years. Although we have a long list of benefits and applications, one should not get carried away with them, since knowing about the cons plays an essential role as well.
All things considered, AI implementation in logistics and supply chains is bringing many benefits, which are exciting. Organizations integrating AI-based solutions will definitely have a competitive advantage over other companies. To keep up with the pace of technology is not only a choice but it has become a necessity. There is no doubt that AI is going to revolutionize the trends of the traditional logistics sector.