Have you heard of the term "Telemedicine"?
Telemedicine is a platform that enables doctors to deliver the appropriate consultation and assists patients in receiving the necessary support in a timely manner.
Doctors may be aware of Telemedicine in today's digital age.
More than half of the population is attempting to reach doctors via telemedicine apps, thus if you are a doctor, you must be proactive in terms of having mobile apps in order to gain more patients.
You may be wondering how to create a Telemedicine App.
You've come to the correct place since this blog will walk you through the entire process of comprehending what a telemedicine app is and what features and benefits it offers. Further, it will help you know the complete step-by-step process of developing a Telemedicine app.
What is a Telemedicine App?
Telemedicine App is a telecommunication technology that enables global remote healthcare services. We are living in unusual times. Although telemedicine was a good idea ten years ago, it is now critical for hospitals and doctors.
It is commonly utilized nowadays since many places lack adequate healthcare units, causing patients to travel vast distances. Yet, with the right Telemedicine app development services , anyone can obtain entirely secure care and advice. Technology like video conferencing, online chat assistance, and 24/7 access to doctors has made it possible to get the proper care from anywhere at a lower cost and in less time.
Don't you think that following the pandemic, having proper home care became one of the most vital things?
Telemedicine app demand is not limited to the pandemic but will continue to rise in the coming years. Yet, growing demand brings new requirements, and new requirements bring complexity. Telemedicine keeps doctors busy while simultaneously keeping patients healthy.
A telemedicine app can be used to arrange appointments online and even have virtual consultations utilizing a phone or computer. It removes the requirement for the doctor and patient to be in the same room, or even in the same town. Telemedicine opens up new opportunities for healthcare practitioners to expand their coverage while also having a stronger impact on the public with immediate results.
Telemedicine App: Top Benefits For Doctors And Patients
Accepting the digital change is a challenge, but the benefits it provides help you in taking the right decision on whether to invest in that app or not.

1. For Doctors
As a doctor, you no longer need to travel long distances to see your patients because telemedicine allows you to quickly examine your patient's health and provide the appropriate support through a telemedicine application.
Do you believe the advantages end here?
There are numerous more advantages to using a seamless Telemedicine App as a doctor, including less paperwork and the ability to keep all data in a single area with the help of a full-fledged solution, minimizing administrative complexity. The next advantage doctors get from a telemedicine app is that it helps them in saving time and puts their focus more on their core and important tasks, which further helps them in increasing their work productivity. It also assists doctors in keeping accurate records and managing patients' data and appointments with a single click.
Another significant benefit that doctors receive from a telemedicine app is security, which provides a complete data security element to all data kept so that nothing is misused.
2. For Patients
One of the most common things you desire as a patient is prompt care, but do you always receive it?
With a telemedicine app, you can get not just timely care, but also assistance from a far distance with a single click. You have the option to select your doctor and the time of your consultation. As a patient, you can schedule appointments whenever you want without having to fill out a lot of paperwork. High medical expenses were one of the medical system's most serious issues. However, telemedicine has transformed medical practices and cut the cost of standard office visits in half.
Routine checkups and follow-ups at healthcare facilities are not required. Rather, he or she can interact remotely, hence saving a lot of money.
What Features To Include In A Telemedicine App?
Before you create a telemedicine app, you should consider what features you will need to not only attract but also retain consumers.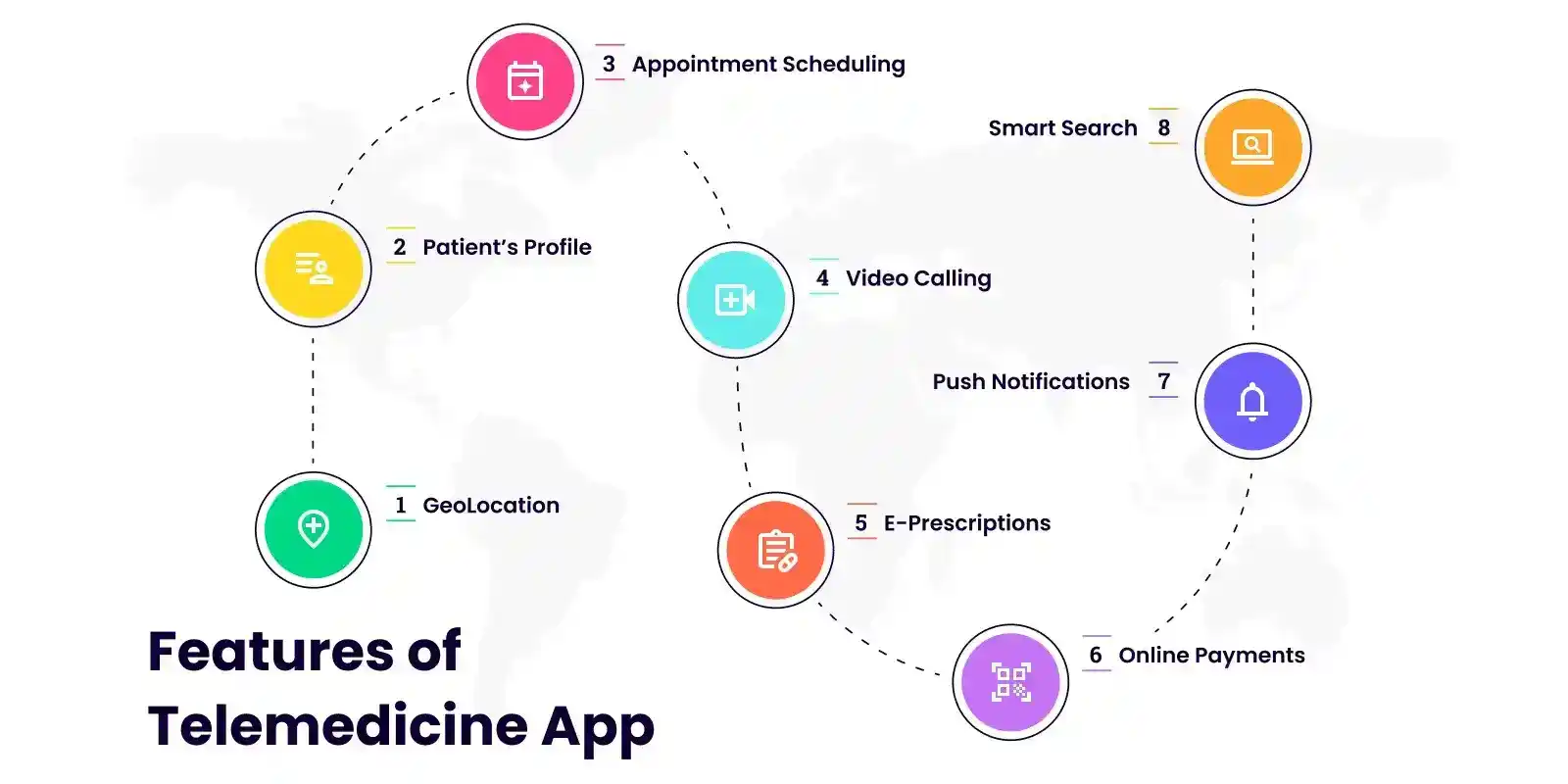 1. GeoLocation
The app may use a patient's location to find nearby pharmacies, provide instructions, and predict the patient's expected time of arrival at the hospital.
As with calendar integration, geolocation is a crucial component of your medical software. We may use Google Maps while designing the app to precisely recognize where the patients are located.
2. Patient's Profile
Telemedicine Applications now make it possible to have centralized patient information.
This feature of the app allows users to reveal as much information as they like, making diagnosis easier for the doctor. The patient profile must include basic information such as name, age, gender, symptoms, and insurance information, among other things.
Doctors can easily access and examine all information from a single screen without having to sift through documentation.
3. Appointment Scheduling
Are you someone who looks for a way to seamlessly book appointments without getting into the trouble to wait in clinics?
Booking appointments is one of the most important features to include in any Telemedicine App. Your patients want your assistance, so helping them book their appointments is one of the crucial aspects to cover in your Telemedicine app.
4. Video Calling
What can be better than having a video call feature to connect with your patients from anywhere?
Well, it's an advantage for both doctors and patients to have a flexible and effective mode to communicate and bring out the best solution in less time and in an affordable way.
5. E-Prescriptions
Having an online prescription management feature is one of the necessities in today's digital world. Where every single task is managed digitally, why not prescription management? The telemedicine app should have a proper e-prescription feature through which patients can access their prescriptions anytime and can download them for their future needs.
6. Online Payments
It's easy and convenient to pay medical bills online, isn't it?
Today, more than half of the population looks for seamless payment methods, like instant online payment in other to both secure the payment process as well as gain flexibility. The ability to pay medical expenses from your smartphone should be a requirement in every telemedicine app.
7. Push Notifications
Can you imagine your life without notifications?
As a doctor, when you have so many patients to take care of, the need for time-to-time reminders becomes a necessity.
One of the crucial features to add to the telemedicine app is to have a feature of push notifications to give you timely updates and reminders about important meetings, tasks, patient appointments, deadlines, and a lot more.
8. Smart Search
A search option drastically reduces the time it takes a patient to find the information they are looking for, such as the closest eye specialist to their location. Filters also assist in sorting the huge quantity of information provided in the app, allowing the user to navigate the app more quickly.
Patients should be able to find a doctor based on one or more criteria, such as specialty, ratings, proximity, and so on.
How To Develop A Telemedicine App: Step-By-Step Process
Thinking to develop a Telemedicine app from scratch? Here is a complete process that will help you in getting the desired results from the application.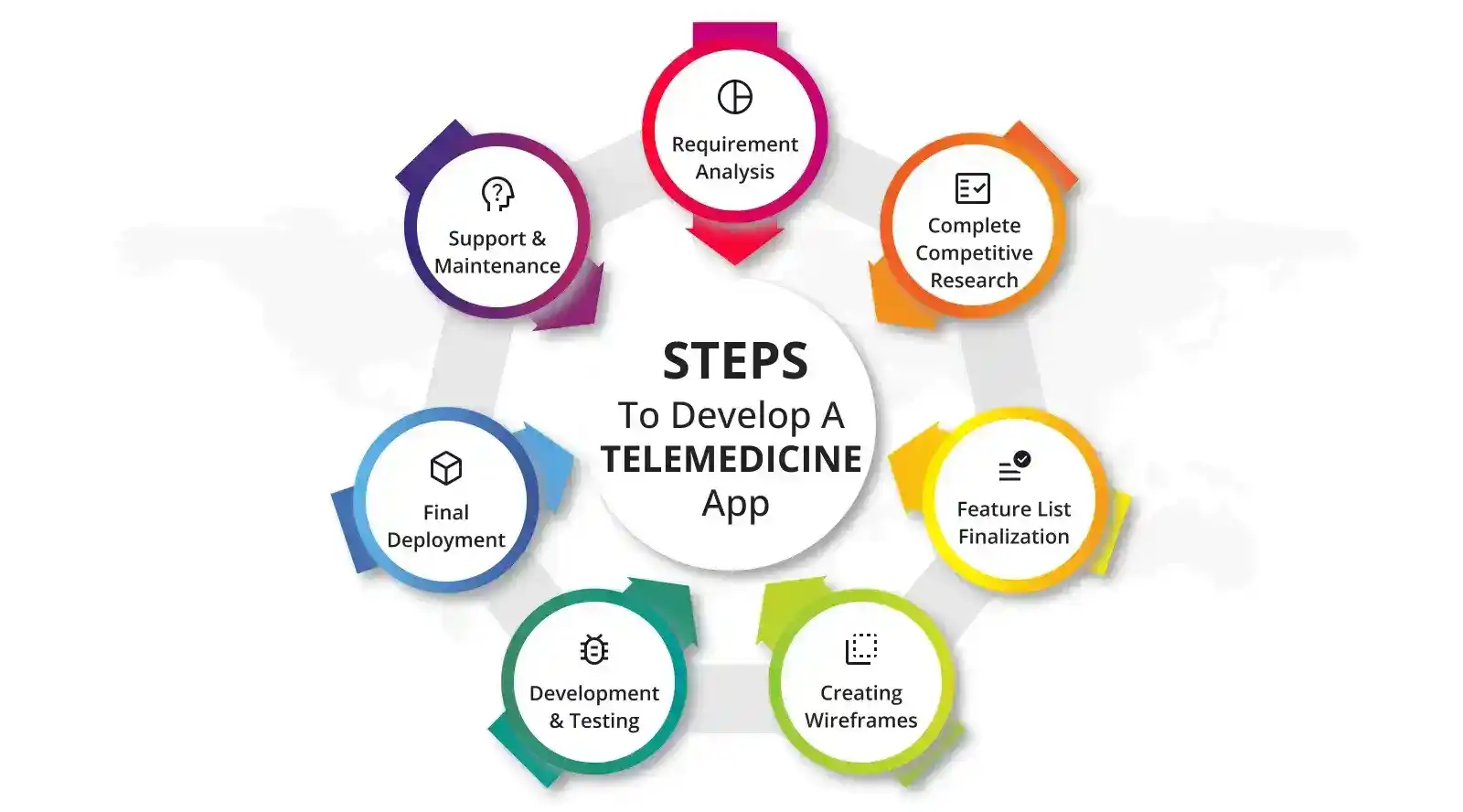 1. Requirement Analysis
Protonshub Technologies a Telemedicine app development company in USA completely understand what the customer wants, before beginning with the app development. The first step is to analyze and understand your requirements and what is your goal to develop such an application. Once we are sure about why and how you want your telemedicine application, then we begin with the next process.
2. Complete Competitive Research
After understanding your requirements, we begin with complete competitive research. It's really important to know who your competitors are and what they are doing differently. Once that is done, it becomes easy to think out-of-the-box for the development of Telemedicine, which proves to be better than your current competitors.
3. Feature List Finalization
An app is incomplete without its needed features, so the next main step after doing the competitor's research is to note down the necessary features you want to include in the Telemedicine App. Know about what clients want in their app and accordingly make a complete feature list that makes the app more competitive and advanced.
4. Creating Wireframes
Having a blueprint of the application is highly important for bringing out the best results. Once we are done with the above steps, we start with creating an effective wireframe design that fits all the client demands and feature lists.
5. Development & Testing
Now, it's time to develop your app by including all the features, design elements, research insights, and a lot more. This is the stage where time-to-time modifications and iterations are carried on in order to make your application stand out in the market and make it error-free.
6. Final Deployment
Once the development is done, then it's time that we deploy the application and take customer feedback for the same. It's important to consider how your target audience is responding to your application. Once that is done, if any further corrections are needed, we provide them to you so that your application is not just effective but provides a competitive edge to you.
7. Support & Maintenance
Finally, we provide the needed support and maintenance if required. Protonshub Technologies a Telemedicine app development company follow all the needed steps and finally provides you with additional assistance to help you make your telemedicine app more user-friendly and effective.
Frequently Asked Questions
With digitalization, every small task is easy to execute and record. The major advantage a Telemedicine App provides to the doctor is that it helps eliminate paperwork. A lot of time gets saved, so the doctor can easily focus on core tasks.
A new Telemedicine App development will take around 4-6 months. As there is no fixed time set as it depends upon the features and complexity of the app. It depends upon your requirements and the customizations you aim to add to your application.
The cost of building a Telemedicine App depends on various factors like app complexity, feature list, developers' experience, and a lot more. There is no fixed cost defined for developing a complete Telemedicine App.
Developing a Telemedicine App from scratch can be a big challenge for Telemedicine App Developers, as many trends have changed this year. Some challenges include backend integration and UI/UX implementation. With the right approach and method, these challenges can be easily eliminated simply and cost-effectively.
Yes, you can make your telemedicine app fully secure by using a one-time password, two-factor authentication, and use SSL.
Final Thoughts
Developing a telemedicine app can be challenging, so I hope this blog helps you overcome the hurdles and thus helps you simplify the overall process. Developing a great UI/UX design, and integrating the backend, will be the biggest challenges. So, the moment has come to develop a telemedicine app! Be among the first to reap the benefits of telemedicine app development! Whether it's a private practice app, a hospital app, or an app to support any other form of telemedicine service, Protonshub Telemedicine app development company will assist you completely from scratch to build your Telemedicine App at an affordable cost. Medical institutions and doctors can benefit from creating telemedicine apps by simplifying the lives of patients and staff. Random visitors can become loyal customers if well-designed features provide online and photo-based consultations, rapid medical advice, and much more.