Who are we? Foodies!
What do we want? Food!
How much do we love food? A lot!
Don't you think the food-ordering app has become today's Tinder? The only difference is that the food ordering app does not have a swipe. Instead, it has scroll, tap, and checkout options.
With the emergence of food delivery apps like Zomato and Uber Eats, ordering food has become much simpler. These apps have changed the way people view their meals. The fast meal delivery, assistance to "where to eat," and exceptional discounts have made food delivery apps a major hit.
It means if you are interested in getting on-demand food delivery app development, now is the right time. Keep reading to know everything you must know to create a powerful food delivery app like Zomato.
Top Features to Add to a Food Delivery App Like Zomato
Did you know that in the year 2020, the food delivery revenue surpassed $26 billion? This figure is expected to surpass $45 billion by 2025.
So, now is the right time for business owners who want to create an app like Zomato. Don't let your food delivery app development idea stumped due to a lack of skills or money. Instead, hire a reliable company for Zomato clone app development and discuss the development cost with experts so you don't end up exceeding your budget.
Likewise, you must also consider adding some of the best features to your food delivery app to make it a hit like Zomato. Below are some features you can consider adding to your app: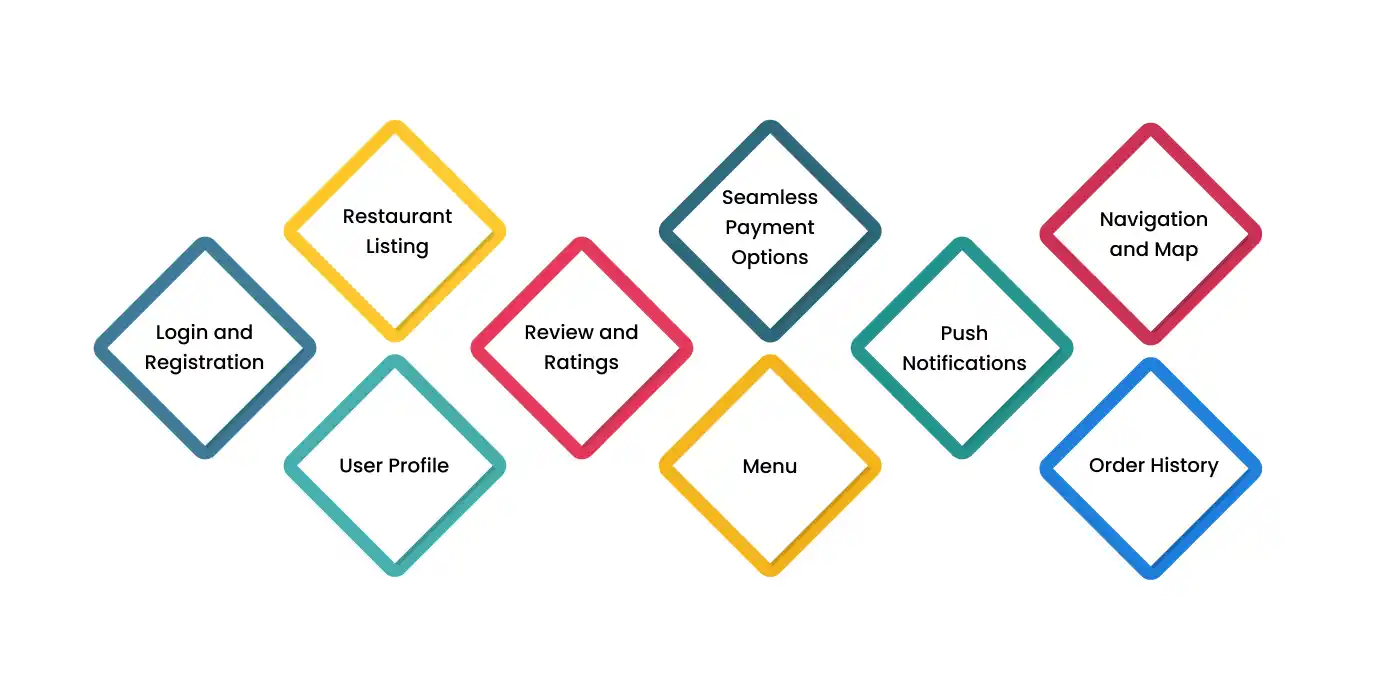 1. Login and Registration
You cannot create a robust food delivery app like Zomato without adding a smooth login and registration process. With so many food delivery apps, the chances of users avoiding new apps can be high.
One way you can get them to try your app is by offering them social media login options or simple forms that can speed up the registration and login process. It will also ensure that users can get started with your app as soon as possible.
2. Restaurant Listing
The central idea of your food delivery app is to simplify food ordering for your customers.
So, add a restaurant listing option in your food delivery app to make food ordering easier for your customers.
By using this option, users can quickly choose a restaurant from a wide range of options. They can also filter the restaurants before ordering in a certain area.
Along with the listing feature, you can include sorting options, with detailed information on each restaurant, including their reviews, menu, and location.
3. User Profile
Your food delivery app must also have a user profile section so users can save their favorite restaurants and quickly order from them in the future. Within this section, users can also rate and review different restaurants, making it easy for others to choose a place to order from.
Offering detailed restaurant listings can enhance your user experience. It also ensures that your app stays successful and relevant in today's world.
4. Review and Ratings
Besides providing detailed restaurant listings, you must also include ratings and reviews system. This way, users can easily share their feedback on different restaurants and food based on their experience. Other users can refer to the reviews and ratings while placing an order.
Not to mention, adding reviews and ratings will encourage restaurants to keep up the good work and maintain a high standard of customer service.
5. Navigation and Map
You should consider adding navigation and a map to make your app even more user-friendly. This feature helps the user quickly find restaurants in their area and order food quickly.
Likewise, the navigation and map feature helps restaurant owners ensure that the order is placed from the right location. In simple terms, this feature can streamline your delivery process.
6. Menu
Remember to add menu options during food delivery app development like Zomato so your users can find dishes they love. Meanwhile, you should work with restaurant owners and help them keep their menus up-to-date. Don't forget to add visual representations of dishes as it helps to entice users to try out new dishes.
7. Seamless Payment Options
Always add a host of payment options to make your food delivery app as seamless as possible. With common payment options like debit cards, credit cards, and digital wallets, you can encourage customers to order more from your app.
What's more? Adding multiple payment options can appeal to a broader range of users, even those who do not have access to certain forms of payment.
8. Push Notifications
One way you can keep users interested in your app is by sending them push notifications and updates. This way, you can immediately send timely updates and reminders about new dishes or restaurants. Similarly, you can notify users about any special offers, upcoming discounts, and other incentives.
Basically, push notification is the best way to increase user engagement. It can drive more sales and orders for restaurants that are partnered with your app.
9. Order History
By adding an order history feature, you can enhance user experience. How? Well, customers can use this feature to track their past orders. They can also re-order their favorite dishes in just a few clicks.
How Much Does it Cost to Make a Food Delivery App Like Zomato?
Did you know that the popular food delivery app, Zomato makes money through a combination of food delivery and advertising? For the advertisement, Zomato charges restaurants for boosting their visibility via their app. Likewise, for food delivery, the app earns a commission from each order.
So, if you are planning to create a food delivery app like Zomato, it will cost you between $6000 to $10,000. While the exact mobile app development cost depends on the size and complexity of your app, you can consider this rough estimation to create a realistic budget.
Before you hire a team of developers to create an app like Zomato, you need to weigh the potential costs and benefits of doing so.
Although a food delivery app can help you attract new customers and improve your brand visibility, its development takes a considerable amount of time and money. Also, you will be required to keep up with the latest trends and features so your app stays relevant.
What Should You Consider While Developing a Food Delivery App Like Zomato?
From the time you plan on creating a food delivery app like Zomato to the time it gets developed into a full-fledged app, you need to consider many vital steps. Otherwise, your app won't be as successful as you want it to be.
Before you start the app development process, consult experts to brainstorm possible ideas so you can take the right step. You must spend time on deciding a brand name and identity for your food delivery app.
Below are some more important things you can focus on:
Add a clean UI/UX design with a simple call-out.
Add a helpline that is available 24/7 for stakeholders.
Regularly update data about restaurants to provide the right information.
Focus on the visual appeal of your mobile app, like displaying the menu, ambiance, and dishes.
Frequently Asked Questions
The must-have features to include in your food ordering app like Zomato are user registration and profile, push notifications, real-time order tracking, restaurant listing and menus, loyalty programs and discounts, and more.
You should integrate secure payment gateways like credit/debit cards, net banking, PayPal, or something similar. Make sure to use encryption of the sensitive data of your users and to maintain payment security.
When you launch a food delivery app, you must add seamless customer support channels like email, chat, and phone. In addition, hire a customer support team to address every complaint and issue of your customers.
When your user base starts growing, you can consider expanding your food delivery app to new regions. When doing so, remember to partner with the best restaurants and focus on providing quality customer service. In addition, regularly update your app to stay relevant in the market.
Conclusion
In the online food delivery app market, Zomato stands strong as a leader. But this doesn't mean your food delivery app won't succeed. If you are interested in Zomato clone app development, you must consider different advanced features to make it a hit.
Along with this, you need to hire a reliable mobile app development company, like Protonshub Technologies. Our company believes in providing 100% client satisfaction through digital innovation.
Our client-centric approach makes us different from our competitors. Our expert team of developers timely delivers the project and offers post-launch support.
Reach out to our experts today to get your project estimation.