Traveling is not just a luxury, it has become a hobby for many people. That's because when we travel, meet new people, learn new things, and click memorable pictures. Also, it has emerged as a new source of income.
This has significantly boosted the travel industry, leading to the emergence of travel apps, which allow travelers to plan and book their journeys with ease. According to a report published by Allied Market Research, the global online travel market is estimated to reach $1,835.6 billion by 2031.
While travel apps provide convenience and let people travel hassle-free, there are still some challenges faced during their development. In this blog, we'll be talking about the common issues of travel app development along with their solutions.
What is Travel App Development?
Travel app development is the process of creating an app that takes care of all your journeys, starting from ticket booking to your meals and stays. As of now, there are several types of apps available in the market, offering new and convenient travel options to people.
Some of these apps are just for ticket bookings, while some are for accommodation booking. Likewise, some apps let you do both and more. One thing that makes all the difference is the way apps are created and the kind of experience they provide.
Considering the trend, people prefer uncomplicated technology, which is easy to navigate and does not take much time to implement. As a travel business owner, you need to understand the market before investing a hefty amount in travel app development services.
Why Do You Need A Travel App?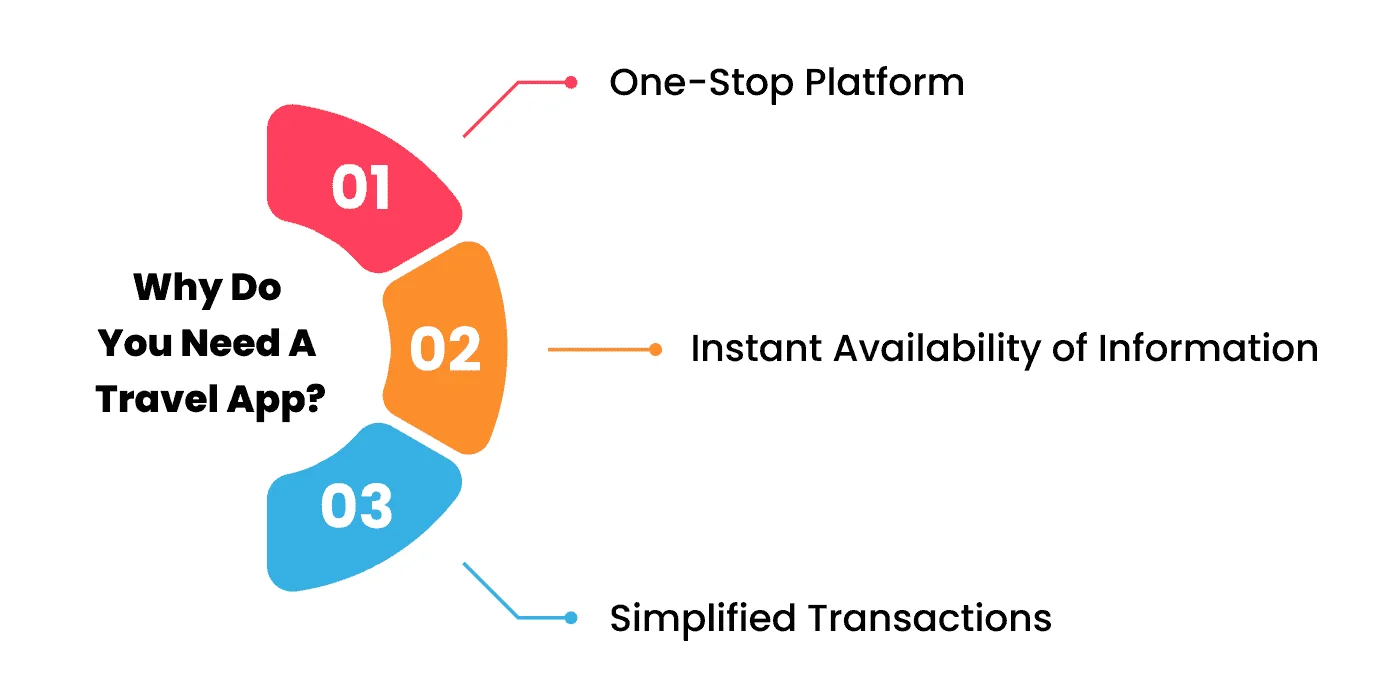 1. One-Stop Platform
You should invest in developing a travel app because they are a one-stop platform for travel needs, right from ticket booking, hotel booking to itinerary planning. All you need to do is hire a reliable travel booking application and you are good to go.
2. Instant Availability of Information
By developing a travel app, you can provide the right kind of information to users. As a tourist, it gets difficult to navigate through new places. But your user-friendly and informative app can save travelers money and time. The travel app will provide instant access to information whenever required.
3. Simplified Transactions
The ease of making successful payments is among the best features of travel applications. These apps help users save lots of time by providing them with a safe platform to make online payments.
The advantages of travel applications that you have just read about are the result of well-planned features that streamline the entire process. They are also a major factor in the travel industry's expansion.
Challenges and Solutions in Travel App Development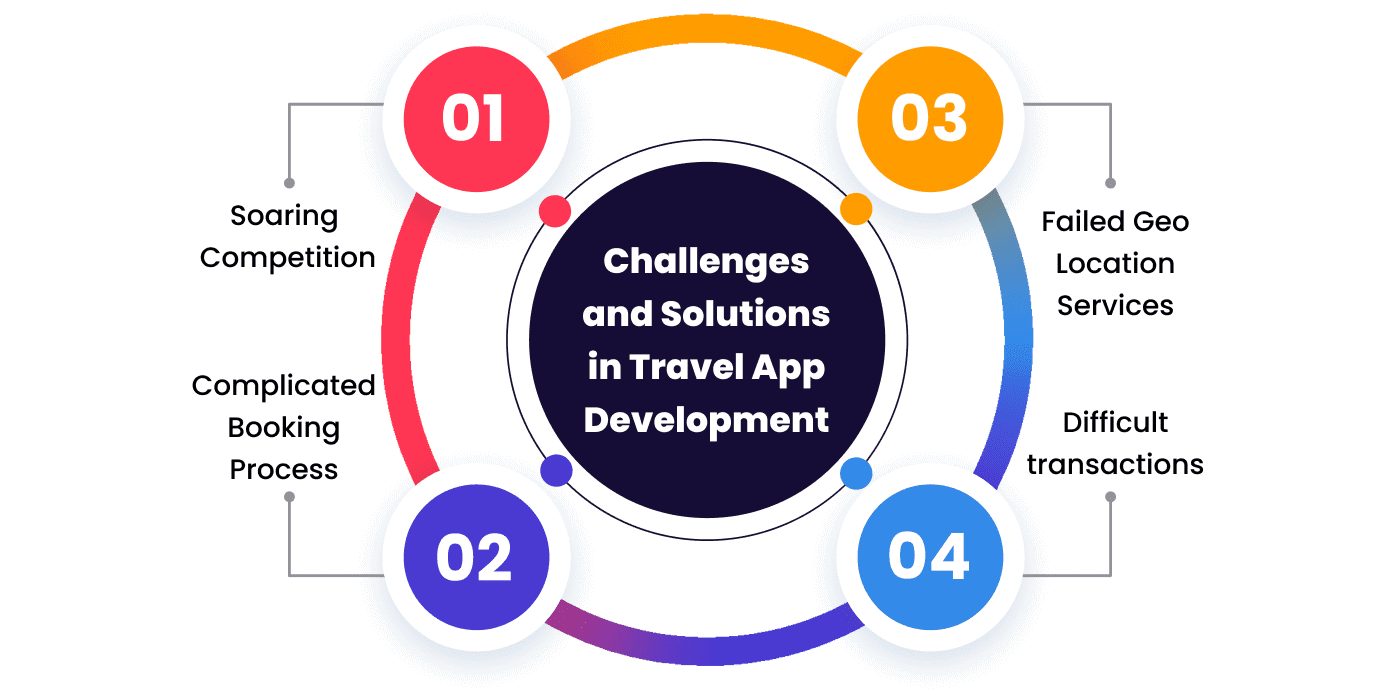 1. Soaring Competition
The travel industry is undoubtedly soaring with competition. There are hundreds of travel booking apps available in the market with each of them providing users with exceptional experiences. Now, this is the challenge and as a travel app owner, it is your responsibility to come up with unique ideas and provide quality services to your users.
Solutions
Amid all the competition, you can provide your travelers with additional and unique services, such as:
In-built taxi booking feature
Real-time language translator
Local food and recipe finder
Travel companion matchmaking
Weather-based recommendations
Personalized souvenir and gift suggestions
2. Complicated Booking Process
It's hard to get people off their smartphones, which means it's hard to convince them to try anything that's not unique. So, even if your booking app is impressing you, your users might not be feeling the same. If you don't want this thing to happen, work on your booking process and make it as seamless as possible.
Solutions:
Simplifying the travel booking process via a travel app is crucial for providing a positive user experience and increasing user retention. Here are some strategies to overcome a complicated travel booking process:
Simplified UI
User-centric design
Progress tracking feature
Calendar integration
Clear cancellation and refund policies
24/7 customer support
3. Failed Geo Location Services
When travelers are at an offbeat place, they don't like to sit back and relax. They seek adventure and as a travel service provider, it's your responsibility to take care of their needs.
Many times GPS systems that are designed to take care of the whereabouts of people fail at major events. This can result in a lack of trustworthiness for your company. Don't worry, we've got a solution for you.
Solutions:
Identify the root cause
Check GPS accuracy
Update the app
Try the function by yourself first
Get assistance from a reliable travel app development company
Test and monitor continuously
4. Difficult transactions
It is often viewed that travelers are concerned about the transactions and the type of services they'll be getting after opting for services. This is a challenge for new travel apps in the market because they lack reliable testimonials to showcase their services.
Solutions:
Provide a separate section in your app showcasing your services
Let the travelers know what kind of services they'll be getting (share pictures and amenities of hotels.)
Provide a simple and clear payment gateway
Mention clear return and cancellation policies
Clearly mention the exclusions and the probability of paying extra charges
Frequently Asked Questions
The cost of building a travel booking app can vary significantly depending on factors like features, platform, design complexity, and development resources. A basic app can cost around $10,000 to $30,000.
Travel app development offers several benefits, including improved user experience, increased accessibility to travel information and bookings, personalized recommendations, real-time updates, and the potential to generate revenue through bookings, advertisements, or premium features.
The scale and complexity of a travel solution depend on factors such as the target audience, services offered (flights, hotels, activities, and more), integration with third-party APIs, offline functionality, and personalization. Solutions can range from simple itinerary planners to comprehensive travel booking platforms.
Essential features of a travel app typically include user registration, search and booking functionality for flights, hotels, activities, itinerary planning, geolocation services, reviews and ratings, user profiles, secure payment processing, notifications, and customer support.
Conclusion
We have discussed the common challenges in travel app development and the solutions to overcome them. But do you know what can help you better? A reliable travel app development services provider like Protonshub Technologies.
We specialize in custom software development for web, mobile, and cross-platform. We implement innovative and unique approaches to overcome the challenges faced during application development.
Reach out to us if you want to hire travel app developers and build a scalable travel mobile app for your business.