Thinking to build a mobile app like Unacademy?
Then what's stopping you from achieving an app like that?
Maybe you don't have the right resources, or maybe you lack proper knowledge.
The reasons can be many, but the solution is one.
But your wait is over, as we are here to provide you with a complete procedure to build an effective elearning application.
This blog will help you get a complete insight into how you can start your education app development journey and create some top competitive apps.
How To Build An E-Learning App?
Building a mobile app like Unacademy can be a complex process, but by following these steps, you can create a high-quality educational app that meets the needs of your target audience.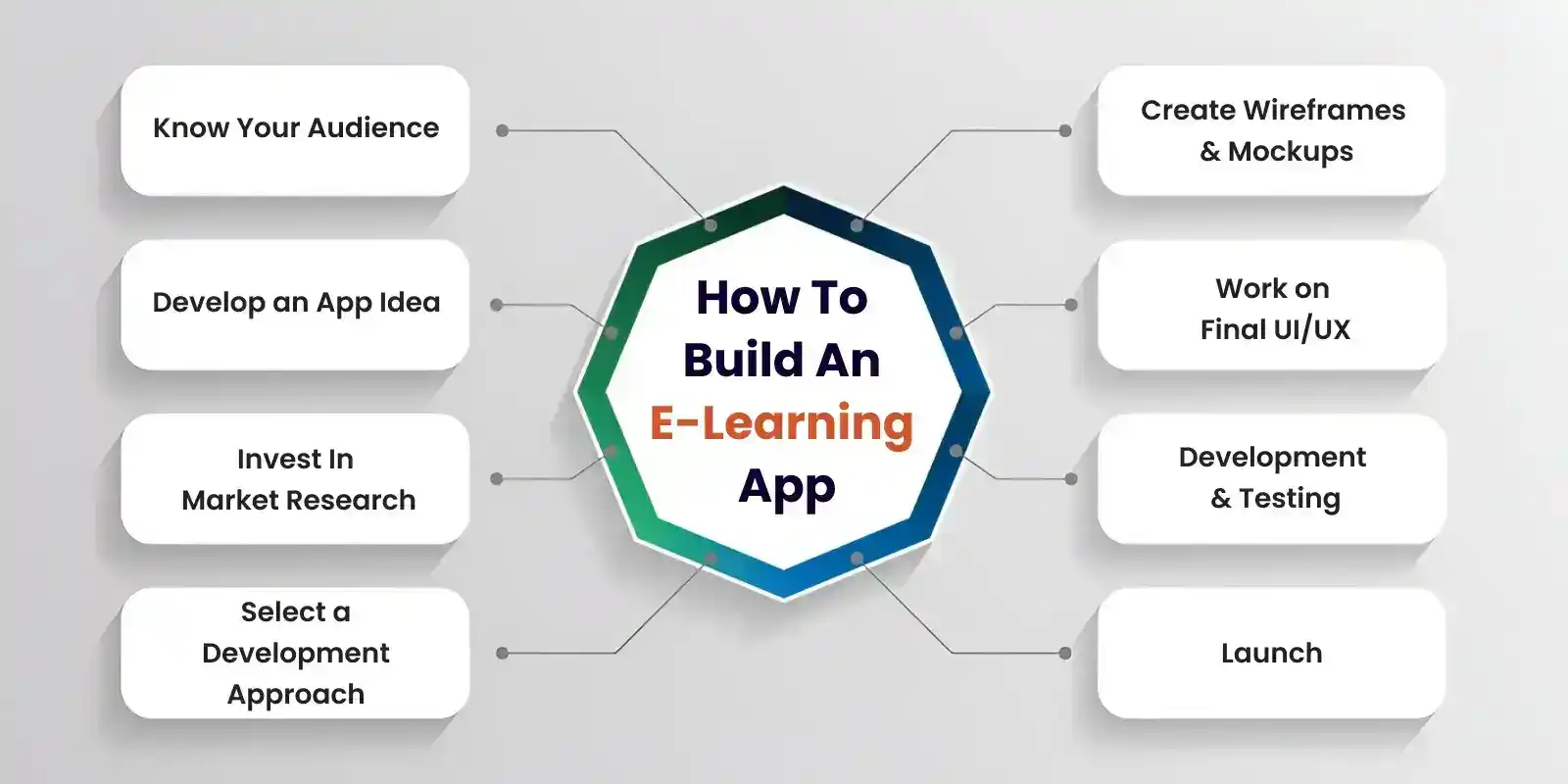 1. Know Your Audience
Do you know who your audience is?
Your app idea must be brilliant, but do you have an audience demanding the same?
It's very crucial to have a complete idea about who your audience is like the age you are targeting, gender, background, and how much your app idea will benefit them in the both short and long run. Once you are aware of your target audience, then you can move forward to the next step.
2. Develop an App Idea
Now you might be thinking, how to build an education app that will be different from others?
There can be many reasons, but one core reason that will definitely make your app idea the best in the market is whether your application is solving your target audience's problem.
Choose an idea that will be in demand in the long run and make it unique by putting features that make the mobile app more user-friendly and effective to the users.
3. Invest In Market Research
Once you are clear with your app idea, your next step is to do thorough research about your competitors and other market trends so that you are able to create something out-of-the-box for your e-learning application.
Look into what are the different subjects that are popular and try to provide your audience with the same. Catch your audience's pain points and try to provide them with a desired solution through your e-learning mobile app.
4. Select a Development Approach
Now it's time to decide whether you want to develop a native app or a cross-platform application.
Now you might be wondering what is the difference between the two.
Native apps are apps that are developed for a particular operating system, such as either Android or iOS. On the other hand, cross-platform apps are developed to run on multiple operating systems.
Select a development tool that supports cross-platform development or native development. Once you are clear with that, it's time to move forward with the next step.
5. Create Wireframes & Mockups
Now, as you are aware of your app idea, features, target audience, and development approach, now it's time that you start creating a rough blueprint of the mobile app.
E-learning application includes many important aspects, so it's really crucial to place every small piece of information in the right place. Developing a complete wireframe for the application helps in creating a unique app at the end of the final launch.
6. Work on Final UI/UX
What according to you, is the use of design?
For some, it may be just needed to make your app look good and attractive, and for some, it may be to improve the user experience. Both are important in their own way, so having a well-researched design for your mobile app is really crucial to make it as big as Unacademy.
Hire education app developers from Protonshub an education app development company in USA and get your ideal design. Not just this, if you already have a design and want an audit to be made, we will provide you with a free UI/UX audit
7. Development & Testing
Once everything gets streamlined, whether it be having a good app idea, wireframing the designing part, and so on. It's now time to develop the application in order to make its final launch
Testing is another important aspect to consider so that no errors remain in the e-learning application. Iterations, modifications, and time-to-time changes are something Protonshub always aims for while developing any mobile application.
8. Launch
Once your app is ready, you can launch it on the App Store and Google Play Store. You should also promote your app through social media, influencer marketing, and other channels to attract new users.
Support and maintenance are also required in order to make your application successful at all times.
Developing a competitive app like an e-learning platform can come with many challenges, but the right approach can make you achieve the required mobile application with less cost and resources.
Points to remember while developing an e-learning application
Strategy is always important in mobile app development, so knowing just the technical part is not enough to build a highly effective mobile application.

Think from the mind of your customers ( target audience).
Don't add complex design structures
Know your competitors
Don't copy, make it different
Design an app that is self-explanatory
There are more strategies and points to remember and follow while developing a mobile app, but these above points are some core ones to follow and execute.
Frequently Asked Questions
The cost of building a complete mobile app can vary according to your client's requirements and feature list. Not just this, but it also depends on how much experience the developer holds. So in the end, after evaluating each and every small element, the final education app development cost is calculated.
Developing a complete mobile application can take around 6-9 months, depending upon the complexity of the application. Some mobile apps have fewer features and less complexity, so their development time is usually less, but on the other hand, some take time of about 9 months to get fully completed.
Yes, we provide you with a complete
MVP development
before the final development process. We make sure that your app is as per what your customer requires. We try to make necessary changes so that the final launch has no glitches.
Mobile apps like Unacademy consist of many features like course content management, push notifications, data security, personalization, progress tracking, offline access, social sharing, and a lot more. We will develop your application with all the features you want so that it not only becomes userfriendly but also a success.
Native mobile applications are developed for a specific platform, such as iOS or Android, and are written in the programming languages and tools that are specific to that platform. On the other hand, crossplatform apps are developed with technologies that allow them to run on multiple platforms.
Final Thoughts
Remember that creating a mobile app requires technical knowledge and experience. For those who aren't familiar with app development, you might want to consider hiring a developer. Hire dedicated developers from Protonshub an education app development company, and get the required experience and expertise that too at less cost. Students are looking for mobile applications that can help them learn and grow. Mobile app development has become increasingly important in recent years as more people use mobile devices to access the internet. Businesses and organizations often create mobile apps to improve customer engagement and increase revenue. So why wait, develop a fully functional mobile application just like Unacademy, and reach your target audience on a global scale. Keep in mind that building a successful mobile app like Unacademy requires a lot of hard work, dedication, and resources, so invest in the right talent and get your mobile app a big success.