Do you concur that failing to adjust to change can sometimes result in a significant loss?
To keep ahead of the competition in the rapidly changing business environment of today, it's critical to experiment with novel approaches and techniques.
When it comes to enhancing the learning process, why not go one step further?
In this scenario, visualize your own business, which employs 100 people in various positions. However, are all employees qualified for their positions?
Education is always helpful, thus a learning management system offers customized, unique learning experiences for each employee, which makes learning even more effective.
Corporate LMS platforms are the best solution to streamline every aspect of learning for both employees and the organization.
Learn more about what a learning management system is and how it is helping organizations in delivering effective training programs.
What is a Learning Management System?
Wondering what LMS stands for?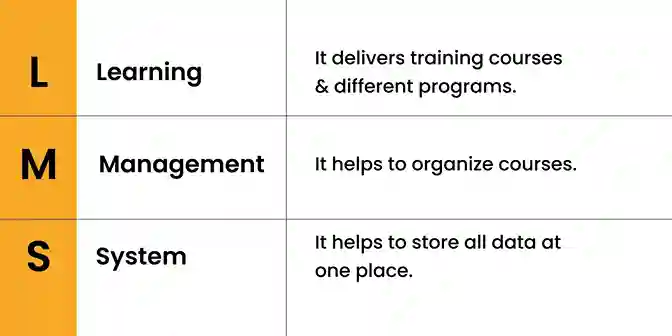 A learning management system is a software designed to provide educational resources, training courses, and development programs.
LMS is used by companies, governmental organizations, universities, academic institutions, educators, and other organizations who want to offer cutting-edge learning opportunities.
A fresh and powerful strategy for bringing about significant change in the education sector is the learning management system. A solid system makes it easier and more efficient for businesses and educators to handle data, monitor student progress, manage material, and do much more.
However, you might be wondering what features LMS has.
You will receive certain premium features if you trust Protonshub Technologies to create an LMS for you, including
User Authentication
Content Creation
Progress Tracking
Integrations
Customizations
Communication
Grading
Multilingual Support
Accessibility
API Integration
Notifications
Analytics
Gamification etc...
Isn't it amazing to get these many amazing features in a single application?
Well, it's not the end. There are many more amazing features you will get in LMS. Contact Us to know more about the same. Get to know more about the development approach, cost, and benefits.
Top 5 benefits of using LMS for your organization's training program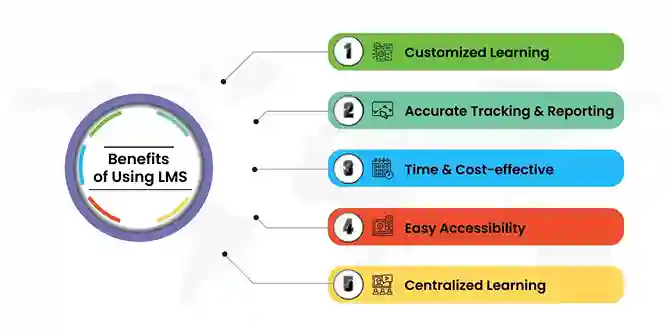 1. Customized Learning
Every employee in an organization is different in skills, designation, experience, and expertise. So course selection and allocation of the training programs become hectic if done manually. LMS enables businesses to design personalized training courses based on the individual requirements of their staff, which can boost productivity and job performance.
LMS enables customized learning by providing separate courses, sessions, training sessions, and study materials. It helps in easing out an organization's work when it comes to delivering an accurate learning experience to their employees. Protonshub provides the best LMS for corporate training and helps different corporates and organizations to seamlessly conduct online training sessions hassle-free.
2. Accurate Tracking & Reporting
Tracking your employees' progress becomes hectic as different aspects need to be seen and analyzed, like how many courses have the employee taken, what are the test results, performance reports, and whatnot.
The learning management system provides a complete monitoring system and helps in generating reports of individual employees and helps the senior-level person view the progress of employees on a single screen.
3. Time & Cost-effective
Investing in educating employees can be very high, but learning is something every organization focuses on, so why not make it seamless? LMS eliminates the need for in-person training sessions and materials, which can save both time and money. Corporates can discover skill gaps that need to be filled by monitoring employee progress and performance, which can assist lower turnover and increase employee retention.
Another advantage of a learning management system is that it helps in saving your cost and time in providing learning sessions for your employees. It helps in reducing your company's overheads and gives you a complete corporate training platform in a single application.
4. Centralized Learning
After the pandemic, the habit of learning from the online platform is in demand. Even now, people look for easy ways to gain knowledge rather than attend big lectures, go to physical classrooms, make notes, and a lot more.
A corporate learning management system will allow you to conduct separate training sessions as per employees' roles and skills. It will provide all the necessary information and data on a single application, thus enabling centralized learning.
5. Easy Accessibility
When it comes to learning, a single lecture, if missed, can affect a lot in the process of learning. But with digitalization, every single lesson, and knowledge can be gained easily with a click.
A learning management system is a platform where companies can manage and deliver effective courses and training programs. It becomes easy for employees to access the sessions and gain flexibility when it comes to learning.
Frequently Asked Questions
A good learning management system can help your organization achieve the right learning experience without any extra effort. LMS can provide numerous benefits to an organization, including improved employee engagement, increased productivity, and better performance.
Yes, if you are trusting Protonshub for your LMS requirements, then we will assure you of full security and timely delivery of your given project. Not just this, we will even customize the application according to your requirements.
The cost of building an effective LMS solution is reasonable when it comes to Protonshub Technologies. To know more about the exact cost, contact us.
Learning Management System can provide many good benefits that can help your organization in delivering a quality learning experience to your employees at less cost and time. Some of the core features are gamification, skills & certificate tracking, dynamic courses, notifications, multilingual support, security, reliability, and many more.
Conclusion
A learning management system will definitely help your organization provide the best learning experience with a professional and flexible method. Who wants to carry big notebooks? Employees and even students want to have access to a virtual platform where they can easily gain knowledge without spending much on overheads. It's not just an investment in a system, but an investment in your employees as well. Corporates can measure employee growth using an LMS, keep tabs on their performance, and spot skill gaps that need to be filled. Therefore, LMS for corporate training can revolutionize an organization's training programs by streamlining training processes, improving employee engagement, reducing training costs, increasing training accessibility, and ensuring compliance with industry regulations and standards. Would you like to know more about what is the development process, and the ultimate cost of a learning management system? We are here to help you out. Contact us and we will reach back to you soon!