Today, every customer looks for achieving tailored experiences that meet their needs. Personalization is a significant factor when it comes to sales and marketing.
Now, it depends on you whether you are able to provide that experience to your customers, because if not, then you might be losing out to competitors.
What's the solution then?
Automation is one of the finest ways to personalize sales and marketing seamlessly. Especially for new startups and digital marketing professionals, marketing automation can act as a great help to streamline their marketing tasks and grow their careers hassle-free.
Wondering how automation can supercharge your Sales and Marketing Efforts?
This blog will give you complete insight about how automation can help you streamline your marketing process.
7 ways automation can boost your sales and marketing efforts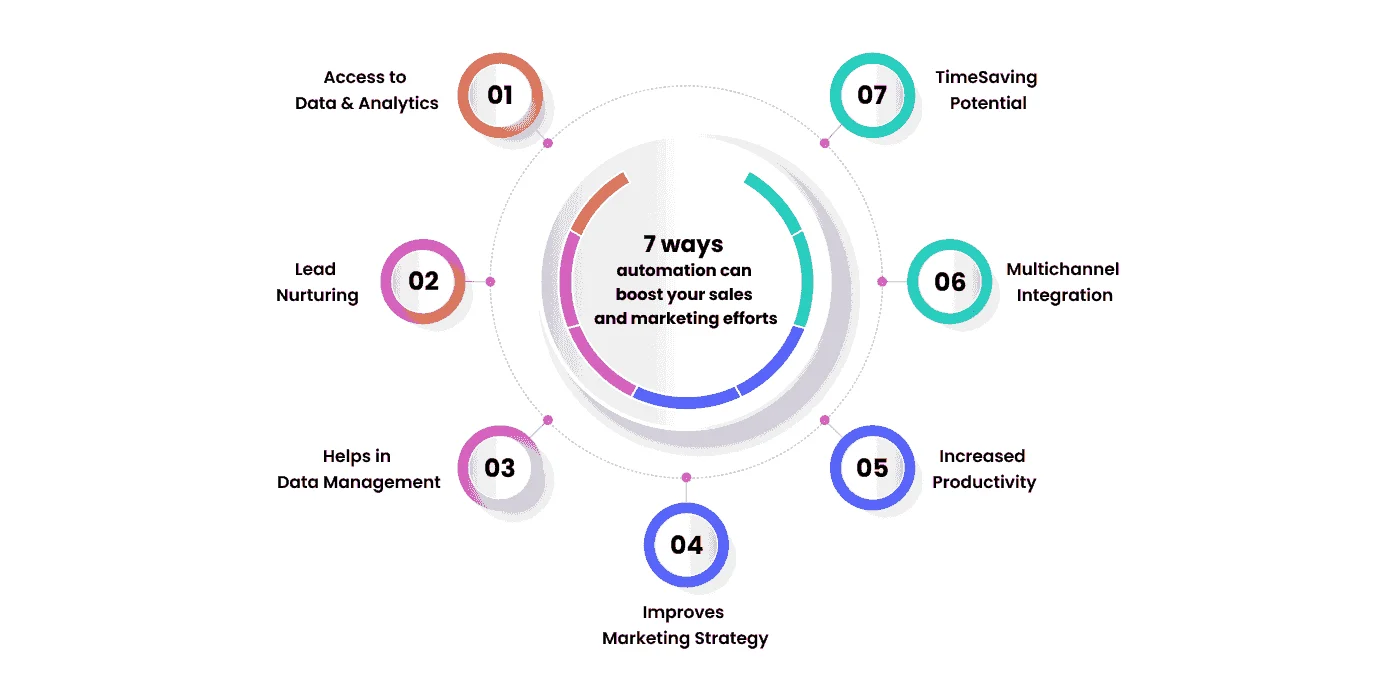 1. Access to Data & Analytics
Manually tracking sales performance becomes a time-consuming task for marketers and professionals.
But automation can help you track and analyze marketing and sales performance anytime, which can help you in making effective marketing decisions that can increase your business revenue.
2. Lead Nurturing
Just getting the right leads is not what makes your business profitable, it is also important to nurture those leads time-to-time.
By sending personalized messages and information to leads based on their interests and behaviors, automation may help you nurture leads, which can boost engagement and conversion rates.
3. Helps in Data Management
Data plays a crucial role in making your marketing plan a success, but are you able to manage every aspect of data seamlessly?
Your marketing and sales efforts can be improved with the use of automation in the collection, organization, and analysis of customer data.
4. Improves Marketing Strategy
Having a full-fledged marketing strategy is what every organization works for, but not every company can generate an effective strategy.
Marketing automation can contribute to the development of a more successful marketing strategy by segmenting consumers, sending personalized messages, minimizing manual labor, nurturing leads, and offering insightful data.
5. Increased Productivity
Automation is helping in every aspect of marketing, whether it be tracking performance, arranging documents, maintaining data security, or helping in decision-making.
Marketing automation eliminates manual work and saves time by automating processes like lead scoring, social media posting, and email scheduling. Productivity is further increased by streamlining operations and offering a centralized platform for team collaboration.
6. Multichannel Integration
Businesses may save time, increase productivity, and provide a more individualized and consistent customer experience across all channels with the aid of this integration.
Marketing automation may assist companies in distributing customized messages and content that resonate with their audience and improve the results of their marketing efforts by integrating email, social media, the web, and other channels.
7. TimeSaving Potential
Managing multiple marketing and sales task simultaneously takes a lot of time, and many times you are not able to focus on other core tasks.
Marketing automation can help businesses save time by automating repetitive tasks, streamlining workflows, managing multiple channels, improving collaboration, and providing valuable data insights that inform decision-making.
Boosts your sales & marketing operations with PIVOTT
Wondering how Protonshub can streamline your sales & marketing operation?
Pivott is a comprehensive sales and marketing tool built to help professionals manage their marketing aspect from a single solution.
With Pivott you get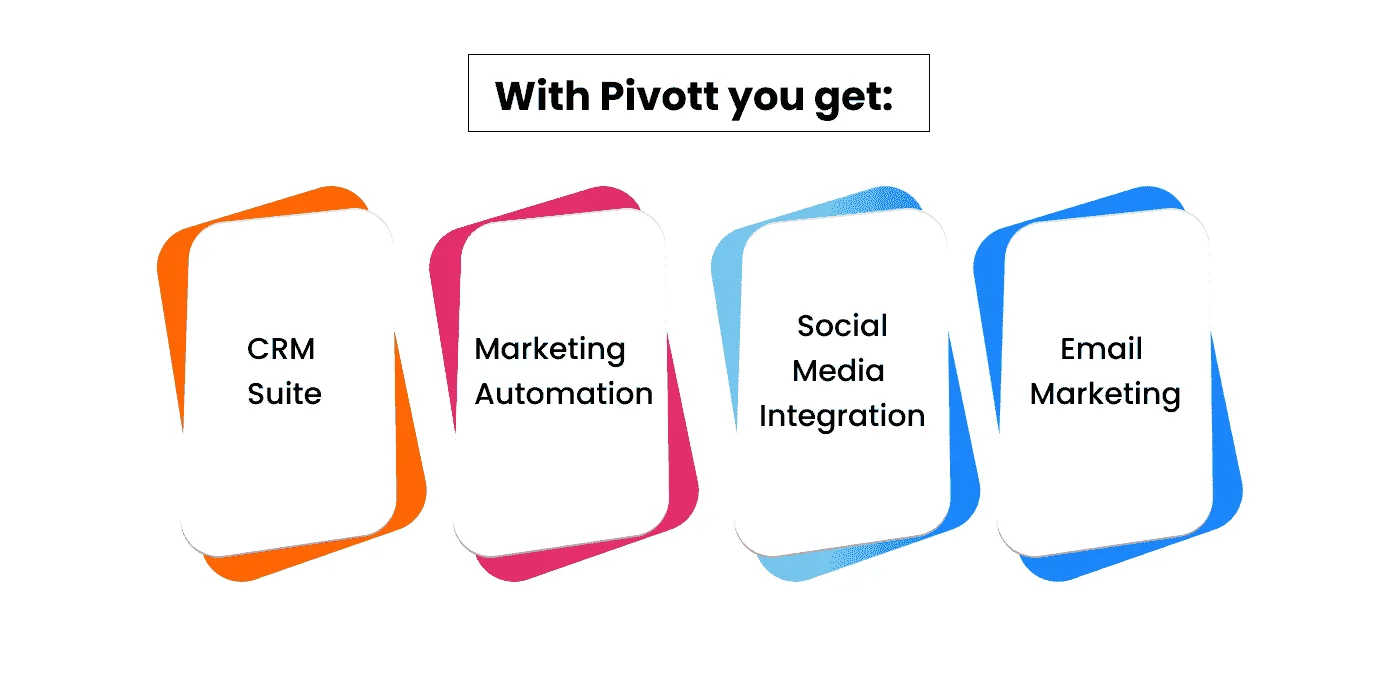 CRM Suite
Marketing Automation
Social Media Integration
Email Marketing
Pivott is a top-notch solution that assists companies in managing their client interactions. Our software is a great investment for any company trying to expand and flourish, with a variety of features built to increase productivity, better the customer experience, and boost income.
Boost your sales and marketing automation with Pivott. Want to know more about the pricing and other details, contact us and we are here to answer every question of yours.
Frequently Asked Questions
Automation may help save time, boost productivity, and provide better outcomes in marketing and sales activities by automating tedious tasks, optimizing workflows, delivering personalized messaging, and giving insightful data.
Marketing automation can benefit marketers, sales teams, small businesses, and e-commerce businesses. It can help save time, improve efficiency, and drive better results by automating tasks, delivering targeted messages, and providing valuable data insights.
Personalization is tailoring your sales and marketing efforts to the specific needs, preferences, and behaviors of individual customers or prospects. This can involve using data and technology to deliver targeted messages, offers, and experiences that resonate with your audience.
Automation can help with email marketing by automating tasks such as list segmentation, email scheduling, and A/B testing, which can save time and improve efficiency. It can also enable you to deliver targeted messages and content to individual subscribers based on their interests and behaviors.
With over 5+ years of experience in delivering effective solutions, Protonshub is one of the best choice when it comes to providing marketing automation solutions. Pivott is the one-in-hand solution to manage complete sales & marketing operations. With the best price and features, you get the best software as per your requirements.
Conclusion
Your sales and marketing efforts can be greatly boosted by using personalization and automation. You may forge deeper relationships with your audience and improve results by adjusting your messaging and experiences to meet their unique needs and preferences. You can scale your customization efforts and provide tailored messages and content at a scale with the aid of automation. You must have a solid grasp of your target audience's demands in order to begin using personalization and automation. You also need to have access to data and technology that will enable you to deliver personalized messages and experiences. You can fully utilize personalization and automation in your sales and marketing activities by adhering to best practices and regularly testing and optimizing your actions.