How many of you have thought at least once about fulfilling our grocery needs in the comfort of our homes? Almost everyone, right?! We are in an era where almost everything can be delivered to your doorstep within no time, and grocery apps are not left behind in the lane as well.
These instant grocery delivery apps are tremendously growing, owing to their different types and revenue models. These apps are entailing multiple features that are irresistible to humans, making them use your apps even for the smallest stuff.
The human tendency, sedentary lifestyle, as well as contactless facilities have provided a boom to such services, which makes it a wiser choice of investment.
Types of Grocery Apps
1. Single-Vendor Grocery Apps
Single-vendor grocery apps are the types of app that allows consumers to buy groceries from a single vendor. Consumers can choose the items they want from the inventory of that store and get them delivered to their choice of location.
2. Multi-Vendor Grocery Apps
Multi-vendor grocery apps are applications that enable consumers to buy groceries from multiple l3cations. Here, consumers can choose from a wide variety of items from more than one store and get them delivered to their doorstep.
3. Supermarket Grocery Apps
Supermarket grocery apps are the types of applications that already exist in a supermarket. These stores sooner or later may realize the need of having their own grocery delivery apps, which boosts their revenue, because of the already built trust among the customers.
4. Marketplace Grocery Apps
Marketplace grocery delivery apps are those kinds of apps where multiple vendors list their items on a single platform for the customers to buy. These marketplace apps are getting popular with each passing day, due to the availability of multiple items in one place.
Features of Instant Grocery Delivery Apps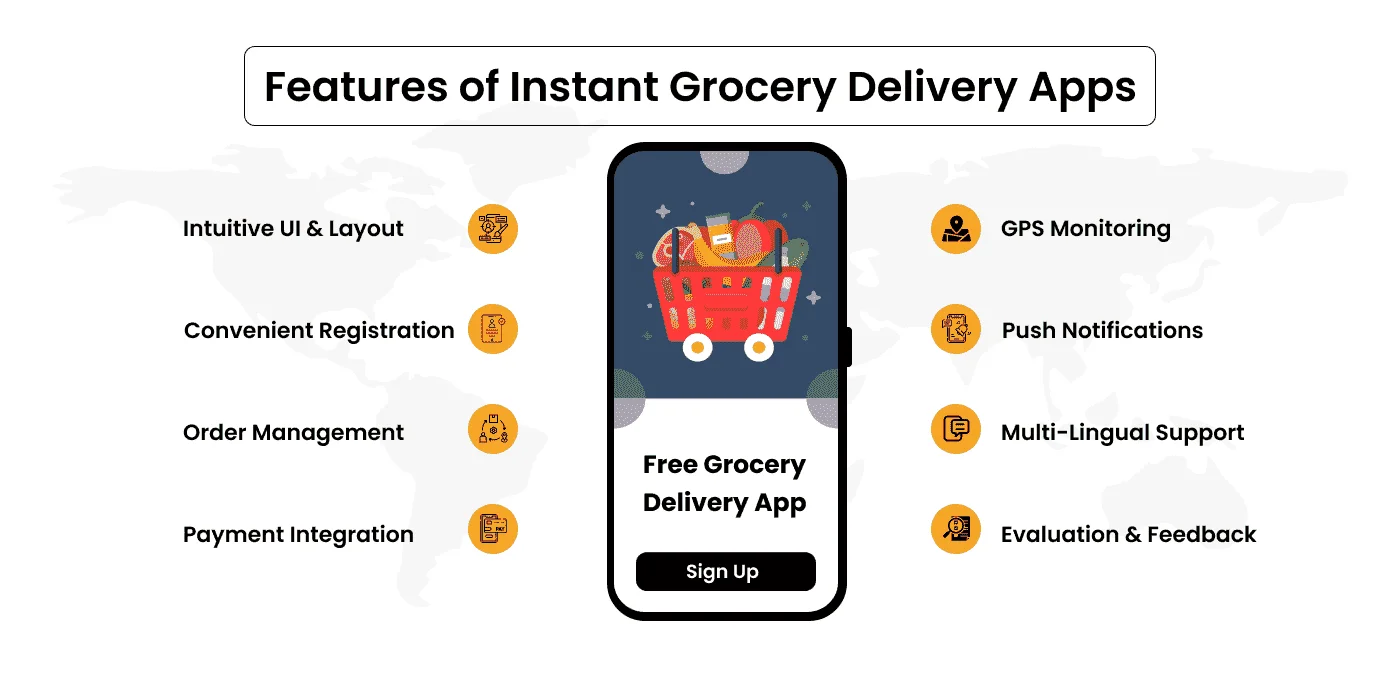 1. Intuitive UI & Layout
Whatever app you are planning to make, an intuitive UI & layout is what make you stand out from your competitors. Building an app that has both of these features will be simple and interactive to use for your business.
2. Convenient Registration
Most apps make registration a cumbersome process, which takes away the consumer's interest to visit your app. Therefore, remember to make a simplified registration process for your users, so they can log in with ease and use your app on a regular basis.
3. Order Management
Order management is a very essential part of a successful grocery delivery app, as it manages the orders yet to be delivered, monitoring of delivered orders, and other important things.
4. Payment Integration
Nowadays, almost all apps have a payment integration system, where multiple modes of payment are incorporated to provide a hassle-free checkout experience to customers. Other than that, apps also enable users the option to 'pay on delivery', but people prefer to have a contactless delivery, thanks to the COVID-19 scenario.
5. GPS Monitoring
GPS monitoring is an important part of a grocery delivery app, as it enables users to get an estimated delivery time for their orders in real-time. It also helps the vendors to track if an order has been delivered to the customer or not. Customers can call or text the delivery person in case they require any external assistance.
6. Push Notifications
Push notifications are an integral part of an app, as it notifies people about their order being accepted, packed, shipped, delayed, and delivered. Consumers don't have to worry about their orders, since they are being notified on each and every step of it.
7. Multi-Lingual Support
This feature is to serve a large community of consumers, despite their language preferences. This support section enables users to clear their queries and doubts without getting worried about their language or preferences.
8. Evaluation & Feedback
Evaluation & feedback is a must-have feature for literally any app because it allows the app management team to understand the preferences of their customers and help them serve better in the future.
Planning & Development of Instant Grocery Delivery App
1. Planning Phase
The planning phase consists of three stages: first, to know your market. Second, to create a business model, and third, to find the best mobile app development company like Protonshub Technologies to assist you with all your development needs.
2. Platform Selection
This point emphasizes the type of platform you need, be it hybrid or native. We can't argue with the fact that both have their own advantages and disadvantages and your choice should be based on these factors.
3. Design Phase
The design of your app is quite important because it is one of the first things that potential customers notice. Make sure the design is both professional and user-friendly. This implies that both the user interface and the usage guidelines for the app should be basic and easy to understand.
Select the typeface, layout, and color palette for your app's overall design. Consider working with a mobile app development company that has experience creating mobile apps.
4. Development Phase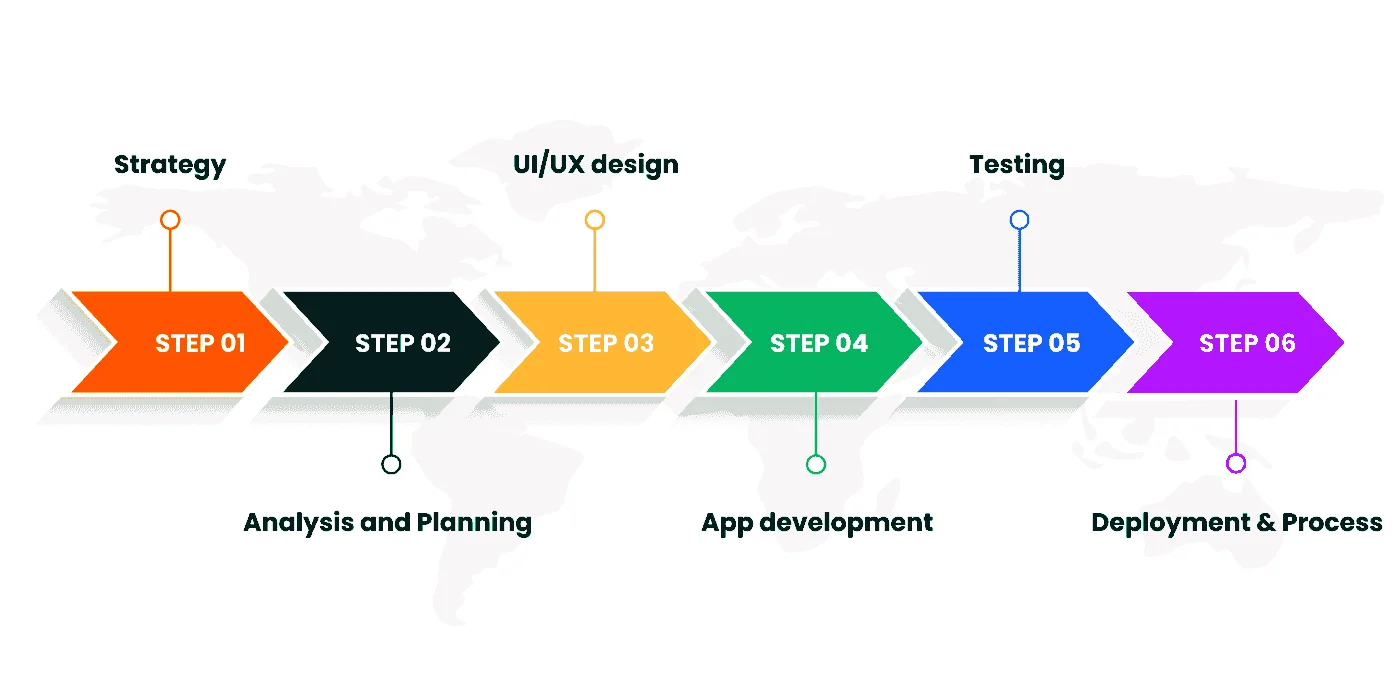 Here comes the main part, the development phase is the most crucial phase of the process as it can decide whether you'll end up on the winning side or the losing one. Prototyping, wireframing, and programming part are considered in this stage.
5. Testing & Launching
Once the development phase is over, you need to scan your app by running various tests on it and fix bugs if there are any. Once the testing is done, you are all set to launch your application.
6. Post-Launch Phase
The work won't get over after the app launch, one must also keep it updated by fixing bugs and regular maintenance.
Benefits of Instant Grocery Delivery Apps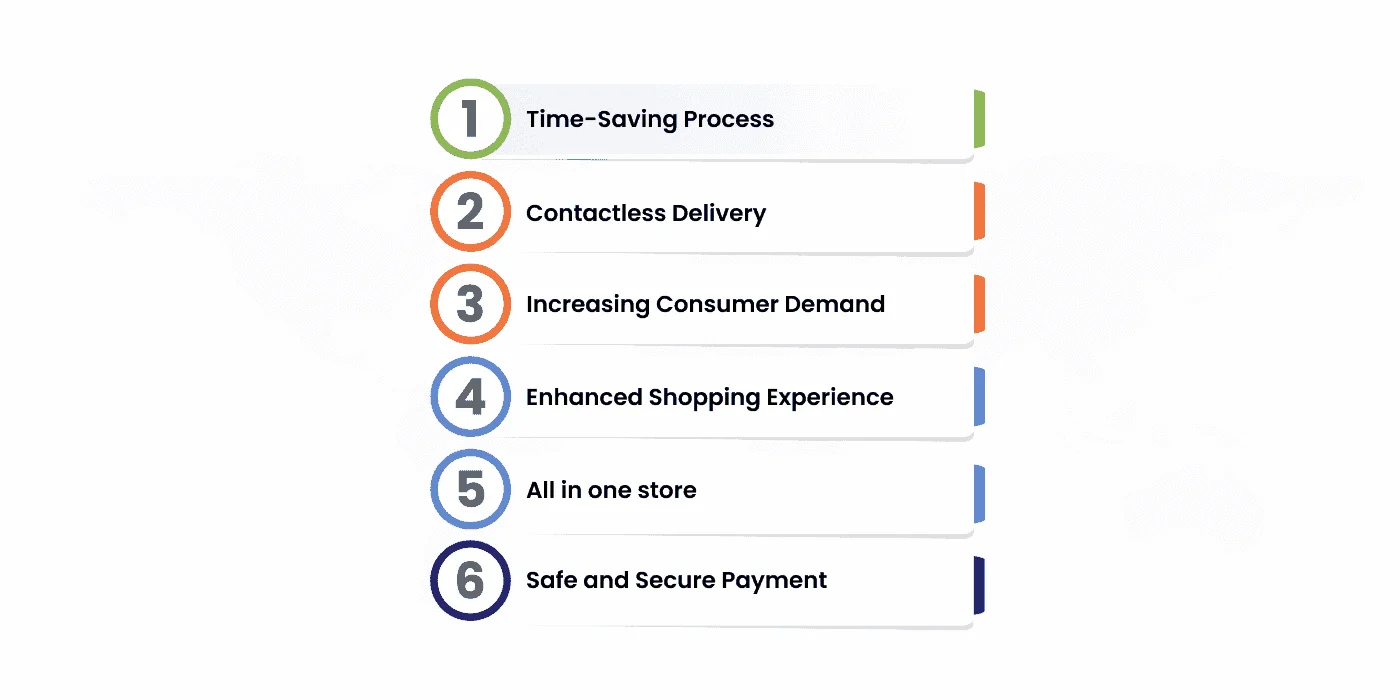 1. Time-Saving Process
This is one of the biggest advantages of instant grocery delivery apps in today's modern era. People have very less time left to do their household chores, and an on-door grocery delivery app can save a lot of time.
2. Contactless Delivery
Post the COVID-19 outbreak, it is seen that people are refraining from in-contact purchases, instead, they prefer contactless deliveries. There's nothing wrong with taking precautions after the emergence of a lethal virus, and it's good that people are following it.
3. Increasing Consumer Demand
Since the online shopping culture is at its peak, grocery delivery apps are continuously growing. The busy schedules of people and the convenience to get all your essentials at your doorstep have boosted the demand.
4. Enhanced Shopping Experience
Using the instant grocery delivery app, people can improve their grocery shopping experience, by avoiding long queues, fetching the items in-store, and others. Online grocery shopping gives users this feasibility and thus has seen tremendous growth.
5. All in one store!
It means that nowadays grocery stores are not only restricted to groceries, instead, the store also delivers fresh vegetables as well as fruits along with other FMCG products. This convenience has surged the demand for grocery delivery apps.
6. Safe and Secure Payment
Grocery delivery apps have integrated payment system, which allows consumers to safely make payments through their debit or credit cards. The payment methods integrated into these apps are reliable and encrypted, ensuring the security of personal information.
Frequently Asked Questionss
On average, an instant grocery delivery app is completely built within six to seven months. From planning to launching, everything can be done within the given timeframe.
The large grocery delivery apps use the following business models: inventory model, multi-vendor marketplace model, shopping model, and others
Grocery apps make money by charging commissions from the seller/store every time their platform is used to make purchases. While some make money from representing different stores on their platform.
AI and machine learning have a significant impact on grocery delivery apps, they can ensure route optimization, demand forecasting, inventory management, and other essential factors.
Conclusion
To sum up, there's a growing demand for grocery delivery apps for both store owners as well as consumers. You can build a highly intuitive and feature-rich application to increase your customer base and scale your business revenues. If you are a startup or a seasoned owner, taking your business to the digital age will only benefit you.
Protonshub Technologies makes the best online grocery delivery apps in the market and you can also benefit from its services at a very reasonable price. Get in touch with us today and get started with your grocery delivery app.