A well-designed app is not easy to create today. A single app must be developed over the course of several months, and obtaining the desired app may take up to ten months.
But not everyone has the necessary skills to create an app. To create an efficient and interesting application, you need a certain level of knowledge and experience.
Even though you have the idea, you might not have the necessary skills and knowledge of various technologies. Therefore, selecting the greatest app development partner will help you create the best app.
Now wondering how you can get the best app development partner? Well, this blog will cover all how you can get the right app partner hassle-free.
Top 10 Factors to Consider Before Selecting an App Development Partner for Your Business?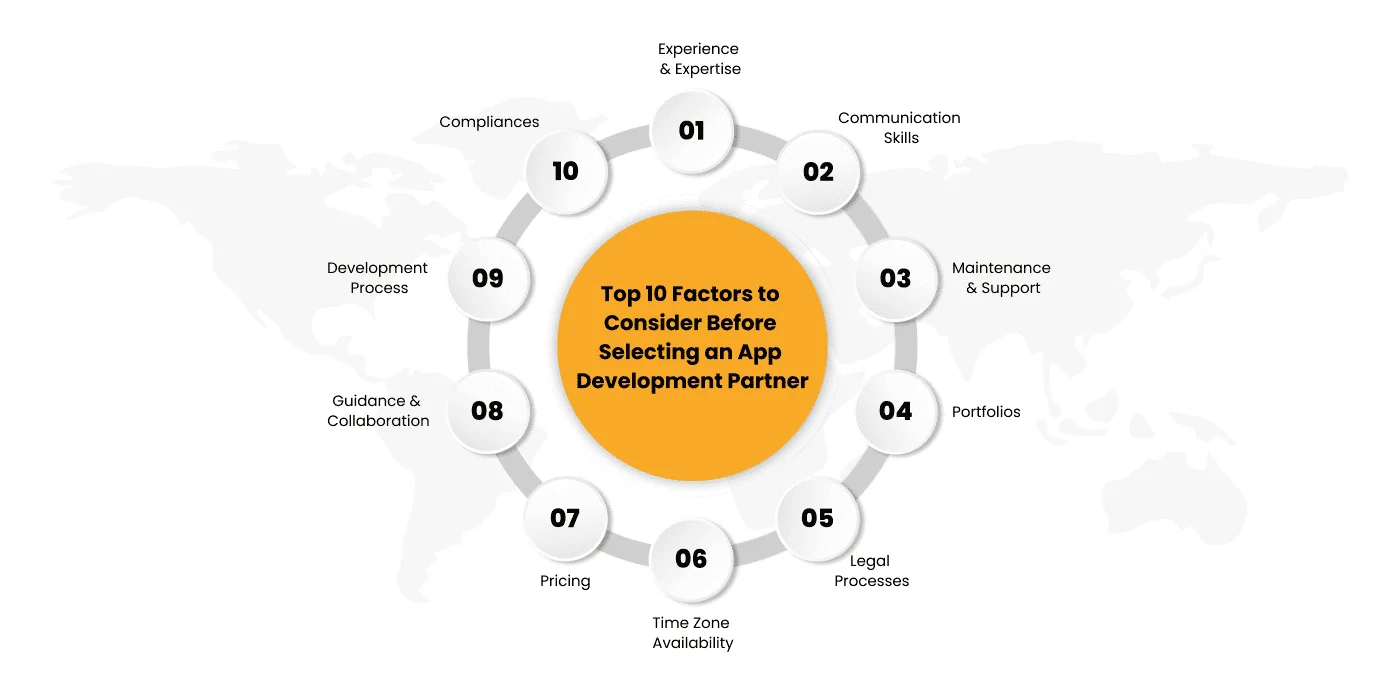 Experience & Expertise
If you come from a non-technical background and are looking to partner with an app development company, it's important to prioritize technical expertise. With so many options available, it's challenging to find effective mobile app development services .
One way to narrow down your options is to consider the experience of each company and look at their past projects. This can give you a sense of their capabilities and whether they are a good fit for your project.
By doing your research and carefully evaluating your options like looking for different case studies , you can find developers who have the technical expertise and experience you need to bring your vision to life.
Communication Skills
When selecting an app development partner, technical expertise is important, but it's not the only factor to consider. Communication skills are also crucial to the success of your project.
If your partner is unable to effectively communicate their approach and progress, it can lead to misunderstandings and delays in project delivery.
It's important to choose the right dedicated developer who has strong communication skills and is able to keep you updated throughout the development process. This can help ensure that your project stays on track and that you are able to achieve your goals within your desired timeline and budget.
Maintenance & Support
What if you get the right expertise, communication, but not the right after-support service?
Now you might be wondering how the support factor can benefit you.
It's crucial to consider the long-term maintenance and support of an application before signing a contract with a development company. Regular updates, bug fixes, and other maintenance tasks are necessary to ensure the app's smooth functioning.
Portfolios
When selecting an app development agency, it's important to assess their portfolio and read client reviews to get an idea of their capabilities and the quality of their work.
Asking for references and checking if the company has successfully worked on similar projects can also be helpful. Platforms like Clutch and Goodfirms are great resources to start your search for reputable app development companies.
Legal Processes
When embarking on an app-building project, it's important for business or product owners to consider the intellectual property and confidentiality mechanisms associated with the project.
Proper legal procedures, such as signing a non-disclosure agreement (NDA) and a service-level agreement (SLA), can help ensure that the onboarding process is smooth and that the collaborative experience is seamless.
These agreements can help protect your intellectual property and confidential information, and provide a clear understanding of the expectations and responsibilities of both parties involved in the project.
Time Zone Availability
Now you might have a different time zone, but it's important to first see whether the app development partner is ready to work in your time zone or not.
It's important to ensure that your app development partner is able to work in your time zone for effective communication and monitoring. If there are significant time differences, it can make it difficult to coordinate and stay up-to-date on the progress of the app development.
Pricing
Developing an app can be a challenging and costly process that requires technical expertise and significant investment. If you have an idea for an app, it's important to discuss it with your app development partner to get a rough idea of the total cost of development.
As a leading app development company, we can provide you with all the information you need about the process, cost, support, and other details related to your app development. If you have any questions or concerns, please don't hesitate to contact us.
Guidance & Collaboration
A good app development partner should be able to provide guidance and support throughout the entire process, from ideation to launch and beyond. They should also be able to collaborate effectively with you and your team to ensure that the final product meets your requirements and expectations.
Communication is key, and a good app development partner should be responsive and transparent, keeping you informed every step of the way.
Development Process
One of the most important factors is knowing the complete development process of the partner you are trusting. Protonshub a mobile app development company aims to follow agile methodologies in order to produce the best results in less time and cost.
You might be wondering how a development process can affect your decision. Well contact us and we will let you know our development process and our way to build your dream app.
Compliances
As a business owner, it's important to ensure that your app development partner has the necessary compliance to ensure the security of your application data.
Certifications such as ISO and HIPAA are important indicators of a company's commitment to data security and compliance. It's a smart move to select a company that has these certifications and compliances in place to minimize the risk of data breaches and other security issues.
Frequently Asked Questionss
Building an app is of great advantage for any business, whether it be banking, e-commerce, healthcare, or any other. Every business, regardless of its revenue, is in need of good supporting partners.
When choosing an app development partner, you should look for a company with experience in your industry and the specific type of app you want to build. They should have a proven track record of delivering high-quality apps, excellent communication skills, and a willingness to work with you throughout the development process.
On average, it can take 5 - 10 months to build a single app, and more complex apps may take even longer. It's important to work with an experienced app development partner who can provide you with an accurate timeline based on your specific project requirements.
Conclusion
Making the right app development partner selection is essential to your app's success. You may find a partner who has the appropriate expertise, abilities, and strategy to assist you in creating a high-quality app that matches your business objectives by using these ten tips and methods. Do your homework, take your time, and select a partner you feel comfortable working with and can rely on to provide a high-quality product. Remember to take your time in researching potential partners, asking the right questions, and considering factors such as experience, expertise, communication, and pricing. With the right custom mobile app development company, you can bring your business to the next level and stay ahead of the competition. Good luck!