Sales and Marketing, both are essential pillars of an organization. The fact that sales department converts the leads to closure, and the marketing department creates brand awareness via advertising, content creation, and social media handling.
In one way or another, both are interdependent departments that need to be aligned in order to bring revenues to the company. However, nothing is as smooth as it sounds.
The collaboration of both teams is necessary to run operations smoothly in an organization, and that is what we will discuss in this blog post.
The blog includes basic information about sales and marketing alignment, some of the common problems the company will face if both teams don't get along, and a few pointers on how you can use sales and marketing alignment for the revenue growth of the company.
What is Sales & Marketing Alignment?
Let's understand this in the easiest way possible.
Sales and marketing alignment refers to collaboration and coordination between the sales and marketing teams of an organization.
Both these teams align when they work toward a common goal, that is attracting customers, generating leads, and ultimately making sales.
On one hand where the marketing team is responsible for creating brand awareness using different marketing strategies such as social media publicity, running ad campaigns, e-mail marketing, and others. On the other hand, the sales team is responsible for handling clients by interacting with them, discussing their needs, and selling them the product or services of the organization.
With this information, it is clear that both teams are dependent on each other in order to work efficiently and effectively to boost revenue streams for the company. Integration of sales and marketing with automation is the primary solution as it provides a wide range of services to streamline the organization's operations.
But, as mentioned above, this is not as easy as it sounds. There are certain situations when these two don't along, let's see what happens in that case.
Common Problems When Sales & Marketing Don't Go Along
Your company is likely to face these issues if your sales and marketing teams are misaligned
1. Poor User Experience
If your marketing and sales team doesn't go along, the first and foremost thing will be the poor user experience that your customers have to face. This misalignment can create a negative brand image and destroy the reputation of your firm in the marketplace.
2. Low-Quality Leads
Another problem with the misalignment of both these teams would be the low-quality leads because there will be no assistance from either side to discuss the requirements. Plus, without any knowledge about the prospect you are dealing with, there are high chances of that lead being junk.
3. Decreased Sales Productivity
Low-quality leads justify this point. No bad-quality leads will ever convert into sales, thus decreasing the sales productivity of your company. Also, it is also essential to create marketing content that resonates with your brand image and the product/service you provide, therefore it is essential for both teams to be aligned in a strategic manner.
4. Lower Revenues
"In the end, it all comes down to money". Good money means better growth opportunities, more investment, more sales, and gain more revenues. The sales are what the company makes money from, and it won't be possible with a misaligned sales and marketing team.
These were some of the common problems a company has to face if both these teams don't go along with each other. But, there are several options, such as marketing automation tools, which make it way easier for your company to streamline sales and marketing activities.
Boosting Revenues with Sales and Marketing Alignment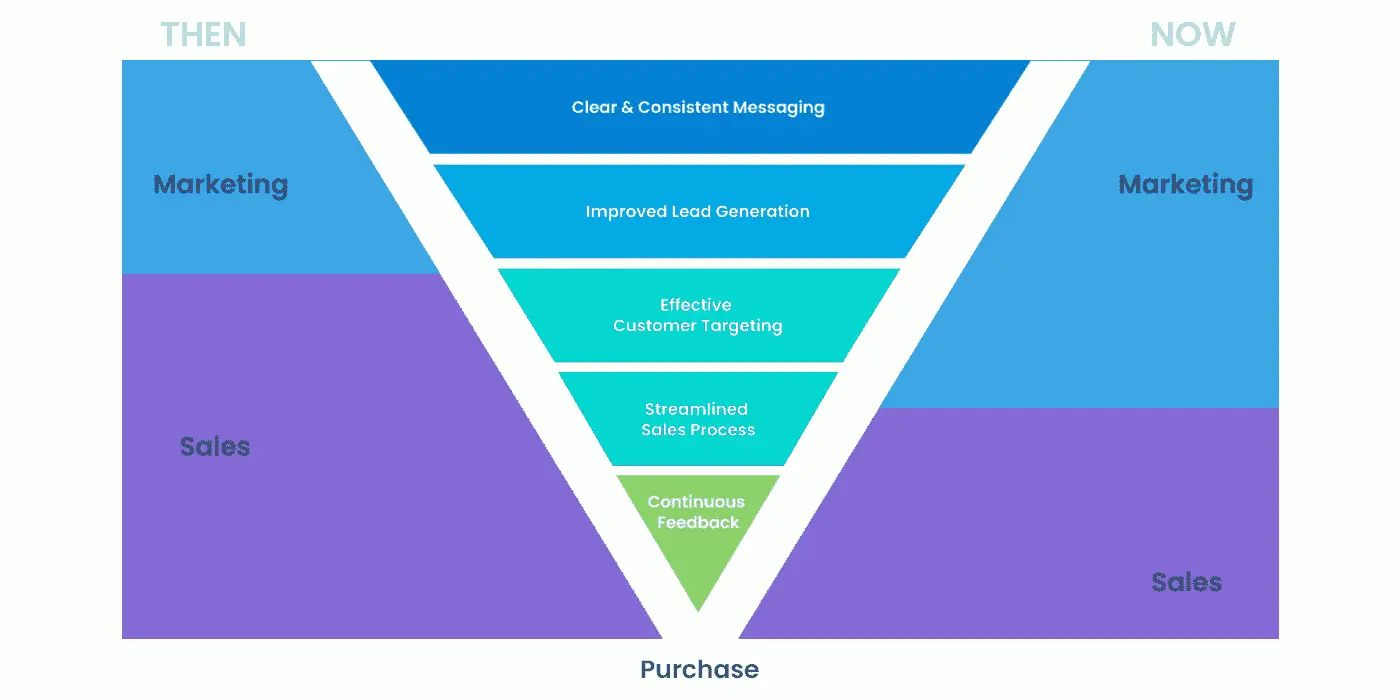 We have seen the problems, now we'll see how both these departments can be a constant source of revenue if aligned well.
1. Clear & Consistent Messaging
When marketing and sales teams align, they make sure that the communication and brand message about the organization's products and services are clear and consistent across all channels.
This helps in creating a combined brand image, leading to improved customer understanding. Moreover, a clear and concise brand message improves the effectiveness of marketing and sales efforts, thereby resulting in revenue generation.
2. Improved Lead Generation
As mentioned earlier the marketing department's role is to create a brand image and generate leads using strategies like advertising, content marketing, and lead nurturing. Here, the sales team can provide insights to marketing about the quality of leads and their chances of conversion.
Using the techniques provided by sales, marketing can understand the type of leads and learn to refine them with high-quality leads. Better quality leads have a higher chance to convert and thereby increase revenues.
3. Effective Customer Targeting
Both marketing and sales have their own expertise. While marketing can identify and understand the target audience, sales can provide them with valuable guidance regarding customer preferences, buying behaviors, and pain points.
This way marketing teams can create content that resonates with the patterns of their target audience with a strong chance of converting them into customers. This strategy is another way to boost revenue streams for an organization.
4. Streamlined Sales Process
The ultimate goal of sales and marketing alignment is to streamline the sales process and increase revenue for the company. Here, marketing can provide qualified leads to sales, and sales work on it to convert them into customers.
By aligning their strategies, both teams can reduce redundancies, eliminate gaps in customer service, and optimize the sales process, resulting in more efficient conversions, thus increasing revenues.
5. Continuous Feedback
The alignment between any two sides comes with lots of suggestions, feedback, and reviews to improve the quality of service. This is a good thing for business owners if the teams are strategically correcting themselves.
Such feedback can assist the marketing team to create a particular type of content and in return, the marketing team can provide valuable data and insights related to sales. This continuous loop can work wonders to improve the effectiveness and efficiency of an organization.
Overall, alignment between sales and marketing can facilitate improved coordination, qualified lead generation, a streamlined process, and a continuous improvement cycle, that will ultimately benefit the company.
Frequently Asked Questions
Sales and marketing alignment refers to collaboration and coordination between an organization's sales and marketing teams. Both these teams align when they work toward a common goal, that is attracting customers, generating leads, and ultimately making sales.
There can be a lot of problems if sales and marketing don't go along, such as poor user experience, low-quality lead generation, decreased sales productivity, and low revenue generation.
Sales and marketing alignment can aid in revenue generation by providing clear & consistent messaging, improved lead generation, effective customer targeting, streamlining sales processes, providing continuous feedback, and others.
There are a few strategies to bring sales and marketing together, by sharing common goals, having frequent meetings, streamlining effective communication, sharing ideas, suggesting improvements, and supporting each other.
Conclusion
Alignment of sales and marketing is crucial to run a successful business be it from any perspective. The benefits are discussed above which clearly shows the importance of AI in marketing growth . Also, Protonshub is conducting a free webinar on how to boost your sales and marketing operations with Pivott. You will be getting tons of insights and reasons to automate your business operations in order to gain maximum efficiency and boost the productivity of the organization.