Did you know that online transportation services have developed into a leading industry that holds the power to pique the public's interest? In the year 2022, the global transportation market was valued at USD 110.53 billion. This figure is expected to increase at an annual growth rate of 13% by 2030.
A recent study has shown that Americans approximately relocate 11.7 times in their lifetime. It has increased the number of people employed in the packers and movers industry. Currently, the industry employs 122,600 people annually and pays them $3.6 billion annually.
The aforementioned statistics show the rise in demand for online transportation at a global pace. So, if you want to enter this growing industry, now is the time. You can hire a logistics app development company to create a useful app like Porter.
We have discussed how you can create an app like Porter, its essential features, the cost of app development, and other important aspects. Read this article till the end to create a logistic app with ease.
How to Create an App Like Porter: The App Development Process
One thing that keeps the online logistics industry functioning smoothly is the prompt delivery of products. You can eliminate everyday issues like incorrect shipment and misdirected merchandise with a responsive logistic app.
By creating an app, your goal is to alleviate the logistic problems. So it's important that your app launches promptly even on devices with minor features. Follow the steps mentioned below to create a powerful logistic app: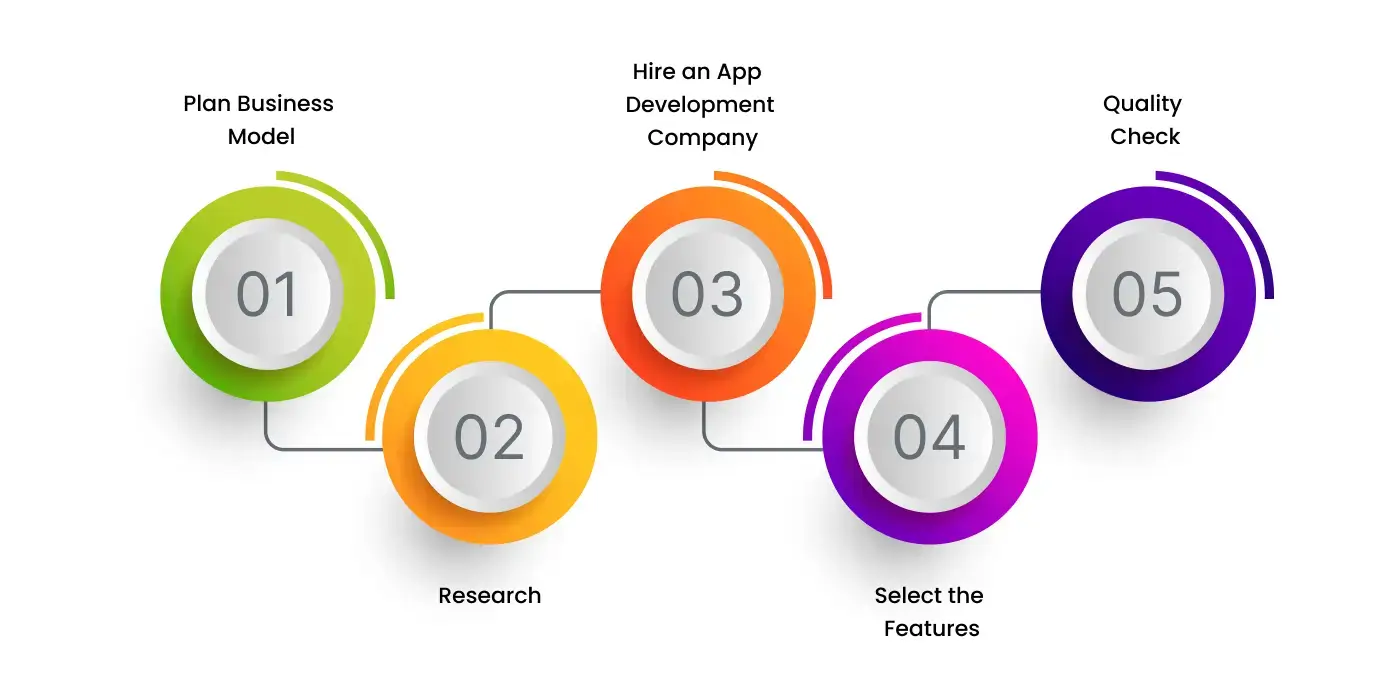 1. Plan Business Model
The first requirement of creating a logistic app is deciding the business model. Having a proper business model plan allows you to go a long way with the development process.
You can start by choosing a revenue model. Following this, obtain a registration for your business. Make sure you have all the necessary documents to run a business without the fear of prosecution by the law.
To have better clarity about the type of model you want for your business, you can keep the following questions in mind:
What kind of features would you like to include in your app
What is your budget for creating a logistic app
Which logistic app development company do you want to choose
Why you are creating a logistic app
2. Research
Conducting detailed research helps you gain valuable insights about how to create an app like Porter and the potential benefits of creating such an app. You can also compare the service price charged by other online logistic apps. Likewise, you can research the cities that heavily use such an app.
This way you can gain a solid understanding of where your target audience lives and what their behavior is. No matter how great your business plan is, if you are unaware of the demographics you are trying to reach, you will fail.
3. Hire an App Development Company
After doing your research and creating a solid business plan, you need to find a reliable app development company.
You can start by researching the potential companies that offer services within your budget. Similarly, you can read reviews to understand whether the company offers the right guidance for app development. Don't hesitate to ask about the tech stack that is used for app development.
If you don't want to outsource an app development company, hire an in-house team. Or if your budget is low, you can work with a team of freelance app developers.
4. Select the Features
Including the right features can make your logistic app a success. Try and add features that can solve the needs of your customers. If you have a tight budget, launch the app with basic features. Later, you can add advanced features to it.
5. Quality Check
If you do not want your logistic app to fail, don't forget to conduct a quality check. By conducting a thorough quality check, you can fix potential bugs and errors to offer complete accuracy to your target audiences.
Features to Include in Your Logistic App
Are you wondering what transport app features to include? Here's the complete list of features your user's and mover's panel must have:
User's Panel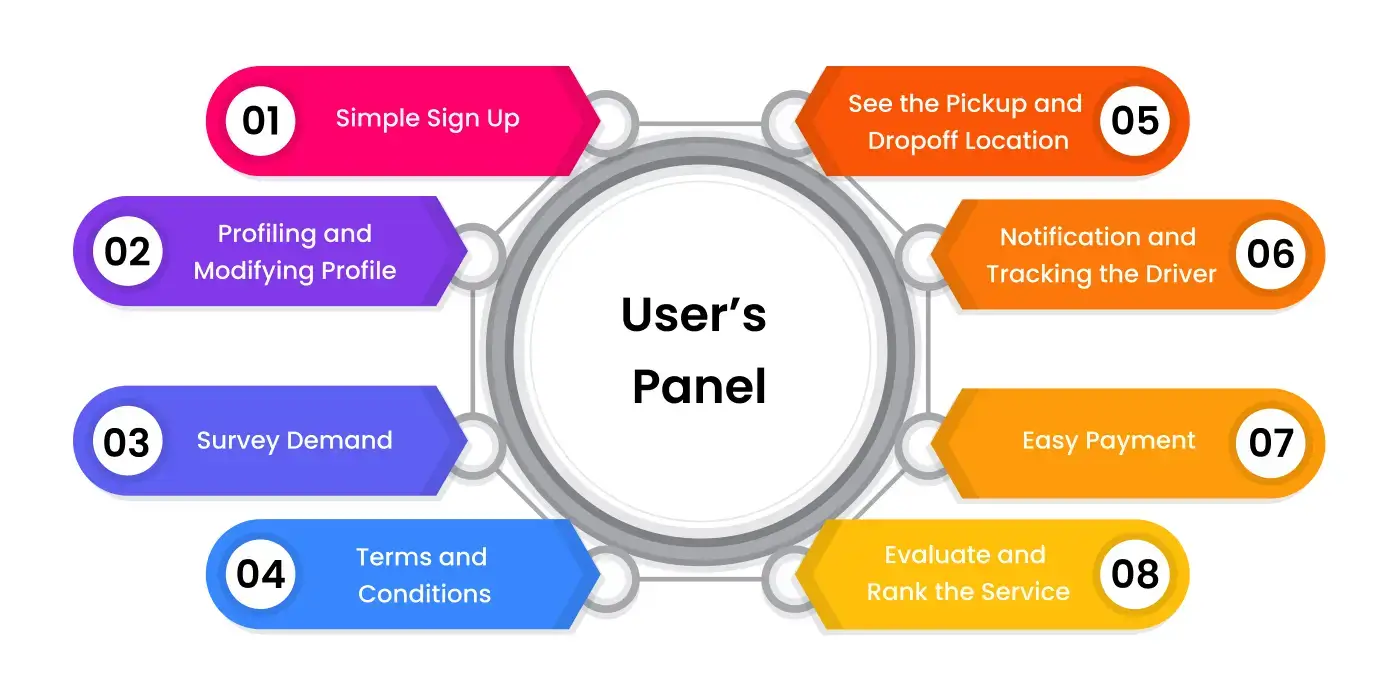 The user panel in your logistic app comes with multiple functions like a search option, order scheduling, invoice, notifications, payment choices, order history, ratings, and more.
1. Simple Sign Up
Simple sign-up allows users to register themselves to the app in a few steps. After users have registered themselves via their phone number, social media, or email, they can access the packers and movers services.
2. Profiling and Modifying Profile
Make sure your logistic app has a profiling and modifying profile option so your users can edit their profiles as per their preferences. Under the modifying profile feature, you must allow users to adjust their information, privacy settings, and profile images.
3. Survey Demand
The survey demand function allows users to ask for a review before they hire a packers and movers company. Likewise, users can also use this feature to inform the moving company of the kind of objects and materials they wish to transport.
4. Terms and Conditions
You must design your logistic app in such a way that it allows users to see the terms and conditions before paying for the service. Once the user is satisfied with your terms and conditions, they can take further action. This way you can eliminate any potential issue in the future.
5. See the Pickup and Dropoff Location
By enabling the access to view pickup and dropoff locations, your users can choose the places from where their items will be shipped. They can also provide the dropoff address to avail the maximum benefit.
6. Notification and Tracking the Driver
Your logistic app must send regular notifications of the product's dispatch, arrival, driver's location, and similar things. This allows users to know the driver's profile, including their arrival time, contact number, car number, and more.
7. Easy Payment
With a straightforward payment option and a fare calculator, you can make it easier for users to know the basic price estimates. Users will compare your prices with your competitors to find a better deal. If your prices are justified, they will pay for it. Likewise, you can enable multiple payment options like net banking, UPI, and debit/credit cards.
8. Evaluate and Rank the Service
You can allow users to evaluate and rank your services as per their experiences. If the users are satisfied, they are likely to write a positive review, which will increase your chances of getting hired by others. Users might also propose some improvements, which you can work on to offer better service.
Mover's Panel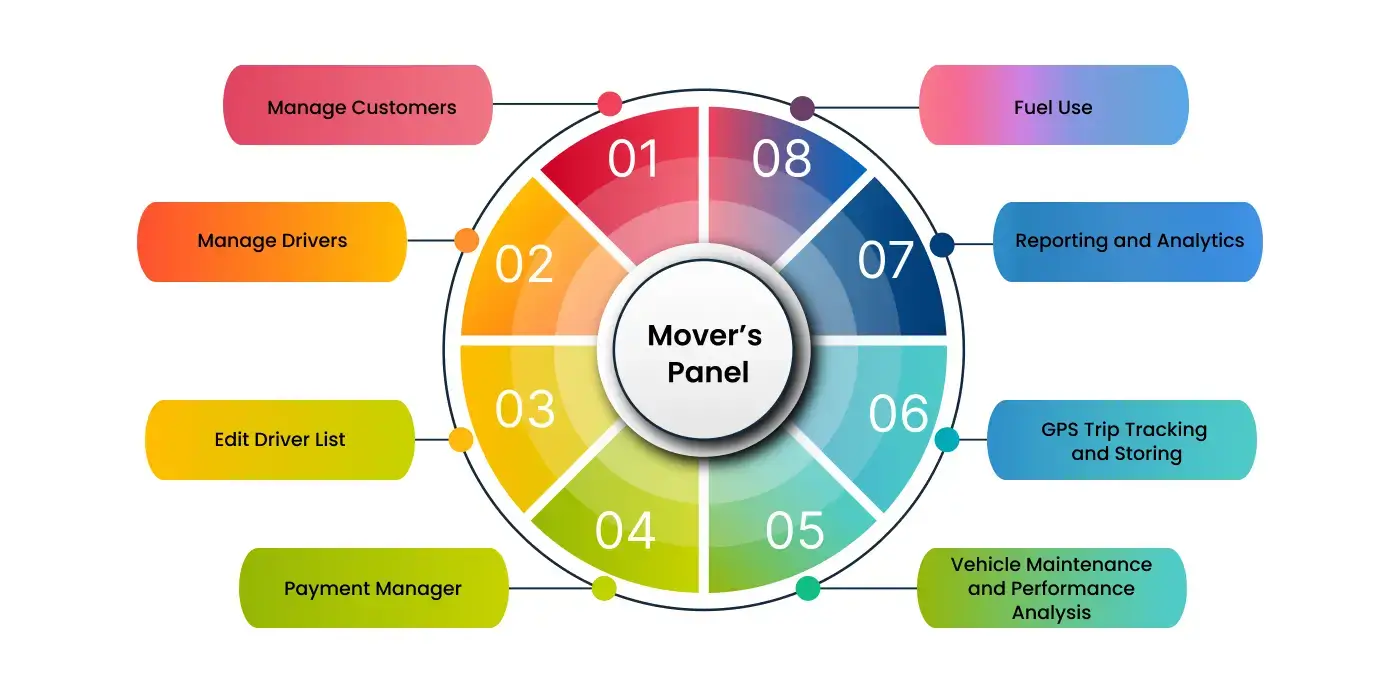 Here's a list of features that your logistic app's mover panel must have:
1. Manage Customers
You must include a feature to manage customers for quick tracking of user's accounts, submitted orders, and pending orders.
2. Manage Drivers
The manage driver option allows the admin to take care of all drivers on or off the job. They can also inform drivers about any orders that users have asked for.
3. Edit Driver List
The edit driver's list feature allows admins to quickly add, edit, remove, or block drivers depending on how they perform their jobs. If the admins are not satisfied with the driver's performance, they can take appropriate action.
4. Payment Manager
The seamless payment manager option allows admins to manage and track all the payments made by users via CODs in one place.
5. Fuel Use
Enable the fuel use feature in your logistic app so managers can check the consumption of fuel in all the vehicles used for moving and relocation.
6. Reporting and Analytics
The reporting and analytics section contains information about orders, payments, and locations covered. Managers can also use this feature to find any specific information.
7. GPS Trip Tracking and Storing
Enabling the GPS tracking feature will help admins to track drivers' routes in real-time. They can also give scores to drivers on how they drive. Following this, admins can impose fines and take similar actions.
8. Vehicle Maintenance and Performance Analysis
Depending on how far vehicles have traveled, what amount of fuel is consumed, and how well the fleet is performing, admins can decide whether or not a vehicle needs maintenance.
Cost Estimation to Build an App Like Porter
Are you wondering how much transportation app development costs? Keep reading to know!
On average, the cost of developing a transportation app like Porter can be between $30,000 to $60,000.
However, the cost of developing a logistic app like Porter depends on numerous factors, one of which is the complexity of features. For instance, if you want your logistic app to have advanced features, its development cost will be higher. But if you only want basic features, the app can be made on a budget.
The time required for developing complex features significantly increases, which also affects the cost. Experts recommend creating an app with basic features and later adding advanced features as per your requirements or customer feedback. Also, if your logistic app becomes successful, you can invest a good amount of money in it.
Frequently Asked Questions
There is no fixed answer to the time required for creating an app like Porter. That's because the time depends on the complexity of the app, features, and functionalities like technology, design, and more. But on average, the time of creating a logistic app can be between four to eight months.
You need to create a balance of CRM and CMS integration while creating a logistic app. Try including features like database design, GPS tracking, in-app payment, cloud for secure storage, and real-time tracking.
When creating a logistic app, you must always include two necessary features, i.e., good transportation and GPS tracking. Besides this, you can add other basic and advanced features to make your logistic app as smooth as possible.
The advancement in technology has increased productivity in the supply chain, decreased costs and errors, and enhanced shipment tracking.
Conclusion
The ease of use of logistic apps has reduced the hassle of relocation. This thing has increased the dependency of people on these apps, which has further boosted the market size and revenue of logistics apps.
If you are interested in entering the growing transportation industry, try solving common logistic-related problems via an app. For this, you can hire a reliable mobile app development company like Protonshub Technologies.
Our team of experienced app developers creates accurate and affordable mobile apps for a variety of industries like transportation, business, gaming, and more. We follow an innovative methodology, which helps us offer 100% client satisfaction.
You can visit our website for more details.