Technology is making fantasy apps more popular than ever before, despite traditional fantasy sports' popularity.
But, what's so exciting about fantasy apps?
Fantasy apps allow users to create and manage their own virtual teams and compete against others in various sports leagues.
Building an app like Dream11 is a big dream for many. But how can you get that done? Well, it's probably the right developers and the expertise that can make you achieve such a big successful fantasy mobile app.
Protonshub is the leading fantasy sports mobile app development company, helping business get their desired fantasy apps with the best creativity and output.
With such a growing market of fantasy market, there are new trends and market opportunities coming in 2023. Explore the trend and marketing opportunities in 2023 through this blog, and get to know about the exact numbers and stats.
Market Opportunities of Fantasy App
According to a new report published by Allied Market Research, Opportunity Analysis and Industry Forecast, 2021–2027," the global fantasy sports market size was $18.6 billion in 2019 and is projected reach $48.6 billion by 2027, registering a CAGR of 13.9% from 2021 to 2027
1. The fantasy sports market worldwide has been segmented based on various factors including
Type
Platform
Demographics
Geography
2. The market has been classified into different types, such as
Fantasy Football
Fantasy Baseball
Fantasy Basketball, and others
3. It has also been categorized into websites and mobile applications based on the platform.
4. The market has been classified into different demographics, including
Under 25 years
25-40 years
Above 40 years
5. Lastly, the market has been classified into different regions, such as
Americas
Europe
Middle-East
Africa
Asia-Pacific
Top-notch Technology Trends in Fantasy App Development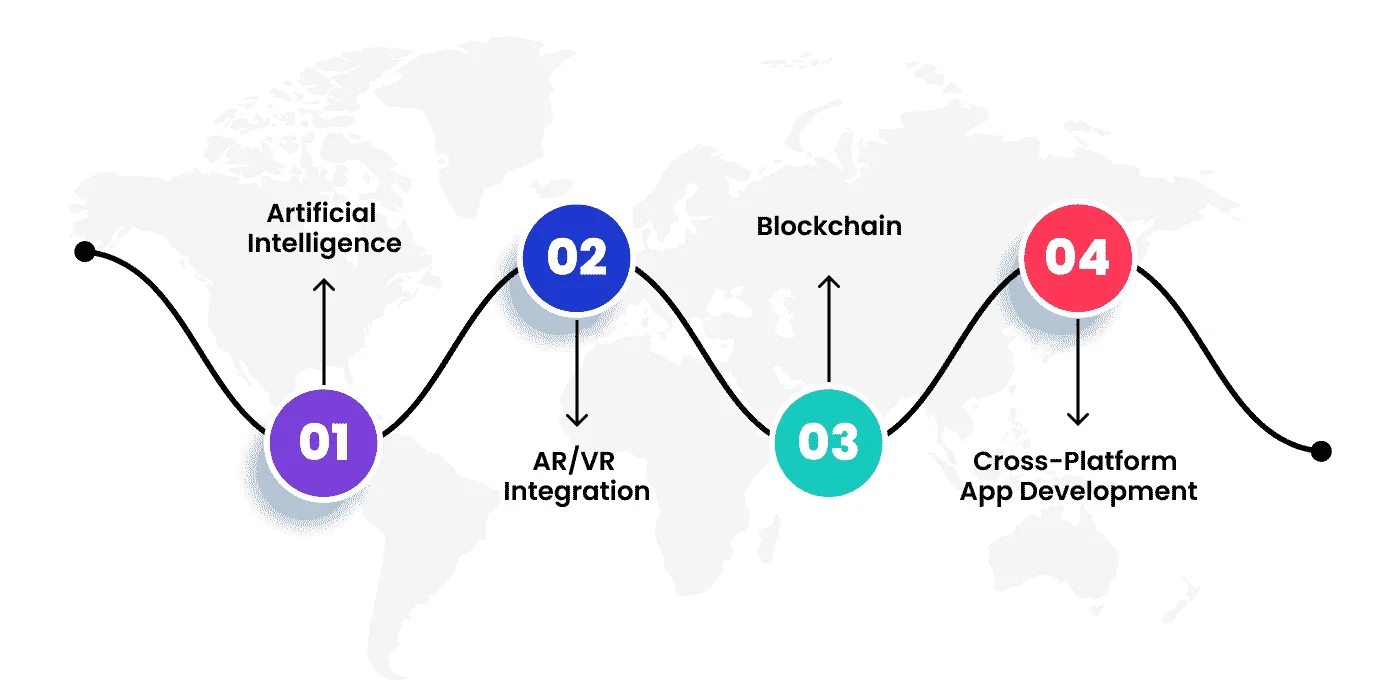 Artificial Intelligence
AI has helped in fantasy app development in multiple ways. Unlike traditional fantasy apps provides more
Accuracy
Effectiveness
Engagement
Personalization
Not just this artificial intelligence has also helped in providing real-time analysis and updates, team performance reports, and a lot more. AI can be used to automate certain aspects of the app, such as player drafting and team management, which can save users time and improve the accuracy of their selections. Overall, AI is helping to make fantasy sports apps more engaging, intuitive, and enjoyable for users.
AR/VR Integration
Augmented Reality (AR) and Virtual Reality (VR) integrations are revolutionizing the way people experience sports, including fantasy sports. With AR/VR, fantasy sports apps can provide users with a more,
Immersive
Engaging Experience
AR/VR can be used to create interactive games and challenges that allow users to compete against each other in virtual environments. Overall, AR/VR integration has the potential to take fantasy sports apps to the next level by providing users with a more engaging and realistic experience.
Blockchain
Blockchain technology has the potential to revolutionize numerous industries, from finance to education. In the world of fantasy sports, blockchain is already making an impact by providing more accurate data and reshaping the way we approach gaming.
By providing a decentralized and transparent platform, blockchain can ensure that data is accurate and secure, which is essential for fantasy sports where accurate data is crucial for making informed decisions. Additionally, blockchain can enable new features such as peer-to-peer betting, and incentivize users to contribute to the platform. Overall, the use of blockchain technology in fantasy sports has the potential to provide a more,
Secure
Transparent
Engaging experience
Cross-Platform App Development
With users accessing apps from a variety of devices and platforms, it's essential to ensure that the app is accessible and functional across multiple platforms.
Cross-platform development allows developers to create an app that can be used on multiple devices and platforms, such as
Cross-platform development can provide a more consistent user experience across different devices and platforms, which is essential for engaging users and building a loyal user base.
Frequently Asked Questionss
Fantasy apps is a platform that allows users to play fantasy games virtually like cricket, football, and so on. It allows users to create their own teams and win prizes for every win.
There are several benefits when it comes to fantasy sports app development. First of all, it's a growing market, so investing in the same will lead to revenue generation. Next, there are high chances of engagement because gaming is a growing industry. Not just this, it provides many advantages like
A fantasy app typically includes features such as user registration, team creation, league creation, live scoring, player statistics, in-app purchases, social sharing, push notifications, chat and messaging, and a payment gateway.
Being the top app development company, Protonshub ensures quality and consistency in every project. With time-to-time testing, we make sure that your fantasy app project is highly scalable and profitable in the long run.
Conclusion
The gaming industry is growing with every passing second, and it's important to take this advantage in investing in fantasy sports apps. Technological advancements had made fantasy gaming even more engaging and user-friendly. Fantasy sports apps are still in demand, as they provide a unique and engaging way for sports fans to interact with their favorite sports and players. In recent years, the industry has experienced significant growth, and it is expected to continue to do so. Protonshub, a mobile app development company provides the best developers for your project. Want to know more about it, contact us . The market opportunities for these apps are vast, with a growing number of sports fans looking for new and engaging ways to interact with their favorite sports. The industry has seen significant growth and investment, with new features and technologies being developed to enhance the user experience. Fantasy sports apps are likely to remain a popular and lucrative market for years to come.