Ever experienced a situation where you needed immediate medical assistance but had no one near you? Well, this is a common situation in rural areas where good medical service is located far from where you live.
Plus, you have to spend a hefty amount of money to visit medical centers regularly. One thing COVID-19 has taught us for sure is that majority of our daily chores can be done from home, and one of that was remote treatment or simply telemedicine. Healthcare app development has gone to another level and you will later understand why.
This blog will explain to you all about telemedicine and how it is going to revolutionize the healthcare industry. There are a lot of things to understand when talking about telemedicine because it is much more than remote treatment. Let's talk about them one by one and understand the concept in depth.
What is Telemedicine?
For those who are unfamiliar with the term, Telemedicine is a healthcare service that provides remote treatment to patients, using electronic and telecommunication technologies.
It is a two-way real-time communication between the healthcare provider and the patient to assist them from a distance using technology-based solutions.
Telemedicine allows improved healthcare choices, reduces diagnosis time, saves money for both patients and doctors and increases service quality in emergency situations by optimizing medical procedures.
Using these services, patients are getting more personalized clinical services and meeting the best medical consultants who are sitting beyond the reach of the video app feature. These automated platforms have multi-functionality tools that ensure a seamless flow of healthcare operations, such as report management, data storage, networking, and others.
Not only for patients, but telemedicine also helps doctors by saving the time they spend visiting rural areas and providing improved care to patients.
What is the need for Telemedicine in Healthcare?
We understood what telemedicine is, which pretty much sums up the need for the same in the healthcare department. However, to be more specific, here are a few obvious reasons:
1. Need for better treatment.
2. Rising costs of healthcare.
3. Improved communication between far-off patients and doctors.
4. To promote lesser re-admissions of patients into hospitals
5. To save time for both patient and the doctor.
These are just a few major reasons why telemedicine is necessary in the healthcare industry and more such insights are covered below.
Key Features of a Telemedicine Platform
The following are the major features one needs to consider during telemedicine app development . These features are what make the app interesting and reliable for both doctors as well as patients.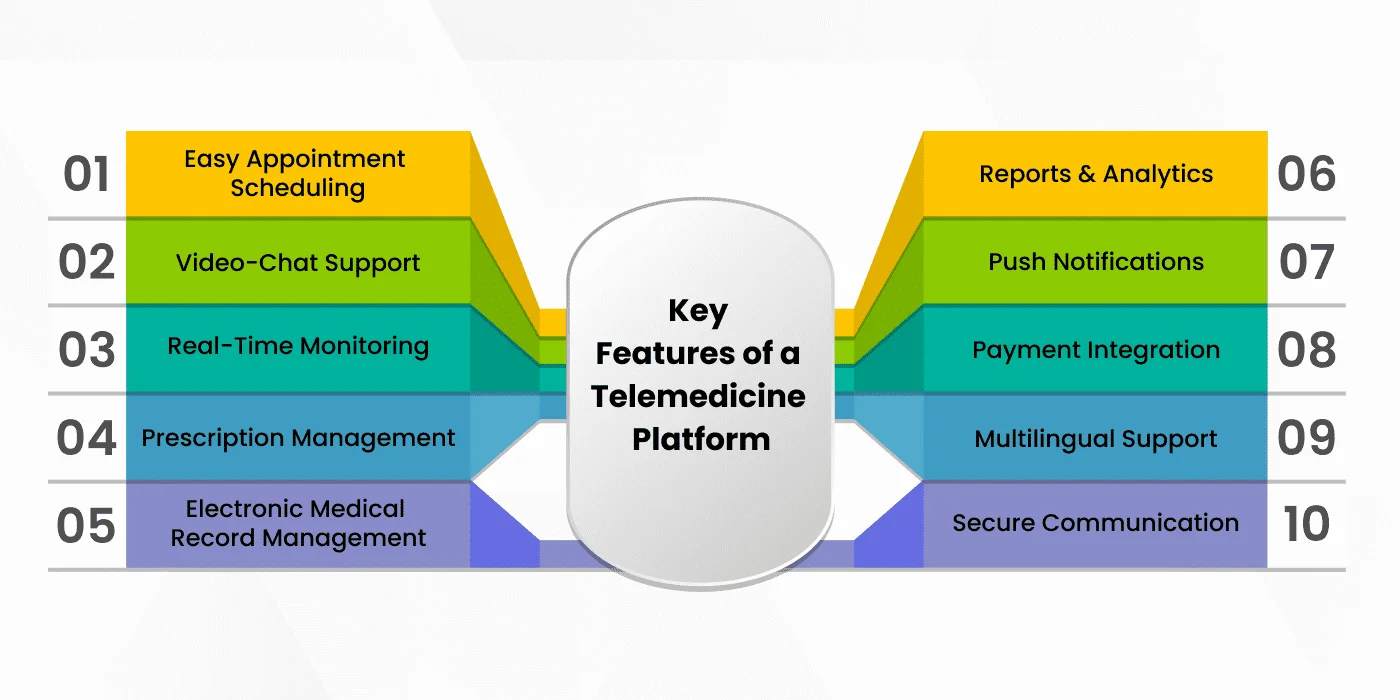 1. Easy Appointment Scheduling
Execution of sudden plans is a tough task in today's time and so is fixing a doctor's appointment. That's where enter your telemedicine platform, which lets you fix an appointment with your doctor in a seamless way.
All you have to do is sign up on the telemedicine app, enter your basic information, and medical history in some cases, and you are all set to schedule an appointment with a physician for your check-up. In case you are unable to show up on your selected timeframe, you may reschedule your appointment as well.
2. Video-Chat Support
For all those who are thinking that telemedicine is all about taking a doctor's advice over a phone call, let me correct you. You can even have a live video call with your physician and take their complete assistance for yourself. Video call ensures seamless communication between you and your physician in a very safe and reliable environment.
3. Real-Time Monitoring
Real-time monitoring and chat is a most effective feature of a telemedicine application, especially for follow-up questions, clarifications, and non-urgent queries. It enables effective communication, making a more convenient option for patients and doctors without scheduling a dedicated video call, making it a more accessible and handy feature for all.
4. Prescription Management
No more handling and maintaining the old prescription copies that can be lost as soon as you reach home because the telemedicine app has sorted this out for you. Patient's prescription will be digitally managed and maintained within the app, and not only this but you can also get updates if your prescription has been modified.
5. Electronic Medical Record Management
Prescription is one thing, but managing all your medical records is also something a telemedicine app excels in. Medical record management assists physicians and healthcare admins to readily go through your medical history without undergoing a hassle to find your papers.
This features makes it easy for healthcare professionals to identify and understand your early diagnosis, prescriptions, and allergies, which enables them to make an informed decision.
6. Reports & Analytics
Reports and analytics are important parts of any application. But for a healthcare application, it is important to have insights into the usage pattern of the patient to improve the patient's experience and overall quality of the services. These analytics also helps in monitoring regulatory compliance and increase the security of the platform.
7. Push Notifications
Push notification is an important feature of a telemedicine application. It notifies the user about the updates made to their profile, such as prescription changes, appointment confirmations, and others. Other than app notifications, the users also get email and SMS alerts on their smartphones to keep them updated about events.
8. Payment Integration
A secure mode of payment is essential for any telemedicine application. It must ensure that patients can use different modes of payment such as UPI, credit cards, debit cards, and others. Also, it is a vital feature for doctors who should be paid for providing their valuable services from a distance.
9. Multilingual Support
Apps are not confined to people of a particular location, it is for everyone who wants to use them. This is the reason to provide multilingual support, so people with different languages can take advantage of telemedicine services. Telemedicine apps appoint multiple chat support persons who can assist the patients in their preferred languages.
10. Secure Communication
Last, but not least, secure communication is a must-have feature for any telemedicine application. Every user wants their data to be secured and encrypted in order to protect their sensitive information. Therefore, a telemedicine app is suitable for such communication as it is developed in a way that keeps the data encrypted under all circumstances.
6 Steps Cycle for Telemedicine Process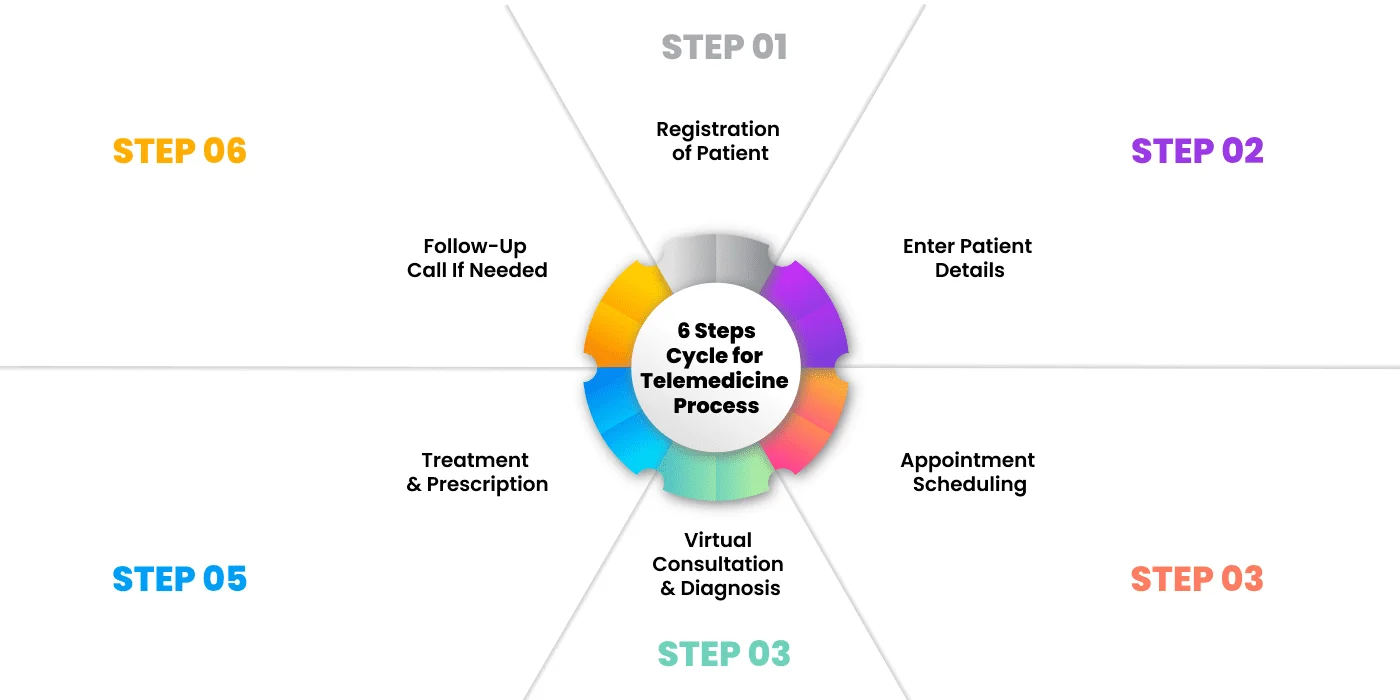 1. Registration of Patient
After you install a telemedicine app on your phone, you need to register for the app by signing up.
2. Enter Patient Details
Post registration, the user needs to add his/her details like name, age, gender, height, disease, or area of consultation.
3. Appointment Scheduling
Once the issue is decided, the patient can schedule the appointment with the doctor by selecting a preferred given time.
4. Virtual Consultation & Diagnosis
Once the appointment is scheduled, the patient will receive a confirmation, post which the actual consultation and diagnosis process begins.
5. Treatment & Prescription
The doctor will check the patient's symptoms and diagnose the problem and provide you with a treatment plan and a prescription of medicines for the same.
6. Follow-Up Call If Needed
Now, once the users follow the treatment, they will let the doctor know that they are alright or they need further assistance if otherwise.
These are six basic steps by which a patient can easily get remote medical assistance using telemedicine apps.
Frequently Asked Questions
Telemedicine is a healthcare service that provides remote treatment to patients, using electronic and telecommunication technologies. It is a two-way real-time communication between the healthcare provider and the patient to assist them from a distance using technology-based solutions.
Major features of a telemedicine application include secure video/audio communication between patients and healthcare providers, online appointment scheduling, electronic health record integration, prescription management, remote monitoring capabilities, and others.
The advantages of a telemedicine app include increased accessibility to healthcare services, reduced travel time and costs for patients, improved convenience and flexibility, better management of chronic conditions through remote monitoring, the potential for faster medical assistance during emergencies, and others.
Telemedicine is revolutionizing healthcare by extending medical services to remote areas, breaking down geographical barriers, increasing patient engagement and empowerment, enabling timely access to healthcare professionals, reducing healthcare costs, and facilitating more efficient use of healthcare resources.
Various methods used in telemedicine include video consultations, real-time chats between patients and healthcare providers, remote patient monitoring, and mobile health applications for self-monitoring and virtual consultations.
Conclusion
So here's how telemedicine is rising and revolutionizing the face of the healthcare industry. There are several other factors that need to be considered while healthcare app development , which is why a custom software development company like Protonshub Technologies can help you here. With features like easy appointment scheduling and real-time patient monitoring, a telemedicine app can be of great use to people residing far from advanced medical centers. Contact us to know more and we will guide you for your best interest.