With more people relying on mobile apps for day-to-day tasks, this industry is booming with no signs of slowing down. A report by Statista has estimated that the number of mobile app downloads is going to cross 156 billion by the end of 2023.
After seeing the rapid growth of the mobile app industry, it's no wonder why businesses are investing in developing mobile apps. But before you hire a mobile app development company in USA, you need to know why most mobile apps fail.
Almost 80% of mobile apps get abandoned after their first use. It highlights the importance and need of creating a mobile app with great precision.
In this blog, we have discussed 10 important things to consider when developing a mobile app for success. Understanding the key factors will help you prioritize your tasks and create a robust app that resonates with your users.
10 Factors to Consider During Mobile App Development
No matter what kind of app you want to develop, consider these factors for a better user experience: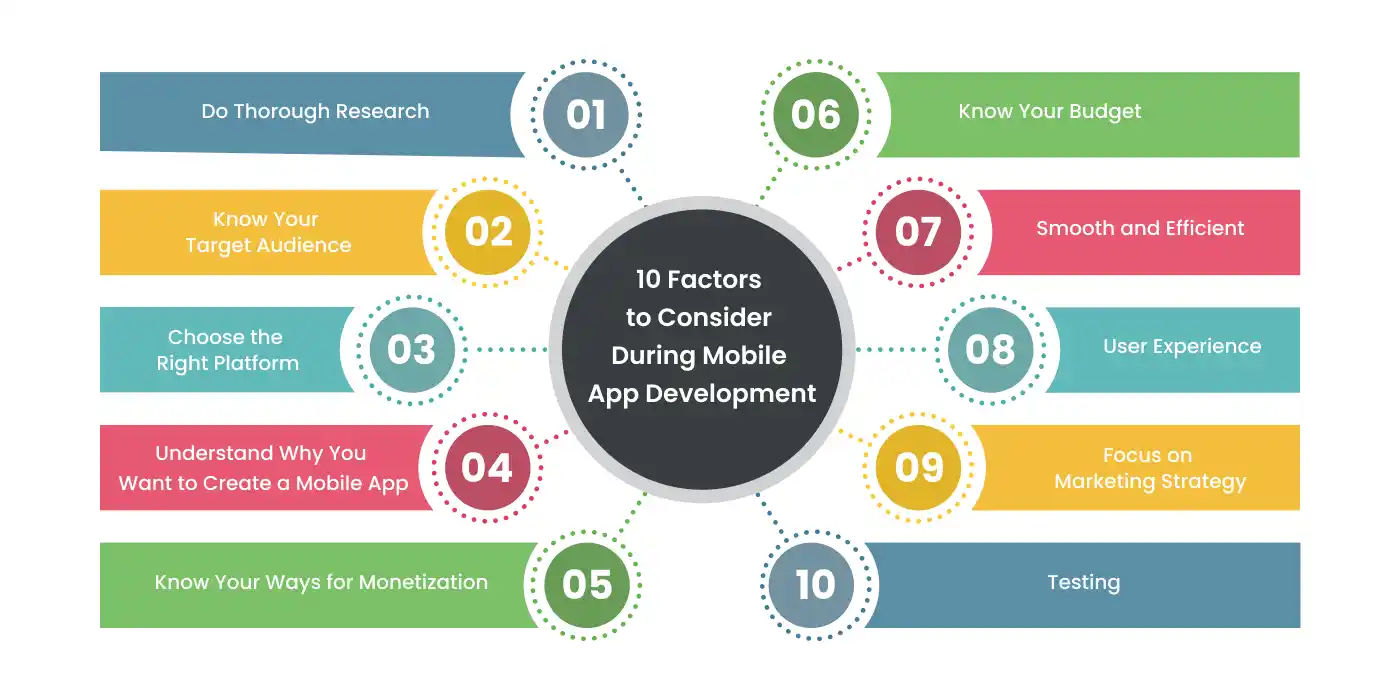 1. Do Thorough Research
Before hiring a custom mobile app development company, do a thorough R&D. Why? Because building a mobile app is not simple. An in-depth market understanding and data will help you know about current trends and competition.
Market research gives you a complete overview of the mistakes made by your competitors so you can avoid them. Learn from the errors and create a robust mobile app development plan, which is sure to become a hit.
In addition, you can also ask your audience what they want and offer them the exact service to satisfy their needs.
2. Know Your Target Audience
Once you have done the research, it's time to define your target audience. This step allows you to understand your user's needs and preferences so you can offer them better experiences. Knowing your audience allows you to create a detailed elevator pitch to attract investors.
Categorize your audience by focusing on different factors like age, gender, location, interest, and behavior. After identifying the audience, monitor their needs and preferences to make sure your app stays valuable to the users.
3. Choose the Right Platform
Choosing the right platform can be confusing but not doing it can put your app into a difficult situation. At the start, opt for a single platform and then you can move on to other platforms.
The best way to choose a platform is to consider factors like the app's features, target audience, and app brand. Following this, you can pick a development methodology from hybrid development or native development.
Hybrid App
By leveraging multi-platform web technologies like HTML5, CSS, and JavaScript, you can create hybrid applications. These apps offer fast accessibility and are easy to develop.
Hybrid apps are best suited for companies and individuals focused on regular usage, interactivity, and offline compatibility.
Native App
Native apps are designed for a single mobile operating system, which means they cannot work on every device.
Your choice of platform won't just affect developers but it will affect the flexibility and scope of your app. Furthermore, the coding used for making a mobile app will further decide its success.
4. Understand Why You Want to Create a Mobile App
Analyzing the reason you want to create a mobile app appears trivial to you but it has a specific purpose, which determines the success of your app. Firstly, you need to understand how differently you want to offer services through your app than a website.
The app idea needs to resonate with your business objectives for the better growth of your company. You must research the competitors to understand how well their app is performing. It also helps you understand the current gap in the market, giving you an opportunity to fill it.
5. Know Your Ways for Monetization
The primary goal of any mobile app is to make money. So before you go all in and start the development, you need to identify the ways you can monetize your app.
Common app monetization option includes in-app purchases, paid premium apps, selling goods or services, subscriptions, in-app ads, and freemium apps. Thoroughly research and analyze your options to increase the financial success of your app.
6. Know Your Budget
An important mobile app development step that you must never miss is deciding your budget. Having a budget helps you have a seamless app development.
The most effective way to know your budget is by analyzing different areas that require money to be invested in. It includes app development, dating, marketing, maintenance, and more. In basic terms, the type of app, features added, and development process influences your budget.
7. Smooth and Efficient
Regardless of your app type, it needs to have a smooth functioning. If it's taking more time to load, users will either uninstall it or rarely use it. This thing creates a negative impression.
If you don't want it to happen, focus on the smoothness and efficiency of your app. An efficient app is much appreciated because it is user-friendly, consumes less battery, and offers better security.
8. User Experience
Offering a better user experience can make your app a success. But if you fail at it, your targeted audience won't come back to you. Especially in the digital landscape where user experience matters the most.
Avoid making a confusing app because your target audience wants something valuable, effective, and easy to use. A well-planned app can offer a seamless user experience and many other benefits.
9. Focus on Marketing Strategy
If you do not focus on how to market the app and make it available to your target users, your app is likely to fail. By creating a buzz, you can make your app launch a huge success. Many great apps have failed due to improper marketing strategy execution.
Remember that different mobile apps have different target users. So, thoroughly analyze your strategies on how you want to promote the app. One of the most preferred methods is online campaigns. But depending on your niche, you can choose a marketing method that suits your needs.
10. Testing
Before launching, you must always test your application to fix any potential problems. If users come across any issue, it can ruin their overall experience. Therefore, test your mobile app on common factors such as efficiency, high performance, and smoothness.
Frequently Asked Questions
The choice solely depends on your specific requirements. For instance, native apps provide better performance, while cross-platform frameworks like React Native or Flutter offer code reusability across iOS and Android.
The cost and timeline for creating a mobile app are influenced by factors like app complexity and features. Carefully plan for development, testing, and post-launch support. Factor in ongoing maintenance and updates in your budget.
Regardless of your industry, mobile app development can offer great benefits, like strengthening customer relationships, improving brand image, better customer engagement, and 24/7 access to your business.
Improve your mobile app's performance by optimizing code, compressing images, and minimizing unnecessary features. Likewise, regularly test your app's performance on different devices to ensure smooth functionality.
Conclusion
Consider these 10 things during app development to get the best results. Having said that, mobile app development is a complex process, and a cross platform app development company like Protonshub Technologies can help you achieve your goals.
We are a top-rated mobile app development firm, committed to providing 100% customer satisfaction through digital innovations. We assist you throughout the development stages and provide full-cycle mobile app solutions to accelerate your business growth.
Reach out to us to know more about mobile app development services.