If you look back to the time when manually handling operations was the only way to get tasks done seems quite challenging. Now, since technology has significantly emerged, all these tasks can be done in the blink of an eye.
The credit for streamlining everyday operations goes to ERP (Enterprise Resource Planning) Systems. It has not only streamlined the day-to-day operations of people but also boosted their productivity exponentially.
In this blog, we'll take a closer look at how streamlining operations with ERP can boost your productivity and overall efficiency.
ERP System: A Brief Overview
ERP systems are a category of software solutions used to manage an organization's data.
ERP systems assist various organizations in managing various corporate divisions, including customer order management, inventory management, shipping, accounting, production planning, human resource management, and other corporate operations.
In essence, it involves combining an enterprise's planning, manufacturing, sales, and marketing efforts into a single management system. It creates a single database of employees of a company to readily access all the datasets from various departments. It aids in the automation of the tasks necessary to carry out corporate processes.
Types of ERP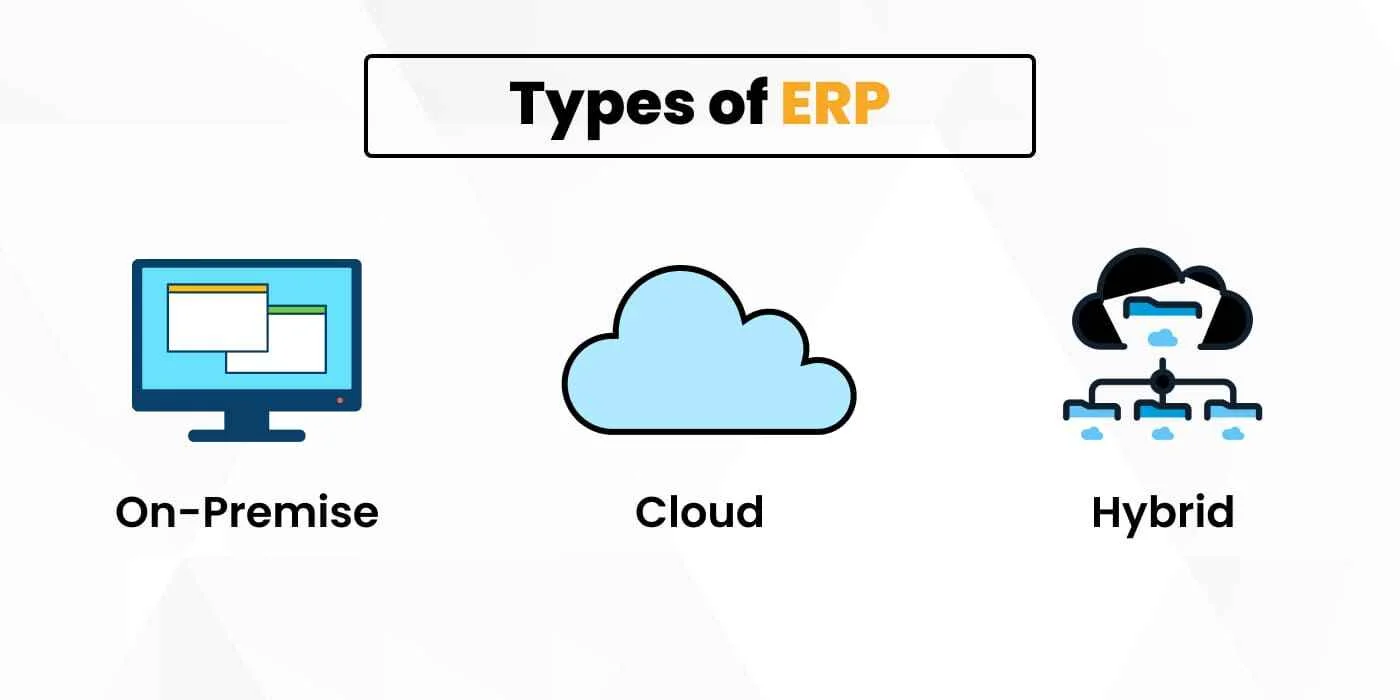 1. On-Premise
Companies or enterprises who use this software keep it up to date on servers and PCs located inside their offices, both physically and internally. Although the firm has full ownership and control over them, they are not remotely accessible.
2. Cloud
Software as a Service, or SaaS, is the term used to describe such cloud-based ERP systems that can be accessed remotely from any device with an internet connection. The service provider guarantees support, training, and customization for this subscription-based solution.
3. Hybrid
The two aforementioned software services are combined by this software. It depends on the hosting and deployment practices used by the user organization and the service provider. More recent additions and implementations can be made to the current systems, owing to the increased flexibility of the hybrid type.
Key Components of ERP System
1. Core Components
The core components include the management of various modules, such as financial management, supply chain management, customer relationship management, and human resource management.
2. Databases Management
ERP systems depend on centralized database management that entails all relevant data of different modules and ensures consistency. This eliminates the situation of maintaining separate databases, ultimately increasing productivity.
3. User Interface
The best ERP software provides a user-friendly interface for employees to communicate with the software. This may include user-specific reports, forms, and dashboards, making tasks seamless for the users.
4. Security
Security is another important component of an ERP system, as it ensures access control, data encryption, user authentication, and audit trials. These security features show the robustness of your ERP system.
5. Vendor Support and Maintenance
ERP implementations require ongoing support, updates, and maintenance. Vendor support is crucial for resolving issues and keeping the system up-to-date.
6. Training & Documentation
Since ERP systems will be new to your employees, therefore, you need to provide training for them to effectively use the system, comprehensive training, and documentation to help employees understand how to navigate the ERP software.
The ERP system's impact on business productivity has been remarkable, leading to increased efficiency and better overall performance. However, a successful ERP implementation also requires careful planning and other strategies.
How Implementing an ERP System Can Streamline Your Operations?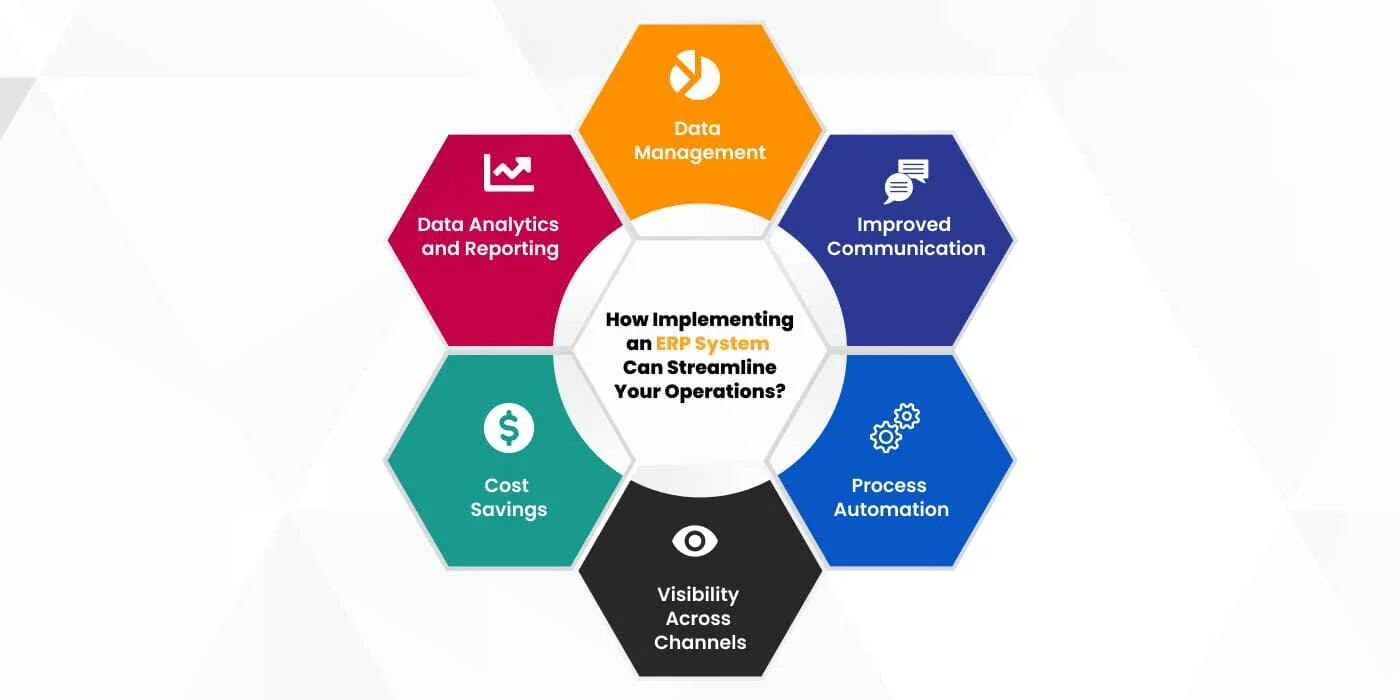 1. Data Management
ERP systems offer a central location for all of your company's data. As a result, data from departments like finance, human resources, sales, and production, is kept in a single database. By doing so, data duplication is prevented and data consistency is guaranteed throughout the organization.
2. Improved Communication
Better collaboration and communication between various teams and departments are made possible by ERP systems. Real-time data is available to employees, enabling them to immediately react to changes and make informed decisions.
3. Process Automation
ERP systems automate repetitive operations and are time-consuming. This covers activities like inventory management, report creation, and data entry. Automation lowers the possibility of human error and frees up employees to concentrate on more strategic tasks.
4. Visibility Across Channels
You can see your business processes more clearly with an ERP system. You can access real-time financial data, watch the status of orders, and keep an eye on inventory levels. This transparency aids in finding bottlenecks, enabling data-driven decisions, and enhancing overall effectiveness.
5. Cost Savings
Even while putting in an ERP system can require a sizable initial investment, doing so frequently results in long-term cost benefits. This entails cheaper labor expenses, lower inventory carrying costs, and better resource management.
6. Data Analytics and Reporting
ERP systems offer sophisticated reporting and analytics features. You can create personalized dashboards and reports to obtain insights into different elements of your company and support data-driven decision-making.
Factors to Consider While Choosing the Best ERP Solution
Even though an ERP system can streamline your business processes and boost the productivity of your business, there are still some essential factors to consider while choosing the best ERP solution.
1. Business Goals
The first factor to consider while choosing the best ERP solution for your business is your organization's goals. If the ERP system aligns with your business goals, only then you should proceed further with that. Consider whether the ERP can support growth, improve efficiency, enhance customer service, or meet specific industry needs.
2. Budget
Another important factor to consider is the budget. You need to go through the deliverables of an ERP system and find out whether they are in your budget or not. Moreover, you need to watch the support and maintenance services as well.
3. Functionality
Make sure the ERP system can expand along with your business. As your company grows, it should be able to handle the increase in data volume, user count, and new features. Choosing an ERP system only based on your company's initial stage may cost you huge amounts afterward.
4. Industry Fit
Another factor is to ensure that whichever ERP software you agree to go forward with must be aligned with your niche. Opting for industry-specific ERP software will benefit you in the long run.
5. User Friendliness
You will be working all day on your ERP software, so make sure it has a user-friendly interface and not complex settings that can burden you later on.
6. Support & Maintenance
This is one of the most important factors to consider because it's the afterpart where businesses struggle the most. So, if you are to get an ERP software, ensure it's after service, i.e., support and maintenance part.
Frequently Asked Questions
Enterprise Resource Planning or ERP, is a comprehensive software system that integrates and manages an organization's core business processes, such as finance, HR, inventory, and customer management, into a unified platform
While choosing the best ERP solution for your business, consider factors like budget, scalability, industry fit, functionality, integration capabilities, user-friendliness, and vendor support to make an informed choice.
Implementing an ERP system can streamline operations by automating workflows, centralizing data, improving data accuracy, enhancing communication, and providing real-time insights, leading to increased efficiency and better decision-making.
Key components of ERP include core modules (finance, HR, SCM, CRM), database management, user interface, reporting/analytics, integration middleware, security, customization, workflow automation, and others.
ERP systems are basically of three types, which are:
On-premises ERP (installed locally on an organization's servers)
Cloud ERP (hosted in the cloud)
Hybrid ERP (a combination of both) based on deployment models.
Conclusion
ERP improves business processes because it enables automation like never before. This improves accuracy, which saves time and money. This even encourages workers to deliver better work. One of the most important advantages of ERP systems is data centralization, which also increases their accessibility to important decision-makers and stakeholders. In the end, streamlined ERP software makes it easier to access information whenever and wherever.
Contact us right away to find out how our best ERP system for small businesses can help in restructuring your business.