When was the last time you halted a taxi by waving your hand? Probably you don't remember and neither do any of us when we did the same because we have gotten into the habit of booking taxis via mobile phones.
The ease of technology has made us so addicted to mobility solutions that we have stopped using conventional ways of doing work. This thing has expanded the online taxi-booking industry, making it a profitable business.
If you have a taxi company and you want it to succeed, collaborate with a taxi booking app development company. With a responsive taxi app, your reach increases and so do the opportunities. It helps you easily build brand recognition while cultivating customer loyalty.
The increasing interest in the taxi business has led to the rise of the global revenue of the online taxi and ride-hailing sector. The industry is forecasted to reach US$330.80 billion by the end of this year.
Keep reading to learn about the new features and trends in taxi booking apps, their market size and scope, and innovative ideas that can make your taxi booking app successful.
Market Size and Scope of Taxi Booking Apps
Before moving further, let's understand the market size of taxi booking apps to know their position in the market.
The total revenue of the ride-hailing sector in the USA is predicted to reach US$1.78 billion by the end of 2023. This revenue is projected to grow between 2023 to 2027 by 1.07% CAGR. Furthermore, the number of users is also predicted to increase by 113.2 users between 2023 and 2027.
Before reaching out to a taxi app development company, you must collect all the relevant data and streamline your requirements to get better results.
New Trends and Innovations in Taxi Booking Apps
The changing technological trends have greatly influenced the way businesses operate today. It has also helped companies to offer cost-effective services, excellent support, and better user experience.
In addition, the growing industry of taxi booking apps is experiencing some major changes due to the technological trends. Below are six trends that are prevailing in taxi booking app development!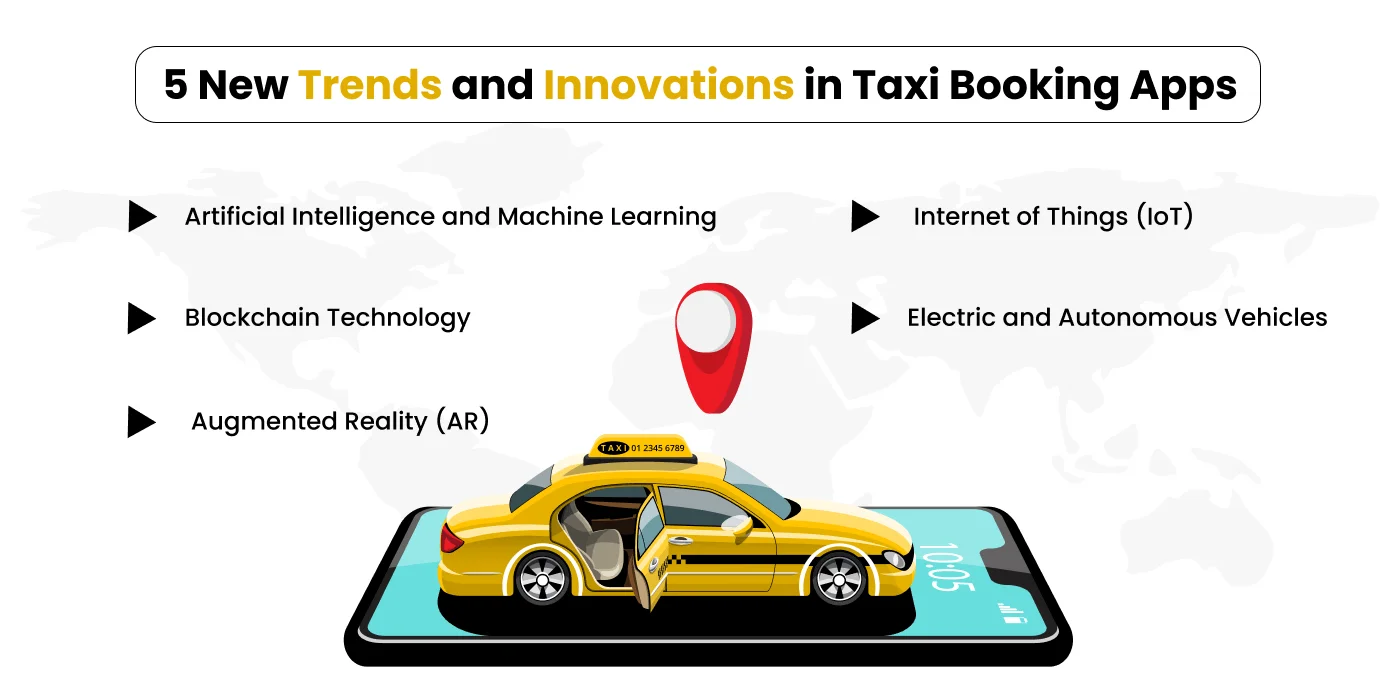 1. Artificial Intelligence and Machine Learning
Artificial intelligence and machine learning are greatly impacting taxi booking app development by predicting user behavior. With these technologies, analyzing user's travel patterns and knowing peak hours becomes easier.
The predictive analysis done by artificial intelligence and machine learning helps companies provide customized user experiences, which leads to enhancing user satisfaction. Lastly, these technologies increase driver's efficiency by suggesting them the best routes.
2. Internet of Things (IoT)
IoT has made a remarkable mark in the industry by offering a wide range of applications. Your taxi booking app can use this technology to improve safety standards by monitoring driver's behavior.
The valuable data collected by IoT integration can optimize routes and help companies reduce waste time. With real-time data about driver's behavior, vehicle location, and speed, you can offer better services.
Likewise, IoT integration lets you check the vehicle and route efficiency. To maintain the vehicle's fuel efficiency, call it back when its maintenance period is due.
Furthermore, you can partner with other businesses to improve customer experience. For instance, collaborate your taxi booking app with a music app, like Spotify so users can easily sync their playlists to the taxis.
3. Blockchain Technology
For taxi booking app development, blockchain technology has emerged as a promising trend. It helps enhance the platform's security. It makes sure that customers find the right drivers by matching the customer's requirements with that of the driver.
In addition, with blockchain technology, you can maintain transparency and keep a record of every transaction in a fair way. Besides this, it helps you prevent fraudulent transactions.
Lastly, you can reduce your taxi company's dependency on intermediaries and lower the cost with the security of intermediaries.
4. Augmented Reality (AR)
Taxi booking apps can use the power of augmented reality, like heads-up display (HUD) to offer a better customer experience.
This feature makes it easy for drivers to find navigational options from the windshield. Meaning, that drivers can find multiple ways to navigate through the city. The 3D option in HUD allows drivers to quickly learn where to turn, what the location is, and how far is the customer.
Likewise, AR can show users the real-time location of the cabs in a 3D view to enhance their experience.
5. Electric and Autonomous Vehicles
Lately, taxi apps have started integrating the features of electric vehicles to increase their focus on sustainability. In addition, the apps also Include advanced technologies to work smoothly with autonomous vehicles.
While there's time for autonomous vehicles to become a norm, few taxi booking companies have already tested them for ridesharing services. Once autonomous vehicle technology becomes mainstream, it will greatly impact the development of taxi booking apps.
By integrating this feature into your app, you can make it easier for users to choose between driverless cars. This way, you can reduce the overall fair price and carbon footprints.
Ideas for Taxi App Development Success
Your taxi booking app can become successful once the ideas resonate with your users. To do this, you must provide solutions to solve user's pain points.
Once you have ideas for taxi app development, you can work with the best mobile app development company to get the best service.
Below are a few taxi app development ideas that can make your app successful: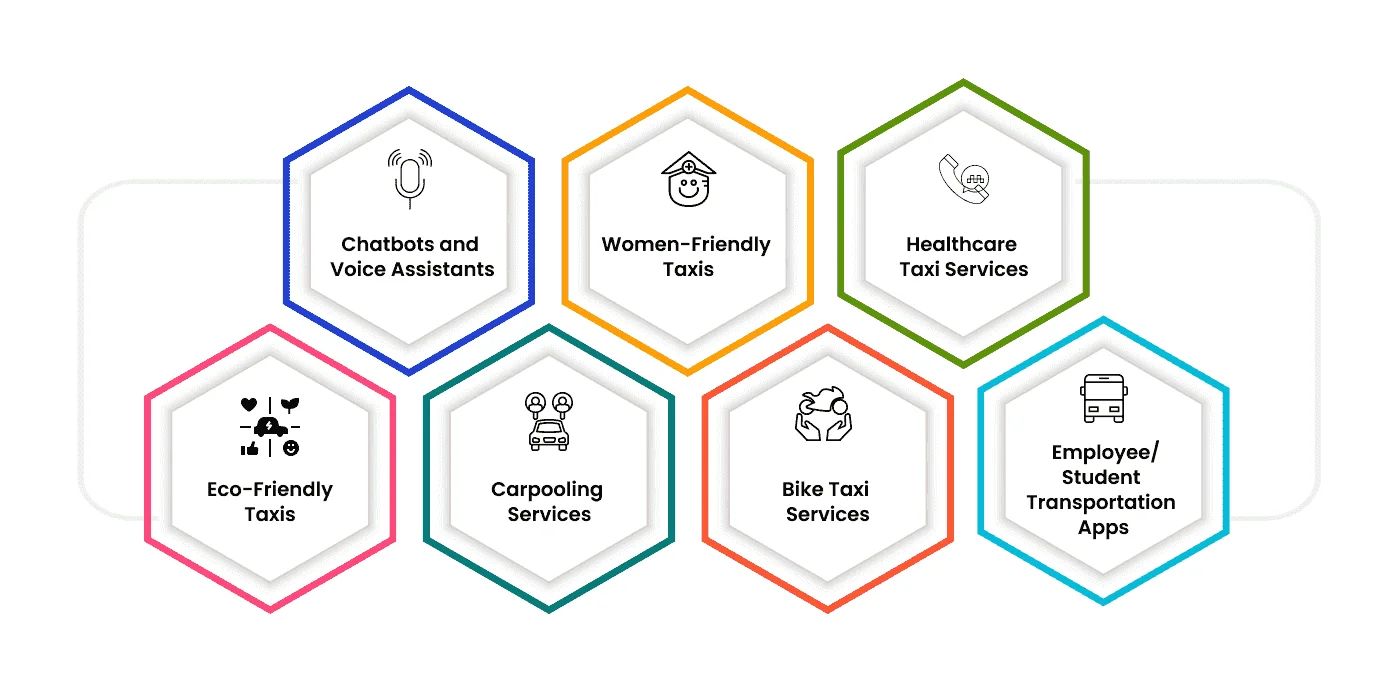 1. Chatbots and Voice Assistants
In the past few years, chatbots and voice assistants have become quite popular among taxi booking apps. That's because they assist users in booking rides, provide answers to common questions, and offer real-time updates about rides.
For instance, with voice assistant feature, users can simply command the app to "book a ride to a certain place at a specific time." After receiving the command, your app will book the ride, offering a seamless user experience.
2. Women-Friendly Taxis
By creating a women-friendly taxi business, you can provide great value to your customers and show them that you care about their safety. One way to do this is by allowing women to manage and drive taxis. This way, your female users will travel stress-free.
Certain cities in the USA, India, the Middle East, and South Africa have created women-friendly taxis. As almost 49% of the world's population is female, this approach will greatly benefit your business.
Use this idea to create a taxi app like Uber and influence the taxi app development industry.
3. Healthcare Taxi Services
In the post-pandemic era, the need for healthcare taxi services remains prevalent. So, if you provide a healthcare-equipped vehicle at the touch of a finger to your users, you can make an impact.
Your healthcare taxi app service can benefit sick or elderly people because they can need emergency taxi service at any time. For better results, tie up with healthcare centers and advertise your app. This way, you can reach a wider audience as well.
4. Eco-Friendly Taxis
With people becoming more conscious about the environment, your eco-friendly taxi service will pave the path to your success. Use low-emission vehicles like hybrid and full electric models to reduce carbon emissions.
Although this plan is a costly initial investment, it will help you stay ahead of your competitors. So, create a responsive taxi app booking app and advertise yourself as an eco-friendly business.
5. Carpooling Services
Do you know what's the one thing that can make your taxi booking business popular? It's carpooling services. Their cost-effective nature never fails to impress users. After all, who will say no to comfortable and cheap cabs?
With this budget-friendly taxi app development idea, your users can split the cost and reach their destination at a minimum fare. Along with being an affordable option, this feature also has a positive impact on the environment as you can reduce pollution.
By adding a carpooling feature, you can grab the interest of two types of users, i.e., people who want eco-friendly travel and people who want cheap rides.
6. Bike Taxi Services
Along with cab taxi service, you can include bike taxi services for users who want to take short trips or intercity commutes. The easy, affordable, and convenient model of bike taxis has already made it a hit in many countries like India, Japan, Germany, the USA, China, and Spain.
As bike taxis solve the major issue of being stuck in traffic, they have a solid demand. Not to mention, they are less expensive than car taxis. So, if you are new to the taxi booking sector, you can start with bike taxis.
7. Employee/Student Transportation Apps
By adding an option for employees and students in your taxi booking app, you can increase your target customers. With more than half of the population being students or employees, this feature can help you generate a good income.
Under this feature, you can add custom routes for certain schools, colleges, or offices for students and employees. To further simplify your user's everyday life, you can add options like arrival notifications, route configurations, and timing charts.
Frequently Asked Questions
As the owner of a taxi booking company, having an app can give you a competitive edge. You can track the location of your taxis in real-time, collect passenger data, get high visibility, build brand credibility, and get customer feedback.
Taxi booking system makes it easy for riders to connect to drivers. It has made cab booking and traveling easier for customers, allowing them to book taxi services with a single tap.
While creating a taxi booking app, you must include a few features like on-demand taxi booking, real-time vehicle tracking, push notifications, SMS alerts, providing feedback to drivers, and more,
Before creating a taxi booking app, you must scan your competitors, find your niche, and shape your vision. Following this, hire a reliable taxi booking app development company and build a responsive application.
Taxi booking apps are constantly evolving. And with new trends and technologies joining forces, the cab booking industry looks promising. But you cannot hire any random company for taxi app development. To create a flawless cab booking app, you can hire a reliable company like Protonshub Technologies. Our experts have a deep understanding of both technology and taxi industry. You can discuss taxi booking app development cost with our dedicated app developers. Reach out to us to know more.
To create a flawless cab booking app, you can hire a reliable company like Protonshub Technologies. Our experts have a deep understanding of both technology and the taxi industry. You can discuss taxi booking app development costs with our dedicated app developers.
Reach out to us to know more.