Believe it or not, we are heavily dependent on applications to complete our day-to-day tasks. Be it taxi booking, grocery, or dating, we need apps to do almost everything.
One such necessity is a doctor's appointment booking app. Since people are used to getting things done at their fingertips, the emergence of an appointment scheduling app is the cherry on the cake.
According to Research and Markets , the medical scheduling software market is projected to reach USD 927.09 million by the year 2028.
In this blog, we will find out how the million-dollar doctor's appointment booking app idea can benefit businesses in the long run. We'll cover the significant features companies should integrate into their apps. Also, we will discuss how a doctor's appointment booking app can be built with easy steps.
Benefits of a Doctor's Appointment Booking App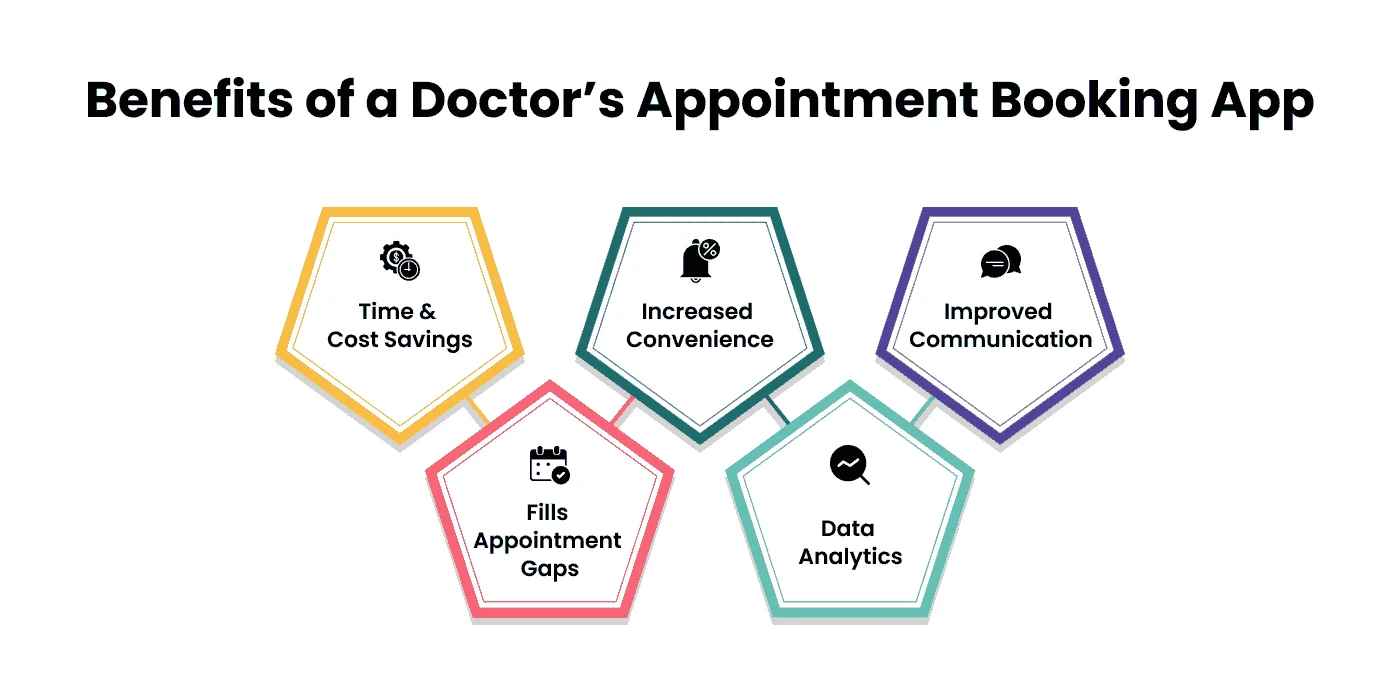 An appointment booking app has turned out to be a boon to patients and doctors because neither of them likes to wait. Hence, it saves time for both.
The app eliminates the crowdy scenarios at the hospital receptions and promotes a systematic workflow, which benefits both the hospital management and the patients.
Scroll down to check out some of the major benefits of a doctor's appointment scheduling application:
1. Time & Cost Savings
As discussed above, having an online doctor's appointment scheduling system can save lots of time for both patients and doctors. Patients can conveniently book appointments from anywhere and at any time.
As patients will interact via the application for their appointments and require less administrative support on the hospital premises, it will help with cost-cutting.
2. Increased Convenience
A recent study has revealed that convenience is one of the top-most facilities considered by patients. That's because patients will only continue with the same healthcare provider if they are treated well the first time. Luckily, a doctor's appointment booking app eliminates the receptionist-patient conversation and promotes a direct way of communication.
3. Improved Communication
With the advent of the doctor's appointment booking app, patients feel more confident to approach their respective healthcare providers. Thereby facilitating better communication between the two. Also, if patients are not able to make it to their doctor's clinic/hospital, they can use the app to get virtual assistance from healthcare providers.
4. Fills Appointment Gaps
The manual/telephonic appointment booking system results in patient no-shows, owing to several reasons, one of which is a lack of reminders. However, with an appointment booking app, patients get automated appointment reminders so they don't miss the appointment. Thus, significantly reducing the appointment gaps.
5. Data Analytics
The doctor's appointment booking app can generate valuable data on appointment trends, patient demographics, and other metrics. It can also help healthcare providers make data-driven decisions and improve patient care.
Features of a Doctor's Appointment Booking App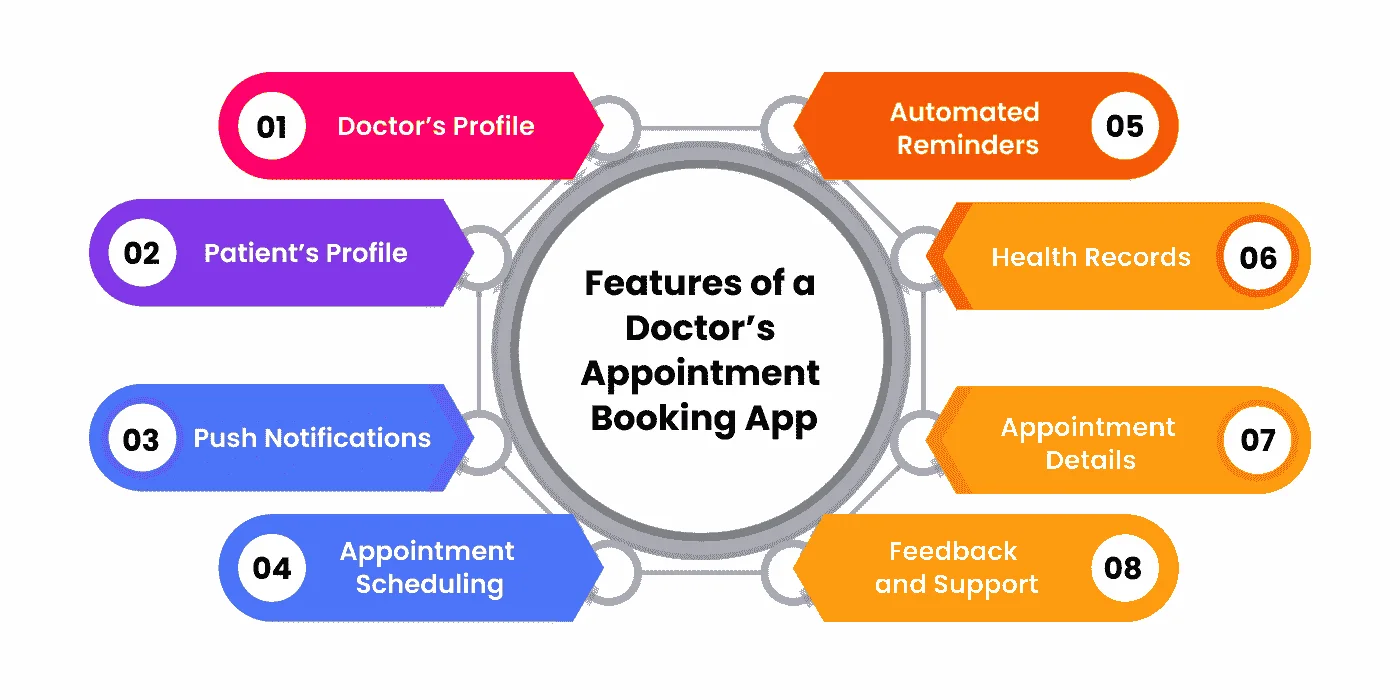 Let's have a quick look at the features of the online doctor appointment system:
1. Doctor's Profile
This feature is for doctors, where they can create their profile by entering basic information like name, age, gender, qualification, specialization, time availability, treatment costs, and appointment fees.
2. Patient's Profile
This section is for patients, where they can add their basic details, including name, age, gender, disease, allergy, and other specifications.
3. Push Notifications
Push notifications are an essential part of any application. They let both the patients and doctors know about regular updates. Push notifications include reminders, doctor's availability, missed appointments, and others.
4. Appointment Scheduling
Appointment scheduling is the core feature of a doctor's appointment app. From here, patients can book appointments with their preferred healthcare experts based on their health concerns.
5. Automated Reminders
Manual or telephonic appointments result in huge patient no-shows. However, with the advent of telemedicine apps, patients can get automated reminders so they don't miss an appointment, which ensures maximum presence.
6. Health Records
This feature of a telemedicine app helps keep track of the patient's health history. Patients can find their medical records and plan their appointments accordingly.
7. Appointment Details
This feature allows you to get your appointment details, which include upcoming appointments, completed appointments, canceled appointments, and postponed appointments.
8. Feedback and Support
This feature allows you to provide feedback based on the quality of service. Meanwhile, the support team ensures that your appointment booking app is providing you with seamless service.
How to Develop a Doctor's Appointment Booking App?
1. Define Goals and Objectives
Clearly outline the purpose of your app. What problems will it solve, and what goals do you want to achieve?
Identify your target audience (patients, doctors, clinics), understand their needs, and decide on doctor appointment app features.
2. Hire An App Development Company
3. Finalise Prototypes and Designs
Create wireframes and prototypes to visualize the app's user interface (UI) and user experience (UX) while ensuring an intuitive app design.
Get feedback from potential users, doctors, and other stakeholders to refine the design.
4. Development
Develop the app based on the finalized designs and specifications.
Choose the appropriate technology stack for your app (e.g., mobile app development platforms, backend frameworks, and databases).
Implement features, external APIs, and other security measures to protect user data (e.g., HIPAA in the United States).
5. Testing and Release
Conduct thorough testing to identify and fix bugs to ensure the app functions as expected.
Perform security testing and data privacy audits to safeguard patient information.
Test the app on different devices and platforms (iOS, Android).
6. Maintenance and Support
Regularly update the app to fix bugs, improve performance, and add new features.
Provide customer support to address user concerns.
Monitor the app's performance, server uptime, and user feedback.
Stay compliant with evolving healthcare regulations.
Cost of Building a Doctor's Appointment Booking App
The next important factor to consider while developing a doctor's appointment booking app is the cost. There are several factors that influence the cost, like the features, functionalities, and complexity. The average cost can be anywhere from $20,000-$50,000.
However, before investing in a full-fledged app, we suggest our clients invest in an MVP first, check its response in the market, and then plan for expansion. This way, clients can play fair and still remain on the winning side.
Frequently Asked Questions
The cost of building a doctor's appointment booking app can vary widely depending on complexity, features, and development resources. It may range from $20,000-$50,000.
Significant features of a doctor's appointment booking app include user registration, doctor profiles, appointment scheduling, real-time availability, secure payment processing, notifications, and reviews/ratings.
You can make a doctor's appointment booking app by following these steps: define your business goals, hire a reliable app development company, finalize prototypes and designs, develop, test, release, and maintain & support.
The benefits of a doctor's appointment booking app include convenient and quick access to healthcare services, reduced wait times, 24/7 availability, the ability to browse and choose from a variety of doctors, appointment reminders, and improved overall healthcare management.
Conclusion
Doctor appointment apps have become quite important because they decrease wait times, increase patient involvement, and improve accessibility to healthcare. These apps are changing how healthcare is delivered in the future by delivering secure and convenient video consultations as well as real-time appointment scheduling.
If you are looking to partner with a reliable software development company to create a doctor's appointment booking application, feel free to book a free consultation with Protonshub Technologies.
With years of expertise creating healthcare software, our team can create a doctor's appointment app that is efficient, HIPAA-compliant, and best fits your business objectives.
Visit our website to know more.