Artificial intelligence has molded the way how FinTech Industry works.
The rapid development of artificial intelligence (AI) technology has caused a dramatic upheaval in the financial services sector.
Financial institutions' operations are being revolutionized by artificial intelligence (AI), from risk management and fraud detection to personalized financial advice for each consumer.
AI in FinTech - What is it?
AI has the ability to completely transform the financial sector by offering knowledgeable, intelligent answers to issues that people are unable to resolve on their own.
Machine learning algorithms and natural language processing are used by AI-powered FinTech systems to analyze massive amounts of data and provide predictions or judgments.
The use of Artificial Intelligence in FinTech is changing how financial institutions run their businesses and improving the efficiency, personalization, and security of their services.
Benefits of using AI in FinTech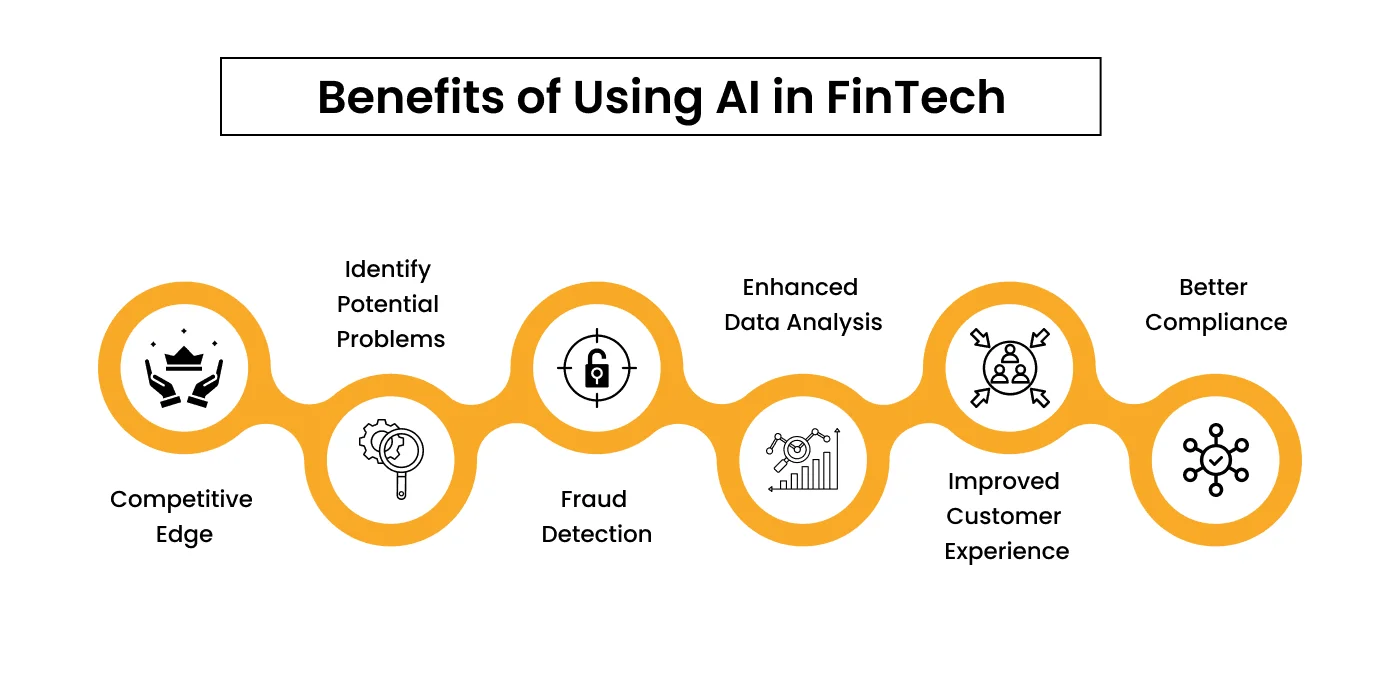 1. Competitive Edge
Financial institutions may lower costs and increase efficiency by automating back-office processes, providing them with a competitive advantage.
By offering personalized financial advice and services, AI-powered solutions may enhance the client experience and set financial institutions apart from their rivals.
2. Identify Potential Problems
Systems for detecting fraud powered by AI can spot suspicious activity, and AI can analyze data to spot potential hazards and guarantee regulatory compliance.
Financial institutions can take proactive steps to keep their customers by using AI to analyze customer data and spot trends that might suggest a customer is at risk of leaving.
3. Fraud Detection
Financial institutions can experience less loss because of AI-powered systems' rapid detection and prevention of fraudulent transactions.
Additionally, AI may recognize high-risk clients or transactions, assuring compliance with laws pertaining to financial crimes. Overall, AI in FinTech plays a critical part in detecting fraud by offering quick and reliable data analysis to spot suspicious activity and stop financial fraud.
4. Enhanced Data Analysis
By employing machine learning techniques, financial institutions may efficiently analyze large datasets, resulting in more accurate risk assessment, improved fraud detection, and sophisticated predictive analytics.
Financial institutions may now better analyze data, which not only improves decision-making but also helps them spot possible market possibilities.
5. Improved Customer Experience
AI has completely changed the customer experience and engagement. Now big organizations can seamlessly deliver personalized experiences.
FinTech companies are using AI to enhance the client experience by offering personalized financial advice, effective customer care, round-the-clock accessibility, quicker loan approvals, and increased security.
6. Better Compliance
In order to assure compliance with laws pertaining to financial crimes and to produce the reports required by regulatory agencies, AI can analyze vast amounts of data, which lowers errors and boosts productivity.
Artificial intelligence-powered fraud detection systems can quickly spot and stop fraudulent behavior, assisting financial institutions in adhering to regulations. AI may also keep an eye out for compliance infringements like insider trading and market manipulation in transactions and conversations.
What's the Future of AI in FinTech?
AI in FinTech has a bright future.
By offering individualized financial advice, strengthening fraud detection skills, automating back-office operations, and improving customer service, AI will continue to change the financial services sector.
Using natural language processing to analyze unstructured data and guide investment decisions, AI will also advance in the fields of risk management and investment management.
Overall, AI will become more and more significant in the development of FinTech, enhancing: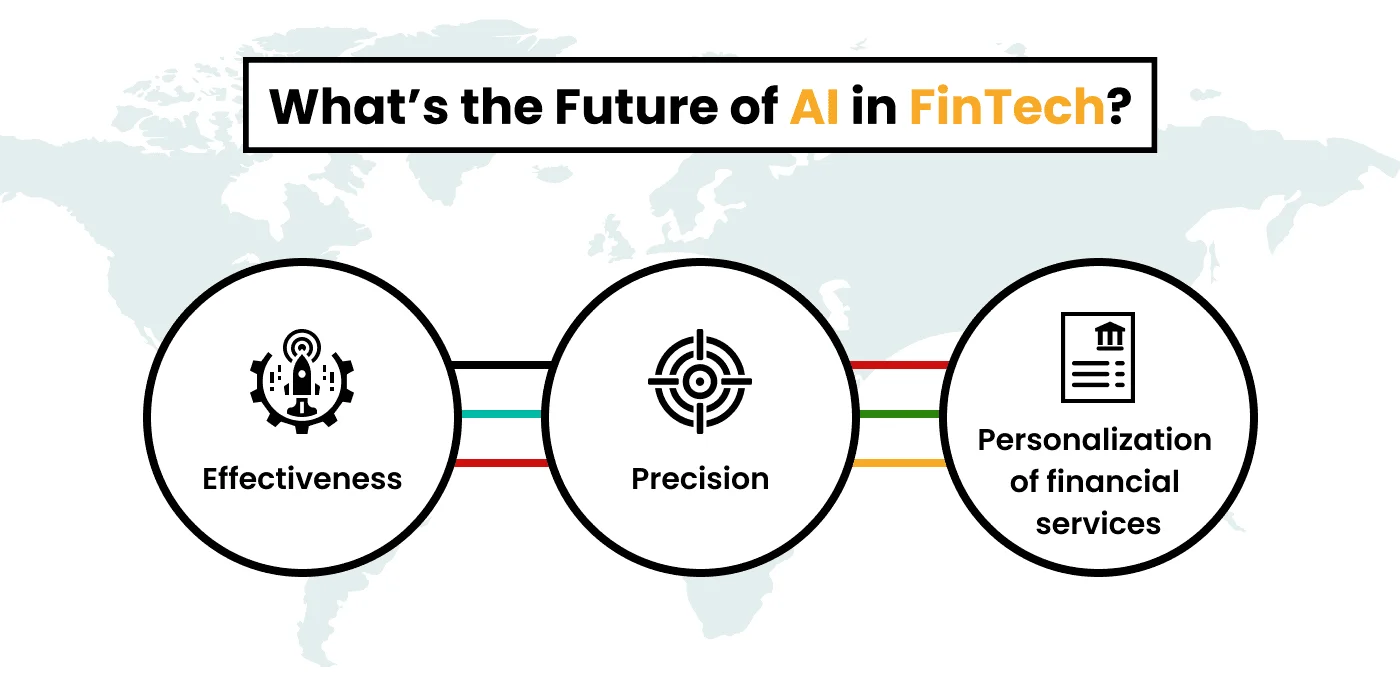 Effectiveness
Precision
Personalization of financial services
We can expect AI to play an increasingly important role in the future of FinTech.
Frequently Asked Questions
Artificial intelligence (AI) will grow more sophisticated and better suited to handle challenging financial tasks as machine learning and natural language processing progress. There are many FinTech trends in 2023, which include the rise of decentralized finance, the growth of digital payments and wallets, and the expansion of blockchain technology beyond cryptocurrency.
Concerns about data security and privacy, regulatory compliance, and ethical considerations are among the difficulties of using AI in the FinTech industry. A skills gap in employment may also result from the usage of AI because it calls for specialized training and experience.
Examples of AI in FinTech include AI-powered chatbots for customer service, robo-advisors for investment management, and AI-based fraud detection systems. AI is also used to automate back-office tasks and analyze unstructured data to inform investment decisions.
The role of AI in fintech includes client assistance as well as investment management, robo-advisors, and AI-powered chatbots are being deployed. AI can analyze unstructured data, such as posts on social media and news stories, to help with investing decisions thanks to natural language processing.
Summing Up
By offering individualized financial advice and effective customer service, AI-powered solutions are enhancing the consumer experience. AI is also assisting financial organizations in better risk management and fraud detection at the same time.
The benefits of AI in fintech exceed the drawbacks of its application in the FinTech industry, despite issues with data privacy and security, regulatory compliance, and ethical issues. We can anticipate that artificial intelligence (AI) will play an even bigger role in the future of FinTech as it continues to develop and become more sophisticated.