When they say choose an IT career, most of them meant programming. But what if I say you don't need to be a programmer in order to develop a website or an application?
You might think I'm speaking crazy facts, but it's the truth. Thanks to low-code and no-code development. So now even if you are someone from the human resources department or someone who is working in the finance department, your days to rely on a developer are gone.
Non-developers can develop an app, this is the kind of transformation we look ahead to, right?
Let's assume this is technology's way to enhance and welcome creativity among individuals without having any extensive knowledge of heavy coding languages. Just clear the basics and you are good to go.
Let's dive into the basics of low-code and no-code, a rapid application development process, and see how it can accelerate application delivery.
What is Low-Code Development?
Low code is a modern approach toward software development with minimal use of coding and programming languages. Coding may be required but it is used in very specific areas.
Low code development may require developers with proper knowledge, in order to seamlessly launch the application with minimal coding. These applications are customizable and have multiple use cases, similar to a traditional coding platform.
There are various tools that are allowing individuals of less technical backgrounds to make a huge impact on businesses in multiple ways, including reducing shadow IT, relieving IT department backlogs, and taking ownership of other workstreams.
Low-code application platforms require some coding knowledge, since it caters to both citizen developers as well as professional developers, and are broad in scope. Therefore these platforms majorly serve part-time as well as full-time developers.
Features of Low-Code Development
Before we dive into the advantages of low-code development, let's see the must-have features of low-code application platforms.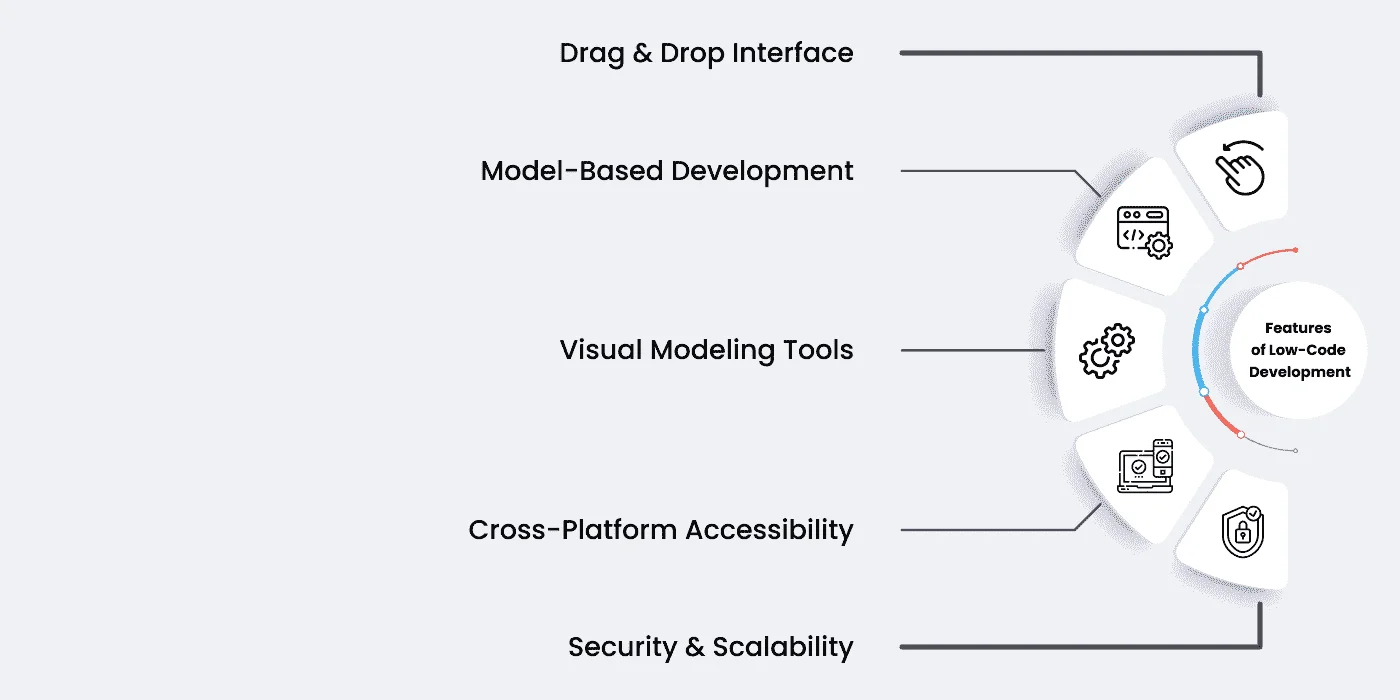 1. Drag & Drop Interface
Manually writing the whole code can be very time-consuming for citizen developers as well as professional developers, that's why the low-code development process allows you to simply drag and drop the interface. This feature not only saves time but also increases the productivity and efficiency of the overall project.
2. Model-Based Development
This feature bridges the gap between a line of code and visual creativity. Low-code app platform allows developers to work with visual building blocks with domain-specific language that controls the technical part of your low-code application.
3. Visual Modeling Tools
You'd obviously prefer to see something visually rather than in a code and that's what low-code development does. It has visual modeling tools that allow you to do so with simplicity and ease. The low-code development platforms have in-build modules that can be understood from a non-tech perspective.
4. Cross-Platform Accessibility
Low-code mobile app development gives you the feasibility of developing an app that works on multiple platforms. For an app that requires minimum coding and the benefit of using it on cross-platforms is a great feature to have.
5. Security & Scalability
In the beginning, the low-code apps were only used by small enterprises and departments with low capabilities, but now the times have changed. Low-code development apps are equally secure and scalable as the other traditional applications.
What is No-Code Development?
Since you've got a knack for low-code development, let's discuss something about no-code development.
No-code is yet another modern approach toward software development with no use of coding and programming languages. Unlike low-code development, no-code development does not require even a little bit of knowledge and expertise in coding.
All you need to have is a basic idea of a website or an app, its workings, and its functionality. All the major coding work behind the scenes is done by the no-code tool providers, which makes the whole process very easy for the citizen developers.
It uses a visual integrated development environment, which is a set of software to write or test the developed software. The software once created can be deployed after it gets tested using model-based testing.
Moreover, citizen developers can easily move a block from a no-code development process but can't add additional features, while low-code development makes it easy by taking the help of professional developers.
Features of No-Code Development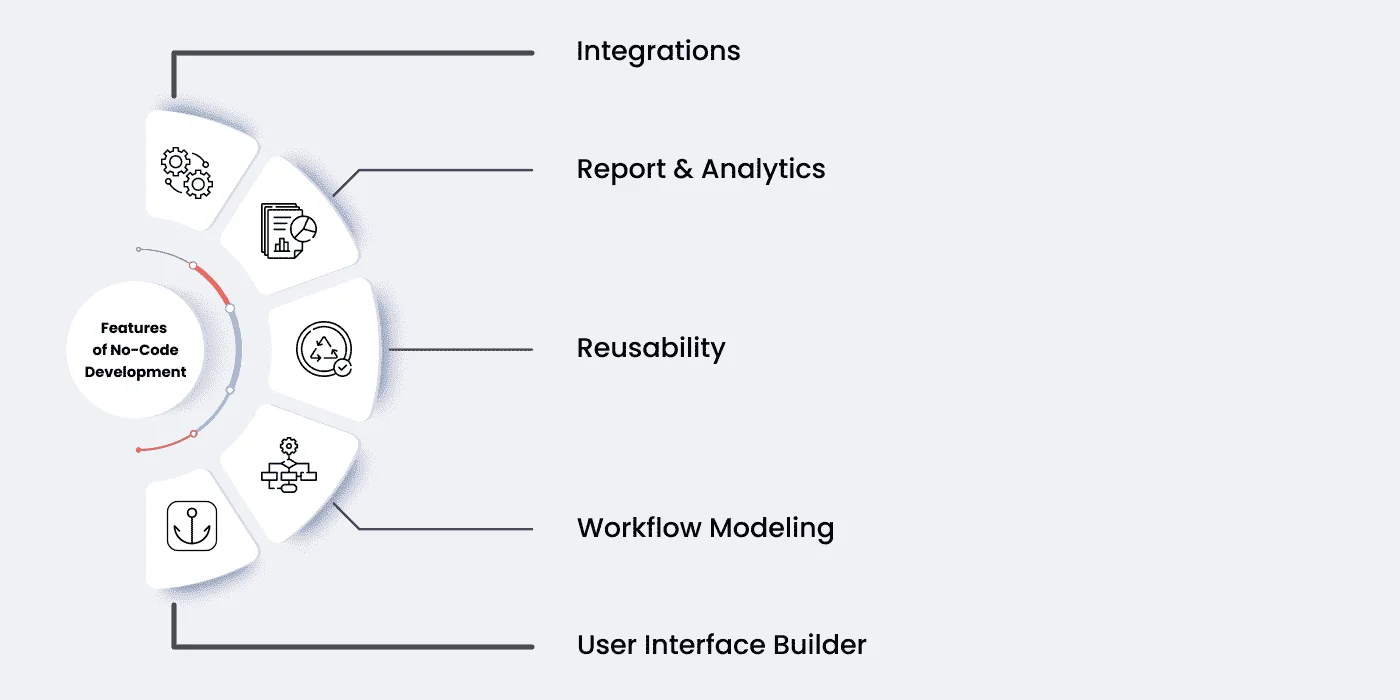 No-code development has the following features:
1. Integrations
If you think no-code apps are dull to use, then you should read ahead. You can literally integrate any third-party platform into your no-code platform. It can be Slack, Twitter, or anything you want. Moreover, you can automate the entire process, making your work seamless and efficient.
2. Report & Analytics
On top of the integration part, you'll be amazed to know that the report and analytics part has also been taken care of. Now, not only you can integrate third-party platforms but also get the reports and analytics done as and how you need them.
3. Reusability
I'm sure you don't know what's coming ahead. You can use different parts of an application to create an entirely new one. Yes, that's right, and to do so, again, no prior technical knowledge is required. It's a win-win for you.
Workflow Modeling
Workflows are important for every business to smoothly run its business operations, and thanks to no-code development features, you can utilize this function here as well. By creating a streamlined workflow model, you can easily keep track of the business activities happening around the organization.
User Interface Builder
This is the best feature of the non-code development process. You can just drag and drop the interface you want in your website or application and within no time you have your desired platform ready.
8 Reasons Why You Should Consider a Low-Code/No-Code Application Development Platform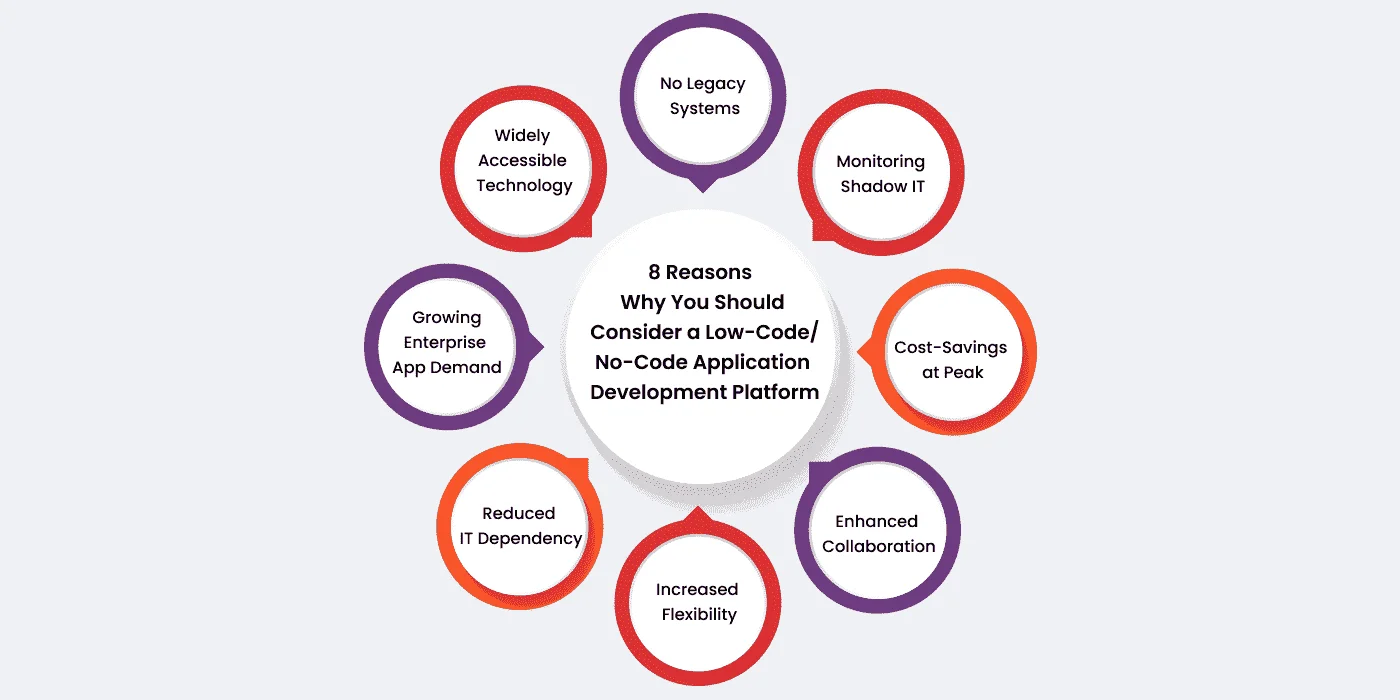 1. Widely Accessible Technology
Gone are the days when only large corporations were able to use the technology to scale their businesses, just because they had the proper infrastructure and required money, but thanks to the cloud infrastructure, making small organizations do the same without worrying about the funds. Just having an internet connection is making a huge difference nowadays.
2. Growing Enterprise App Demand
Startup culture is on the rise, some have the necessary funding and others don't. Here the low-code and no-code development comes to the rescue. This type of development doesn't need entrepreneurs to hire an expert and the work still gets done.
3. Reduced IT Dependency
When you go with a traditional development process, there will be the need for IT experts at every stage, but not with low-code & no-code platforms. Moreover, hiring separate IT experts can charge you a hefty amount, therefore low-code and no-code development can be considered if you are on a tight budget.
4. Increased Flexibility
Low-code and no-code platforms have AI-powered smart features that let you work with complete flexibility. By allowing you to write codes, check them, and run them error-free, it reduces the time required and increases the efficiency of the overall process.
5. Enhanced Collaboration
While the traditional means of development only involve a few professionals in the mobile app development process, low-code, and no-code development strives to change the same. Here, you can involve any individual from any department, including every stakeholder to present their ideas and make a professional app that is the same as the traditional one.
6. Cost-Savings at Peak
It's hard to find an expert developer with all the desired skills, and even if you get lucky here, you won't appreciate the charges they ask for. Here low-code and no-code development can be your savior, not only it doesn't require the time and effort of a professional developer but it lets you do the same within very less time.
7. Monitoring Shadow IT
Unlike other platforms that rely on external software without consulting the IT department, low-code and no-code platforms don't need to rely on any such software. Its transparency, collaboration, and increased visibility across the channels eliminate the need for external software by leveraging security.
8. No Legacy Systems
Legacy systems are outdated software and hardware that are still in use. However, with the low-code and no-code development platforms, it is easy to say goodbye to these systems since they are not required anymore. In fact, the new approach has lowered the errors and reduced the time consumption, making low-code and no-code an effective approach.
Frequently Asked Questions
Low code is a modern approach toward software development with minimal use of coding and programming languages. While the no-code development approach does not require even minimal coding.
Of course, they can. This is the major specialty of low-code and no-code development that it can be deployed by a person with little or no experience in technical stuff.
Low-code and no-code development does not require anyone to manually write the code and design the layout. It has built-in features that take care of the same and hence speed up the process.
The traditional development process requires a professional team of experts who charge a huge sum of money since none of this is required in low-code and no-code development, therefore it ends up saving money.
Yes, you can. There's a popular drag-and-drop interface feature, which allows the citizen developer to choose and drop the interface they like into the design they are working on.
Wrapping Up
We have made it through it. Low-code development and No-code development have many features and benefits as you have seen in the blog. These cost-cutting technologies have aided many businesses after the emergence of the pandemic. Deployment of technologies like no-code and low-code frees people from the chores they are afraid of and fulfills their basic requirements. Moreover, if you are looking for a software development company, Protonshub Technologies have a guide to creating mobile apps in 2023 , and you are more than welcome to discuss the same.